Well, another year is behind us, and as usual, I frittered away a huge chunk of it playing video games. To help justify spending all that time on viddygames, here's a big, long list of the ones that I liked most.
If this is your first time reading one of my Top X Games lists, I don't make them based on games released in the previous year, but rather, games I played in the previous year. There is one constant rule: I must have played the game for the first time in the last year. And I added a new criteria for 2022, which is: no two games from the same franchise. Helps to keep the list a little more diversified. Oh, and the games are listed in the order that I played them. No playing favourites among the favourites.
Okay, that's the preamble. Let's go!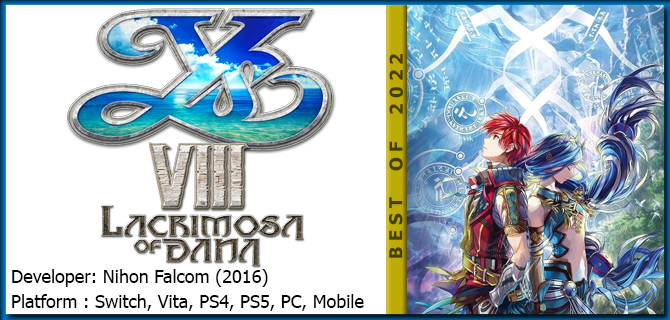 In 2021, I played most of the games in the Ys series, and most of them were really good. Ys: Memories of Celceta even managed to secure a spot on my Top 10 list for 2021. So the only video game "goal" I had going into 2022 was to finish off the Ys series by playing through the two games I had outstanding: Ys VIII: Lacrimosa of Dana, and Ys IX: Monstrum Nox. Needless to say, they were also really good.
Lacrimosa of Dana in particular gets to adorn this list because it is definitely my favourite game in the series. It takes everything that was great about Memories of Celceta and makes them even better. So really, you could probably just read what I wrote last year and it would mostly still apply, and I could skip writing another paragraph here. But I suppose that I should at least go over some of the highlights. Specifically, I enjoy how the combat is exciting and very speedy, exploring is more fun than ever with map and treasure box completion percentages for every area, the metroidvania-style way that the world slowly opens up as you gain new traversal abilities is always appreciated, and I think that this game has the best cast of party members in the series.
One thing that I cannot praise enough about Ys VIII is that it has one of my absolute favourite video game soundtracks of all time. All Ys games have phenomenal music, but Ys VIII's in particular really stands out to me. Not only did I get an imported physical copy of the soundtrack, but I also bought the Ys VIII: Super Ultimate arrange album, and I listen to both of them quite often. Sunshine Coastline specifically is straight up one of the best video game songs I've ever heard, and multiple official and cover versions of it live on my phone so I can listen to them all the time.
Continue reading

TE's Top 10 Video Games of 2022