The Wii's Virtual Console was a pretty incredible thing, and one of the reasons why: it introduced me to a fair number of classic games that I never would have experienced otherwise. ActRaiser for SNES being one of them, if you hadn't already sussed that out from the post title. I can vaguely remember reading about ActRaiser (or perhaps its sequel?) in Nintendo Power, very specifically while with my family at the drive-in theatre, waiting for a movie to start. But I never actually played it until many, many years later when it was released on the VC. And you know what? It's a pretty cool game! Part action-platformer, part SimCity Lite, it's got surprisingly few imitators to this day despite how well-received it was and how fondly remembered it seems to be.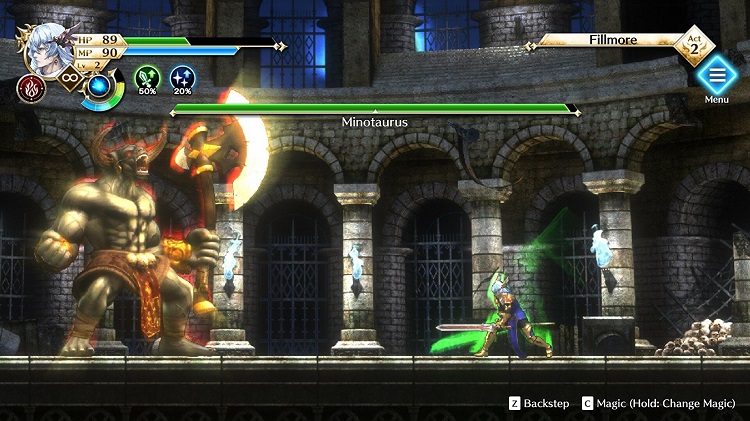 Square-Enix surprised the world last year by releasing a remake of the game, called ActRaiser Renaissance. I feel a little bad about waiting over a year to play it, but there are simply too many games, you know? But I have played it now, and I thought that it was very good! It's a very faithful remake, as it brings back literally everything I remember about the original and polishes up the presentation with fancy new graphics and a rearranged soundtrack by the composer of the original, Yuzo Koshiro. And that's all great! There are also a ton of new features, like being able to level up your character and get power-ups in the action stages, and a new tower-defense mode for the simulation stages. There's also an absolute buttload of extra dialogue, which, having read it all, is pretty safe to skip entirely.
Where things go wrong, however, are in the trophies (or achievements, if you prefer). While most of the trophies are awarded for beating bosses, at least half of them are awarded for what amounts to grinding levels and farming monsters.
Continue reading

ActRaiser Renaissance and Why I Shouldn't Have Played It (So Much)