I've grown to really enjoy how Nintendo compiles your play history and presents it in statistical data for the year. And apparently Steam did it this year, too!
Alas, Nintendo's offering for 2022 was weak, with much less data than the last couple of years. What I got was a list of the 21 Switch games I played the most this year, and how many hours of each. No graphs, no in-depth breakdowns, nothing else. So, here are the top three…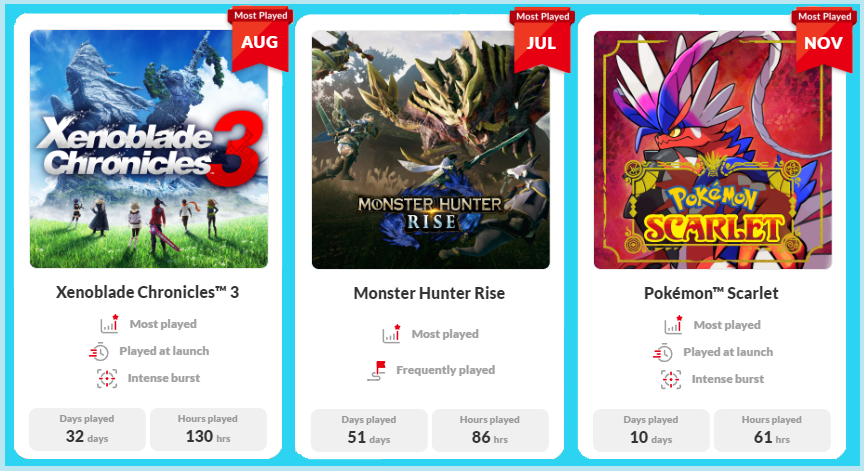 Xenoblade Chronicles 3 takes the cake for sure, and I still have a ton of game left to play there. I don't want to give too much away, but it's definitely going to rank high on my 2022 GOTY list. Monster Hunter Rise got second billing because the Sunbreak expansion came out this year and I spent a lot of time grinding away at that with my brother. Lastly, and just squeaking in there at the end of the year, is Pokémon Scarlet, which is even a few hours richer than what it says above, because I've played it a bunch since these stats were delivered. Also, the assertion that I only played Pokémon on 10 separate days cannot be right. It just can't!
The rest are as follows:
Pokémon Legends: Arceus – 60 hours
Pokémon Shining Pearl – 51 hours
Triangle Strategy – 23 hours
Kirby and the Forgotten Land – 22 hours
Fitness Boxing 2 – 16 hours
Nintendo 64 Online – 10 hours
Castlevania Advance Collection – 9 hours
TMNT: Shredder's Revenge – 6 hours
Evil Tonight – 4 hours
YumeNikki -Dream Diary- – 4 hours
Shovel Knight Dig – 3 hours
TMNT Cowabunga Collection – 3 hours
Silver Chains – 3 hours
Ring Fit Adventure – 2 hours
Happy Game – 2 hours
ElecHead – 1 hour
Mega Man X Collection – 1 hour
Haunted Zombie School – 42 minutes
My first thought is: why are games with such low play times ranking on my list? And then I realized that these are all 21 Switch games that I've played this year. Surprisingly few! Here are some other random notes:
I have videos for TMNT: Shredder's Revenge, Evil Tonight, YumeNikki, Shovel Knight Dig, TMNT Cowabunga Collection, Silver Chains, Happy Game, ElecHead, and Haunted Zombie School on YouTube. At least five of those I likely would never have played if I wasn't out to make video content. Can you guess which ones?
Mega Man X Collection is on the list because of the annual Mega Man X playthrough. It's almost time again!
Castlevania Advance Collection's hours are for a playthrough of Aria of Sorrow, which I started in the airport on the way home from New Jersey. It was very nostalgic, because Aria of Sorrow was the game I was playing (on an actual GBA, no less) the last time I flew.
I used Nintendo 64 Online solely to play Banjo-Kazooie. Kinda surprised it took me 10 hours, to be honest. Technically, NES Online and SNES Online should have an hour each as well, as I used them to play Vice: Project Doom and Super Valis IV, respectively. But that was after the stats were released.
My Fitness Boxing and RingFit hours are sorely lacking, as I kinda fell off them this year. But I did make up for the lost exercise by going running a lot more than usual, and playing an absolute buttload of BeatSaber and RagnaRock.
Kinda funny that I 100%ed Kirby in 22 hours, and only got halfway through Triangle Strategy in 23. I mean, obviously the RPG is longer, but I like the contrast there.
I played a lot of Pokémon this year! Especially when you consider that Shining Pearl was released in November of 2021 and I was going at it from day one (obvs).
I wonder how many games this thing would have listed if I'd played more than 21? 25?? 30??? More!?!?