You know, it's funny. Despite my affinity for both the Nintendo 64 and Kirby games, I've never really written at length about Kirby 64: The Crystal Shards.
I like to think the direction we're going from here is obvious.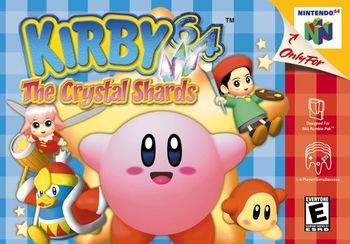 In anticipation of the release of Kirby: Star Allies today, I have been doing a replay of Kirby 64. And it's going by pretty quick, almost speedrun fast. Though speed is actually the first thing I want to talk about: Kirby 64 is kinda slow. Not quite as slow as Kirby's Dream Land 3 (which is why my attempted replays of that game never go far), but nearly every action cuts Kirby's forward momentum, if not stopping him dead in his tracks. While this a common among most Kirby games, Kirby's dash seems slower than usual here, and so many other games at least provide dash attacks for a lot of powers, where this one does not.