I have so many movies sitting on my "want to watch" list that I will likely never make the time for. Because when I watch a movie, it's usually some terrible horror film that pops up randomly on Netflix. And that's your explanation of what happened below.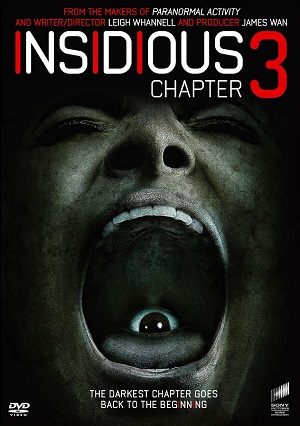 Insidious: Chapter 3 – I really loved the first Insidious movie for totally playing with my expectations of what a "possession" movie could be. Plus, it had a certain video-gameyness to it that really spoke to me. Insidious 2 was almost more of a whodunit mystery than anything else, and while it didn't hit the same sweet spots, I liked it well enough to shout at the folks who were chatting in the theatre while the movie was playing.
The third film in the trilogy is…. ehhhhh. It goes back in time to a previous case of the medium from the first two chapters. This one is about how a young girl accidentally calls forth an evil spirit when trying to communicate with her deceased mom. After our heroine gets hit by a car and briefly dies on the operating table, said spirit begins to appear to her in the real world, and all the usual wacky ghost stuff stars happening. There is a neat little twist to how it goes down, but it's nothing especially exciting.