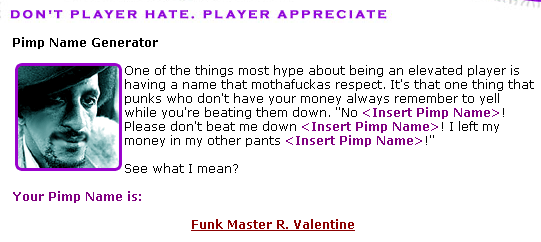 There are tons of fun little tests and things to do on the internet, like quizzes to see how you rate in certain areas, "what [series] character are you?" tests, and plenty of different kinds of funny name generators. The Ninja Name generator at Ninja Burger for instance. The latest one I've come across is at Playerappreciate.com. If you're just reading and not clicking links as you go or didn't bother to look at the picture, it's a pimp name generator. My pimp name, it's pretty sweet. I should probably go by it from now on. It's a little long, but meh. Oh, and if you try it out, you can keep clicking for different names if you don't like the first one you get. This was the first one I got, but I kept clicking, and the rest were kinda weak.
So lately I've been spending a lot of time over at the Mists of Avalon Online message boards. It's run by a friend of a friend, who just happened to have a mention once before on the site, sometime back in early November. It's a much more populated forum (about 40 members), and it's much more lively than my own. And by that, I mean there is activity there. So yes, I've been whiling away some time over there, and if you don't already know of it, I suggest you check it out. Especially for my great views on things such as video games, literature and abortion. Go! sign up! I need more people to form a sort of forum posse.
Okay, third paragraph, video game time. Resident Evil 4 has been challenging the limits of my patience, with some tough areas and annoying as hell fish. Not that they're attacking me or anything, but you can kill fish and take them as food. Currently, the only populated body of water is the lake, and I have to kill them with harpoons, and well, you take it from there. It's interesting that the game progresses in chapters, unlike the other games. I guess it's just a way to gauge how well you're doing rank-wise, because they show you your accuracy, kills and deaths at each between-chapter save point. I'm on chapter three now, and I've fought two great bosses; one really easy, and one slightly tough (killed me five times). Now it's nighttime, and the evil people are getting more numerous, and evil wolves have started appearing too. They are really hard. I'm not going to ruin the plot, but as far as I can tell at this point, the enemy is aliens. It only makes sense. That or it's an underground Umbrella splinter faction that's using a new type of virus thing. I haven't a clue, but now the president's daughter is following me around everywhere, and the villagers keep trying to steal her. Oh yes, and now they throw pitchforks as well. It's getting really hard, and I'm lovin' every minute of it. Whoo Loverboy.
Doom 3 doesn't work so well on my PC. It runs, but when it loads rooms, it starts slowing down rather harshly. But at least it's a good enough game to see past the occasional slowdown. While there isn't any action in like the first 20 minutes, there are so many cool little things to see and do, it's mind-blowing. Then again, I already knew that. I played it once before, but never bothered to mention. Leisure Suit Larry: Magna Cum Laude didn't go over so well. First of all, it was in Spanish, a language in which I have not been schooled, and it bugged out right after the opening scenes. Those scenes were rather interesting though, as the graphics were pretty sweet, and the background music was Motley Crue's "Girls Girls Girls". I've been looking for an English version torrent, but haven't had any luck so far. Please, internet, don't make me buy this game. I know it won't be worth paying money for, but I still want to try it out.
Finally, I have to start getting pissed at Capcom right now. In both Rockman.EXE 4 and Rockman Zero 3, thre were E-Reader features. I searched for and bought an E-Reader specifically for these games. But in the North American versions, those features were gone. I as, as they say, was cheezed. But not so badly, as they didn't really do anything spectacular. BUT – Rockman.EXE 5 also has E-Reader support. it will probably be removed from the NA version again, and this is where they've gone too far. One of the coolest features in the game, dubbed "Forte Cross Rockman", is only attainable by E-card. It's not important to the game, but Forte is awesome, and a Soul Unison (stop me if I've lost you) with him is like the ultimate dream of EXE fanpeoples. Not to mention, it's better than a regular Soul Unison, because it doesn't up and go away after three turns. So yes, urge to kill rising and such. They had better leave that E-Reader crap in there this time, and possibly include the card in the game box so I don't have to buy a kajillion packs looking for the damn thing. All that, and they've delayed the release of the GBA MegaMan Anniversary Collection again. Capcom, you're really cutting it close these days. Funk Master R. Valentine isn't going to take this much longer.