I did a little shopping over the past week, and rather than talk about each item separately in the blog as I usually do, I figured I'd take a page from Mike's book and do a mass review of the stuff I bought. It just seems so much easier that way, and you only have to sit through one boring article rather than four boring bog posts. Everyone's a winner! Except you. And everyone but me. So in conclusion, I'm the only winner.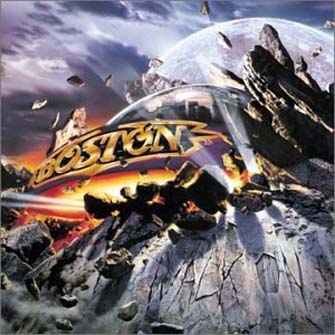 • Item #1 – Boston – Walk on
Now, many of you should know that I really love Boston. I mean, they're a fricking sweet band, how could I not? In any case, most fans think that Boston's releases went downhill after their second, Don't Look Back. I'll admit that Third Stage was a little weaker than I'd hoped for, but Walk On is awesome.
The disc is split into three parts. The first three songs are kickass, even if "Surrender to Me" was featured on Don't Look Back. The second part of the disc is the "Walk On Medley", a set of four songs that could stand on their own, but come together to make what could very well be the rockingest 12-something minutes ever recorded. The last set of songs is a bit weak and forgettable, but that's forgivable due to the high quality of the rest of the album. Hell, the "Walk On Medley" alone is worth the purchase price (which was about $12). Seriously. It was basically the reason I bought the album in the first place. Also, I really love "Surrender To Me". Score: A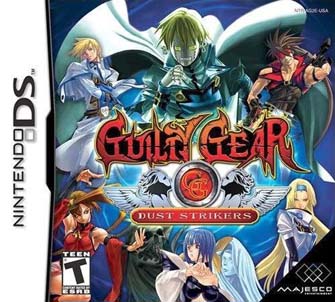 • Item #2 – Guilty Gear Dust Strikers
The most expensive item on the list, totaling up to about $40, is a game I've been looking forward to for a while. Why? Well, to be honest, the DS doesn't exactly have a great catalogue of fighting games. The only one I had before this was Jump SuperStars, and as great as that game is, it wasn't going to last me forever and I don't feel like importing Bleach and it'll still be awhile until King of Fighters DS is released.
But now it sounds like I'm making an excuse for buying it. That would be because it hasn't exactly been getting the greatest of reviews. they say it's too far from the base GG material or something, but I'm not seeing what's so wrong with it. Granted, my only previous GG experience is with Guilty Gear Advance, but I loved that game immensely. GGDS seemed like the next logical step. I've been playing it a lot since I got it, and I'm very much enjoying it. Of course, I'm pretty crap at fighting games (makes you wonder why I love them so much), but I'm even starting to get reasonably good at this one.
Basically, the game takes the base fighting game mechanics (think Street Fighter, but cooler) and tries to cross-breed them with Super Smash Bros. This ends up with multi-tiered stages, items, and up to four fighters. It's a little more hectic than your run-of-the-mill fighter, but I'm convinced that it works. Word on the street is that Guilty Gear Isuka for PS2 works in a similar fashion. The only thing that they forgot to implement was Wi-Fi multiplayer, which is strange considering how long it was delayed for.
Aside from the fighting, there are a handful of touch-screen minigames, all of which are kinda dumb and/or hard except for one. Their only purpose if to unlock movesets for a single customizable character. And speaking of which, those would be the only unlockables in the game. It's odd for a fighting game not to have a small warehouse worth of unlockables in this day and age, but I don't think that the game suffers any because of it. Mostly because I'd never be able to get half the stuff unless it were time-released or something else not relating to skill. Score: B+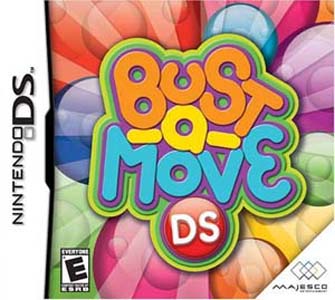 • Item #3 – Bust-A-Move DS
Have you read my Bust-A-Move article? That alone should really be enough to justify why I dropped $20 on BAMDS. I mean, why not? It's portable Bust-A-Move, which in itself is worth even $30. Not to mention that the damn game has been out since December or so and this was the first time I'd seen it anywhere. A chance encounter is all it was, and I couldn't have hoped for better.
So how is it? It's friggin' Bust-A-Move! Do I really need to tell you how it is? To be honest though, it is a little tricky to get used to. See, the D-pad is way oversensitive for Bust-A-Move, and there's no control stick, so what's a guy to do? Well duh, this is the DS we're talking about. Obviously you get to aim with the touch screen, which works awesome once you get the hang of it, which takes maybe five minutes tops. Also it features 5-player single-card multiplayer. Top notch!
One odd thing to note is that both DS games I picked up were made by Majesco. What a silly coincidence. Score: A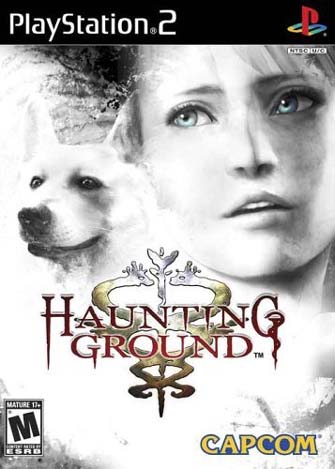 • Item #4 – Haunting Ground
I saw this game one time at Superstore and I was like "Holy crap! New Capcom survival horror game!" but it was like $35 and I didn't feel like taking that chance. Luckily, while I was perusing the games down at the Best Buy, I found it for a meager $20. That was more like it! While it was clearly more of a budget title, I was pleasantly satisfied with Obscure, so my susceptibility to a cheap survival horror game was at it's highest.
I haven't played very far yet, but for what it's worth, I'm very much enjoying Haunting Ground. If you've ever played a Clock Tower game, you'll have a very good idea of how this one goes down. If not, here's the lowdown: you're a (rather busty) girl trapped in a big spooky castle being stalked by a big spooky ogre-man. The catch? No weapons. Unlike most survival horror games, Haunting Ground really emphasizes the survival bit by leaving you almost completely unarmed, save a few defensive items to help slow down your stalkers. Unlike Clock Tower though, you are aided by a friendly dog who will attack your assailants for you, but it's still more of a run-and-hide game.
I probably just suck at it, but I'm finding this game almost as difficult as it is entertaining. That damn ogre-man is a lot more persistent than I need him to be, but it does add a good bit of fun to the game, as it's always more rewarding to complete a difficult task than an easy one. The dog is also really cool. He's animated really well, easily the best video game dog I've seen to date. Oh, and he acts like a real dog too, with the not listening to you when he doesn't feel like it and all. The scenery is also insanely pretty too. If you like graphics, you'll love this game to no end. If you like gameplay, you'll like the game too, but maybe not quite as much. Sadly, the music is little more than atmosphere… And speaking of atmosphere, the game builds so much tension that lesser men will pop while playing it. Score: B