On day number two, and in fact every Sunday while this feature is running, we're going to look at a holiday-themed tea. Because -and I don't know ho in-depth I've blogged about this before- I am a big fan of tea. Particularly in the winter; it's so nice to come in from the cold after a long day at work and snuggle up on the couch with a big, piping-hot cup o' tea.
This particular entry is a specialty mix from David's Tea: Santa's Secret. There's some deep lore on the tin about how this tea is what gets Santa to ever good little child's house throughout the night of Christmas Eve, but that's hardly what I'm here for. That's more of a MatPat thing. Unless, do you think I could get away with doing a HolidayTheory show on YouTube?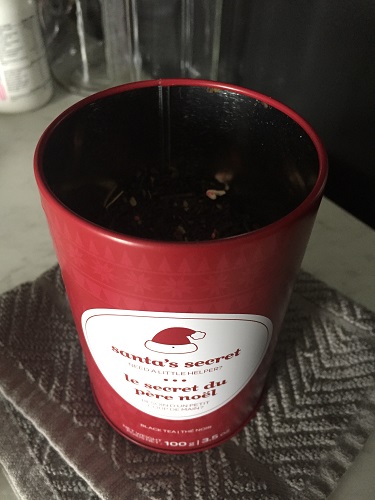 Anyway, this is a black tea, made special by the addition of peppermint, vanilla, and -get this- itty-bitty candy canes. Now that I write it out, I probably shouldn't be lining up all the "candy cane flavoured" items right out of the gate. Excuse me for a moment while I go and re-shuffle my update schedule…
Okay, so, tiny candy canes. Yup. If you squint real hard at that picture above you can see exactly one of these little guys. What's really impressive is that they are actually miniaturized candy canes, and not just shavings of red-and-white sugar. David's Tea is out there making marshmallow cereals the world over look bad.
As for the flavour? It's magnificent! I'm not typically a black tea guy- I prefer green or fruity teas, normally. But peppermint, like always, wins the day here. It's so nice and smooth, and those candy canes give it just the right amount of sweetness. I'm a huge fan, but it actually isn't my favourite tea that we'll see throughout this feature. That won't be showing up for a couple weeks.
My recommendation is obviously hearty, and I'd say you should definitely give it a go. I actually got the pictured tin as an Xmas gift last year, and while I didn't actually see it on a trip to David's Tea that I made a couple days ago (I wasn't looking for it), it is available again in 2018 on their website. So you can definitely go get you some!