It's that time of year again, Christmas time. Or more accurately, it was that time of year again. The event itself is long done, but the season still lingers and won't be gone until sometime around the time when school starts again. Our happy little holiday has come and gone, but like every year before, it has left its mark on pretty much everyone. As much as I hate to admit it, Christmas is celebrated by pretty much everyone and anyone, except the Jews. And I'm pretty sure they get a little of the spirit anyway, what with it being everywhere. Christmas is no longer a special holiday for us good little Christians, but an event for everyone. While that's probably for the best, it seems a little unfair. But I'm not writing an essay on the commercialization of Christmas, so I'll shut up about that before I really offend anyone.
Cartoon characters argue about it all the time, and I'm not exactly sure of it, but I think Christmas is about giving, getting, love, the birth of Christ, and delicious baked goods all at the same time. I mean why not get a little bit of all the good stuff? Why settle for one meaning when you can have 5? It just makes sense. Today I'm gonna be focusing more on the getting side. In the wrong context, that sounds kinda dirty. As I did for Easter and my birthday, I'm going to be doing a rundown of every gift and treat that I got this Christmas. Unlike the former two, this one is gonna be divided into 2 pages. Why? Because I can.
The first page (this one, for those of you who are a little slower) will show off the stocking stuffers and all the gifts that I got from people that don't live in my house. After all that is through, you'll find a link taking you to page 2. There, you can see all the stuff I got from my parents, my brothers, and the legendary Santa Claus (minus the stocking crap). Also, I'll show a couple things that were addressed to the family rather than exclusively to myself. Then it'll be done and I'll provide a link to the Articles board in my message boards where you can discuss all sorts of crazy crap. Then comes my sig and e-mail address and then you'll have to find something else to read. So let's get started already!
Actually, on one last note, the pics are a little bit lower quality than usual because my webcam software doesn't get along with Windows 2000, so just bear with it for now until I find a proper substitute.
---
As I stated in that long and unnecessary intro, we'll start with the stocking stuffin's and then move on to gifts from grandparents, aunts, uncles, and cousins. One little note before I start, not everything got immortalized in a picture, some stuff (mostly money) couldn't be present at the time so I had to do without. Of course, I'll make mention of the gift and who it came from, just for the sake of completeness. So, here's my stocking: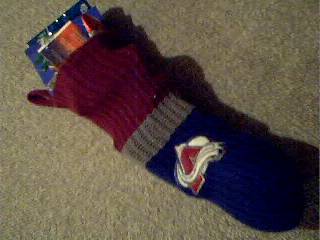 As you can see (if you look close enough), it has been stuffed to the point where it's become misshapen and somewhat pointy. I myself hadn't really rooted through it before I took the pics, I was waiting to get a picture of it before I was tempted to eat the delectable goodies that were sure to lurk inside. And lurk they certainly did. Let's dump it out and see what's inside.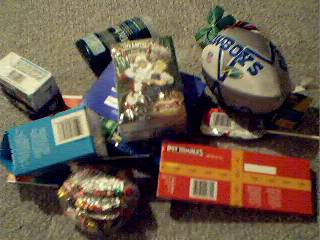 Ah, quite the pile of mess I've made. That's the second thing I've typed that sounds really wrong without the proper context. While we can clearly make out a few things in the pile, I feel some strange need to arrange it neatly and take another picture so that you can tell what everything is without a detailed description. At this point I can see that it's not quite as full of exciting stuff like it has been in past years, but the candy haul looks decent, so I'm happy.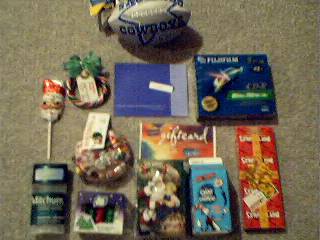 Ok, time for a list. In this bag we have:
A stuffed novelty Dallas Cowboys football. My dad was jealous until he got his.
A chocolate Santa on a stick. Clearly came from the same mold as the chocolate Easter Bunny on a stick.
Circular Candy Cane. So many C's, none of them worth it. O_o
A gift certificate for some book store. I was far too disinterested to know which one or how much it's worth.
Box of 5 CD-Rs. I guess half a box is better than none. Though I still have 13 left over from the birthday.
Net full of chocolate Santas. Also mysteriously shaped like the Easter Bunny chocolates.
Gift card for Blockbuster. This could be useful when I need to rent video games, unlock my door or pretend I have an important person keycard.
A stick of deodorant. Not my preferred brand, but it'll do.
5-pak of Tic-Tacs. That rhymed. Sweet.
Many, many Life Savers. All in a small, festive, book-like box
Mini-milk carton with the Cat in the Hat on it. I hate that cat. Apparently, the carton is filled with Whoppers. Anybody want some Whoppers?
Finally, a box of Hot Tamales. The cream of the crop? Yes.
I usually don't do lists, especially unordered lists, but it's a special occasion. I think that in the end I made out pretty good on the candy front. I ended up with a box of Hot Tamales and a ton of Tic-Tacs. Those could have been the only things in the stocking and I'd have been fine. The Candy Cane thing is a good entry, but I frown upon the Whoppers. CD-R's are nice to have, but I've got a ton already. And the money substitutes will no doubt come in handy sooner or later. I don't buy books until I have a gift certificate, so it's time for me to do some reading! So now that that's covered, I'll move on to the presents. Mmmm presents.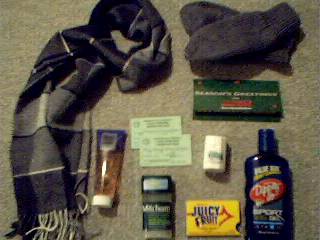 Wouldn't you know it, I just got out of a veritable grab bag and stumbled into a second. My grandparents always send a bag of useful-type stuff, littered with other less-useful fun things. This one came with deodorant (more Mitchum? Dammit! I told everyone I like Brut!), plenty of hair gel (it just hit me now that the blue bottle actually came in the stocking…), dental floss, gum, free golf, movie money, a scarf (which hadn't left my neck until I took the pics), and some mittens. There was also a pair of boxers and some socks, but they were in the washing machine while I was taking the pics. I also got a new hockey stick, which is sadly enough in the same state as my old one; brand new. Not the absolute greatest stuff, but damned if I won't appreciate getting it all.
One of my uncles gave me fifty bucks. It came in a nice card which is now sitting on one of the many tables in my living room. My aunt and uncle who live way in Ontario sent a card with another forty dollars enclosed. It has also found a home somewhere in the living room among all the other cards. The money wasn't able to show up because I didn't feel like finding my wallet. It always gets lost in my room. Perhaps I should look for it? Nah. When I need it, it'll find me. That's what wallets do.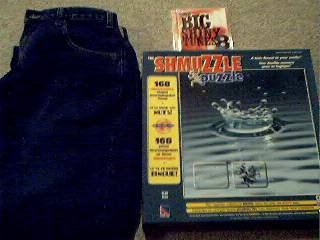 Next up is the stuff from my other set of grandparents. The dark mass on the left is a new pair of jeans. They fit suspiciously well for new jeans. The only other jeans that have fit so well are jeans that have been worn in, but these had the tags and everything, so they certainly aren't second-hand. Up on top is Big Shiny Tunes 8. I've been complaining that ever since 5, they've just been getting crappier each year, but I can't complain with this one. It's not too bad for a bunch of bands I never heard of. I still don't like Linkin Park or Simple Plan, but "Get Loose" by The Salads makes it all worth it. If you haven't heard the song, go listen to it now. Absolute best song from a band named after food ever. EVER.
And if you can't make out the title, the big block on the right is a Shmuzzle Puzzle. Never heard of 'em? Well nor had I until I saw it on TV, and then I knew I had to have it. It's only 160-some pieces, but they're all shaped the exact same! And they fit together in like a billion ways, so I assume that it's gonna be quite the challenge to get this bad boy done. The box even says it's a twin threat to my sanity. But I love puzzles and threats to my sanity, so I know I'll enjoy doing it.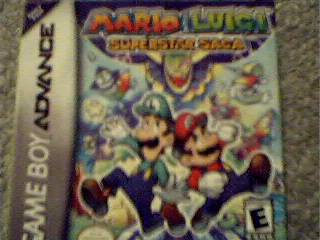 From another of my aunt and uncles, I got this little treasure; Mario and Luigi: Superstar Saga. If you liked Super Mario RPG, you'll more than likely enjoy this one. If you liked Paper Mario too, you'll definitely love this. It's the perfect cross between the two, and I absolutely love it. There isn't a single thing I can't say a good thing about in this game. The story is great, the dialogue is hilarious, the graphics and sound are spot-on, and it's about 20 hours for an expert (good time for a GameBoy RPG). Oh yeah, I forgot to mention, it's fun too. The battle system is very interactive and you can't really take your eyes off the action like in most RPGs. I love it. Plus, it's got the Mario Bros.game I get hooked on so easily and finally, an unofficial two-player option for those with a GameCube and a GameBoy Player.
From my cousin, another Big Shiny CD. Big Shiny 90's this time. Mucho better than the other one, because it's got music that's closer to my preferred music era. Not only that, but it's 2 CDs! Talk about your sweet deals. The not sweet deal is that it's Volume 2, and I don't have any volume 1 to speak of so I guess I'll have to go searching for that now. It's still a great compilation and I highly recommend it. From the fragments of commercial I can pick out of my memory I think the first one was better, but as it stands, I like this one just fine.
I'm not quite at 2000 words yet, but it's time for me to make the move into the next page, which will be a bot longer. Oops… I'll leave it to your imagination whether that was supposed to be "bit" or "lot". Maybe I really did want to spell "bot". Maybe I should quit trying to squeeze in a bunch of extra words to make the unspoken quota. Then again, most of the tags are counting as words so it's a little inaccurate. But that don't matter, we'll just say I ended this page with a healthy 1900 words. Be sure to click on the link below to find out what the rest of my gifts were. If you don't, I'll know. And then I'll get you for it.
[Pretend there's a page break here. Years ago there actually was one!]
I guess the best place for me to start off is where I left off. Now that you've seen all that various crap, it's time for a lot more crap! Only this crap came from my parents, siblings, and there are even a few presents from me in there somewhere. And to top it all off are a few gifts that were addressed to the whole family rather than just for me. I know I've told you this before but I thought I'd remind you, and I just didn't feel right starting with a picture.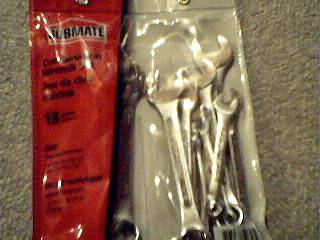 Every year for my birthday and Christmas, my dad gets me some sort of tool. I think it's a pretty sweet deal, because I use them a lot. Maybe not for what they're meant for, but I use them a lot. This year I got my very first wrench set. Now that's great and all, but I asked for a saw (again) and it never came. Why I can't have a saw is beyond me, but frankly I'm pretty disappointed. I love the wrenches and all, but they just aren't a saw. Oh well, there's always next year.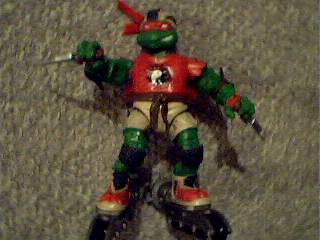 Everybody should know that I adore the Teenage Mutant Ninja Turtles. If you don't you do now. Sadly, I only got one action figure for Christmas, but it's no big deal, I can just go buy the rest. I've already got all the figures from series 1, and Skatin' Raph here is my first from series 2. Overall, it's not that much different from the normal Raphael, except for the skates, his clothes, and the fact that his legs are stuck in a much more comfortable looking position. The skates themselves are quite large, but they work pretty well and ensure that he doesn't fall over. My only complaint is that they didn't paint as much detail on the actual figure as they did on the figure on the box. It's really not a big deal, but I feel a bit cheated.
My brother, on the other hand, got pretty much all of the ones he needed. Ironically, I think the only one that he's missing is Skatin' Raph. I'm quite jealous because I've been a Turtles fan for so much longer than him, and if it wasn't for me, he probably wouldn't even know about them. I think the jealousy is mostly rooted in the fact that he has the Casey Jones figure and I don't, but I have him one-upped in other ways that are soon to follow…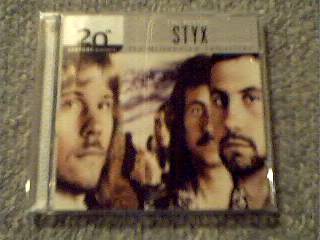 Back to the real world for a second, I'll take a look at my CD's. I haven't been listening to Styx for a long time, but I really like the music, so I asked for the greatest hits and here it is. It's a great CD, despite only having 11 songs, and I'm even listening to it as I type this. There is one song I don't really like on it, but it's not something I can't learn to live with. After all, if I can tolerate the Three Days Grace song on Big Shiny Tunes 8 I should be able to put up with anything a real band can throw at me. Other than what I've already typed, there isn't a whole lot I can say about a CD.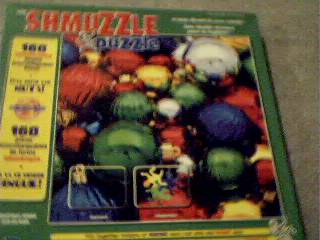 I believe my exact word were "Not another damn puzzle". Just kidding, I think it's cool that now my sanity will be cumulatively threatened four times. This one might be a little easier than the water drop as it's got lots of colours, but I haven't tried to put it together yet so I could be horribly mistaken. These puzzles are only like 10 bucks, so I urge you to go out and get one if you often find yourself bored. Or you could get one of those bajillion-piece puzzles, but those don't have any gimmicks, so they can't possibly be any good.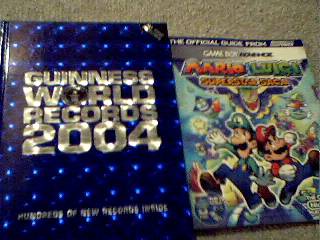 Just to diversify my gifts a bit, my mom decided that it would be good idea to get me a couple books. Only problem is that these books aren't really books. Sure they've got words in them and all, but they're mostly just for novelty's sake. I mean, who actually reads through everything in the Guinness world record books? I'll make it a point to be the first to do the feat and then I'll get into the next one. I'm just curious if it came from the future, because it's the 2004 book and there hasn't been a whole lot of 2004 to make records in. That and it looks kinda futurey. The high point is that I found a new crustacean to top the most wanted pets list: the Japanese spider crab. Though I'd need a pool to keep it in because its leg span is over 2 meters long.
Now the Mario & Luigi player's guide. I don't really need it, but I can honestly say that it has come in handy. I also like to just read guides as well. Don't ask me why, because I couldn't tell you. Just ever since I got the guide for Final Fantasy 8 I've been getting them mostly just to read. We all know that you don't need a guide for a side-scroller, but I got the guide for Viewtiful Joe because I like to read them, it was Viewtiful Joe goods, and it was 20% off. That's like 2 bucks off right there. Greatest deal ever.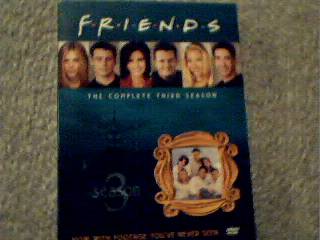 I got the second season DVD set of Friends for my 16th birthday, and I wanted the first and third this Christmas, but my mom was only able to find the third. I guess I'll have to go hunting for it by myself eventually. Not a whole lot to say, but it's got one of my favorite episodes on it, The One Where Nobody's Ready. If you don't recognize the title, it's the episode where Joey puts on all of Chandler's clothes at once. The special features aren't very appetizing, but I like commentary so I'm happy. Oh yes, we got a DVD player a while ago, so I no longer have to use the PS2 or X-Block to watch stuff. Yay!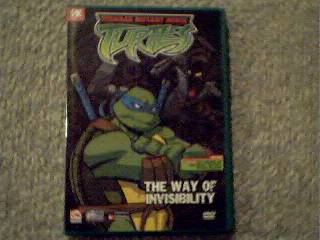 I told you I'm a Turtles fan and I wasn't lying. I wanted Turtles DVD's, and I got one set. Only once again, it's the third in the set, and my brother got the first. Obviously my mother is not aware of my preference of getting things in order. Not only that, but my brother wrecked the plastic covering of his while trying to open in so now the cover is taped on very, very badly. Not that if affects me, but I hate to see something so precious abused in such a way. Seriously, if you saw it, you'd hit him too.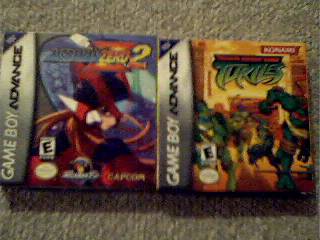 Now it's time to set foot into the restaurant of video games and check out the real delicacies of the annual serving of gifts. Our appetizer, MegaMan Zero 2 is by far one of the hardest games of this generation. When I read the reviews I thought "Bah, they're just babies, it couldn't possibly be that hard" and I thought I was right, because they said the first game was hard and it wasn't too bad. But when I popped this sucker in I got my ass handed to me. Getting killed in the intro stage generally means the game is hard or you suck, and I'm pretty confident that I don't suck. But after some practice, I've been able to make it halfway through. My final opinion: I love it. We need more games like this. Capcom, I salute you.
Our side salad is, of course, the TMNT GameBoy game. Unlike MMZ2, it's not unbearably difficult, but it does offer it's own challenges. Easy mode is quite simple, but once you get to Normal, you start thinking that maybe you got more than you asked for. And it's fun too. It's like the old arcade/NES games, except it's pure 2D and there is (very sadly) no multiplayer support. But it's still an above-par game. There is a password feature, but it doesn't unlock anything worth being there. The other problem is that they chopped up the cartoon's intro and shoved it in there. It would have been better off without the intro, rather than with the butchered garbage that's in there. But it's small, and skippable so I don't mind too much.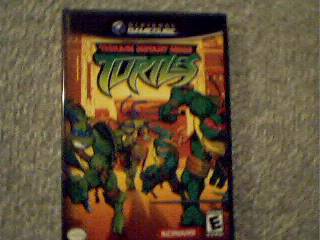 And now we get to the sweet, sweet main course of the bunch, the GameCube version of TMNT. Like the GBA game, it's very similar to the old games, only it's in true 3D. There is multiplayer support, but it only goes to 2-player. I bet if they didn't have to put it on the PS2 as well, there would have been a proper 4-player mode. Oh well. The password system in this version is much better, as it opens plenty of things like new game modes and costumes. There is also a production art database, and being the art fiend I am, it pleases me muchly. Oh, and if all the crazy food metaphors are kind of confusing, I've been playing Mario & Luigi way too much, and you'll understand if you play it.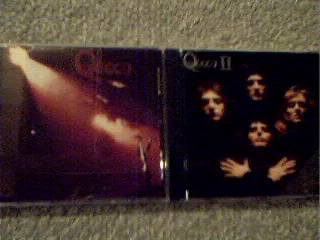 I've said I'm a Queen fan in the past, and as you can see above, I got myself a little something to commemorate my last big Christmas haul. Actually, we were shopping on Boxing Day and I've never seen these CDs anywhere, so I did what I had to do. I imagine the reason they're so rare is because they're the first two Queen albums, and they were released a long time ago. Of course, they are the CDs and not the records, so they're not the originals, but I'm not complaining. The one thing I am complaining about though, is that Queen II has a remix of the Seven Seas of Rhye, which I though was just an extended version or something, but it's really a techo-ish dance mix which really destroys the song. Other than that, they're awesome CDs that belong in the libraries of any 80's rock fan.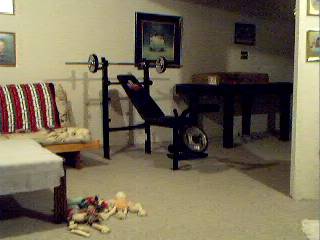 Now we get to the family gifts. You can usually see a similar background in pictures of me that are on the site, but there's one big difference (aside from the dog toys). The new weight bench we got is a lot better than our old piece of junk. This one's even got a thing so we can do leg stuff as well. I may not seem like the type to be overjoyed by this kind of thing, but I am. Now all I need is some solid motivation and I'll be in shape in no time. Ooh, it's comfy too, so comfy in fact, that I was ready to use it as a bed one night. There was a whole bunch of (figurative) crap all over my real bed, so I just laid down. But then I got up and after some possibly amusing events I ended up sleeping on the couch.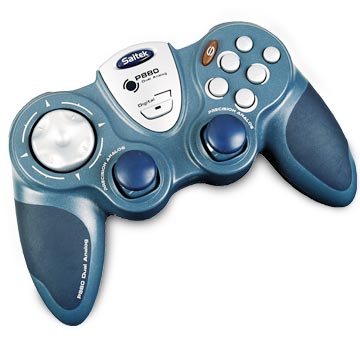 I had taken all the pics when I remembered about getting this beauty, so I just surfed on over to Saitek's website and stole their picture of it. It's so much better than the old 4-button Gravis gamepad I had been forced to use for the last few years. Now I can play my ROMs in style! I would use it for other games, but we don't really have any computer games that would benefit from using this. I've said it once and I'll say it again, FPS games are made to be played with a keyboard and mouse or at least a Nintendo 64 controller. I wonder if I could play Tiberian Sun with it?
And that's the whole lot of it. Every gift and goodie has been at least spoken of, and I'm ready to go and start a puzzle. Actually, to tell the truth, there is one thing I forgot to mention, and I'm sure it'll make up for the one I missed in the birthday article…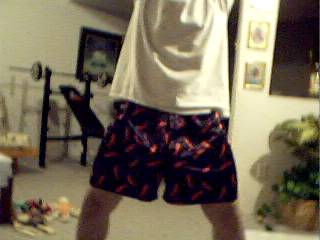 Ho ho ho! Enjoy, ladies!
---
And that's that. Sorry I couldn't get this up closer to Christmas, I was planning to have it done by the 28th, but my PC got infected yet again and only a week after the holiday have I found time to finish up. And now that this is done, I an get to work on my English project of which I had 4 months to work on and have yet to start. It's worth 10% of my grade so I guess I'd better get to work. I might even post some of the stuff I do for it on the site, so be sure to stay tuned.
As for the future, I stated in a recent news post that January is exam month, and not only normal exams, but provincial exams as well. They shouldn't be too hard, as all my classes this semester are language classes, and I find that to be my forte in school, but I till have to study or something like that, so I probably won't have a lot of time for updates. It's going to be another November/December. If I do post anything it's gonna be a mini-review or submissions to the gallery. Sorry about the lack of real articles, but my PC has been FUBAR so many times in the past couple months that I can't really get anything done. Now that's changed, and as of February I'll be able to try a little harder.