Well, I really shouldn't have to explain this again since it's basically the same article I ran two weeks ago, but I do it every time for Chat Radio. What a sucker I am…
*Ahem* To get back to the point, this is simply a bunch of short reviews of various goodies I bought/obtained during the past week. I add "obtained" in there because in all honesty, there's one item here that I didn't pay a cent for. You'll understand just why that's such a good thing once you get that far. So that's the summary done, I guess we'd better get to the real task at hand then.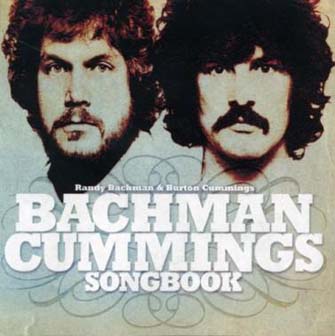 • Item #1 – The Bachman/Cummings Songbook
If the world was more like Metal Gear Solid, my entire family would have had funny little question marks floating over their heads when they learned that I bought this. I'm willing to bet everyone else on the face of the earth would too. Fact is, I often wonder how well people think they know me. I'm not an overly complex guy, but certainly if even my family – people who interact with me every single day – couldn't forsee me buying this CD, they obviously don't know me too well, and I doubt anyone else does then. Oh well. Not that I'm complaining about it. I like having an air of mystery.
That said, the CD rocks. I'd review it myself, but I'd basically just be saying exactly what this review says. And I'm not one to plagiarize outside of homework.
That review does end with a question though, and I have an answer for it: Matthew good. Score: A+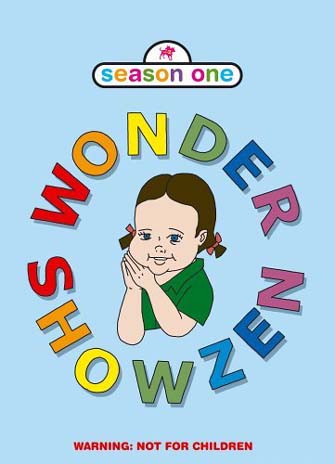 • Item #2 – Wonder Showzen season 1
A while back (presumably around the time the show started airing), the Mask started posting clips from a show called Wonder Showzen. Based on the name, at first I assumed it was some quirky Japanese show, but no. Turns out it's an MTV spoof of Sesame Street. Or something like that anyway.
In any case, I really enjoy the show. It's not top-tier stuff like Robot Chicken, but the two shows do have their similarities, such as being completely random and often quite offensive. The "main" skits are usually pretty funny and off-the-wall, and all the crap in the middle is great, like "Beat Kids" which has a kid dressed up as a reported asking people about dumb stuff (EX: asking "how was it?" as people leave a park restroom). The biggest problem I have with it is that the Clarence bits are funny, but tend to drag on and get annoying. Oh well. Also, the show can be… erm… insensitive towards those who are… weak of stomach. It's nothing you won't be able to handle if you've seen the dreaded "Tubgirl" image and lived though. Nowhere near that level of gross. Score: B+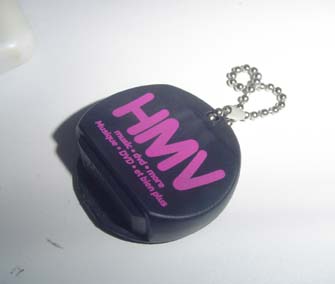 • Item #3 – Some kind of shrink-wrap removing dealie
As I was paying for my junk at HMV, the girl at the checkout suggested that I pick up one of these little things. She said it was for getting the shrink-wrap off CDs and DVDs and whatnot, and since it was only $1.50 and I hate shrink-wrap and she was cute, I decided to pick it up. I think I used the word "and" waaaay too much in that last sentence there.
I put the thing to work right away, opening my new wares. However, being the dumbass I am, I couldn't get this overly simple contraption to work. Nope. Took me a good five minutes to figure the thing out. I really shouldn't have told you that, but I really don't have much else to say to fill this space. I guess mentioning that the thing works wonders is good way to do it though. Score: A+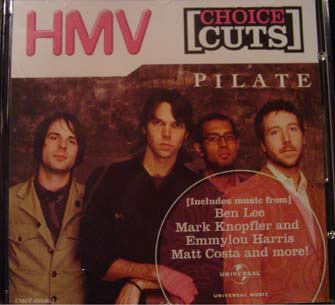 • Item #4 – Free Indie-crap CD
I am many things. Slow, thick-headed, dense, witless, etc etc. I'm also a penny-pincher and a pushover, and both traits play a large role in this acquisition. You see, the checkout girl at HMV I mentioned just a little earlier also offered me this "sampler CD." I knew damn well that it was a trap and likely filled with horrible music, but when put on the spot like that, and being the floor-mat I am, I also knew damn well that I was screwed. Luckily, she quickly added that it was free. Breathing a sigh of relief, I agreed to take one, and all was good.
The CD is pretty much garbage. I've only heard of one of the bands (Pilate, who are featured on the front), and I can't say I'm going to worry too much about learning more about any of them. None of the songs are really bad per se, but almost all entirely forgettable, with the exception of Donovan Frankenreiter's "Move By Yourself" which is way too funky not to like. Pilate isn't too bad either, but at best, they're a less boring version of U2. Score: C-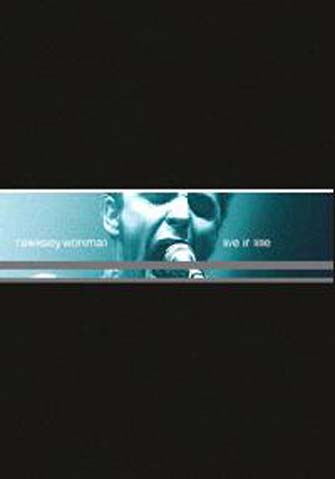 • Item #5 – Hawksley Workman – Live in Lille DVD
I don't know if you've been keeping score at all, but I've been listening to all sorts of music outside my normal range as of the last few months, and hawksley Workman is one of the artists that I've really gotten into. He's a Canadian indie rocker, and though I may have come off as critical of indie music in that last little CD review up there, this guy is really awesome.
I don't usually buy music DVDs, even shows. In the past, there are only two that I've made exceptions for: Queen – Live at Wembley, because that's like the greatest show ever performed, and HIM – Love Metal Archives Volume 1, because HIM rules. Now I've got a third, kind of a spontaneous purchase, but a good one nonetheless. I haven't seen many live shows in my time, but I've listened to many live CDs and seen a lot of shows on TV, so I have a good appreciation of the general rule that bands either suck or rock onstage. At least I've never seen anyone do a middle-of-the-road performance. Anyway, Hawksley live is good stuff. He seems to have a little trouble getting all the words out, but I've seen many that have the same problem. He still puts on a good show, and I'd recommend this DVD to any fan. Score: B+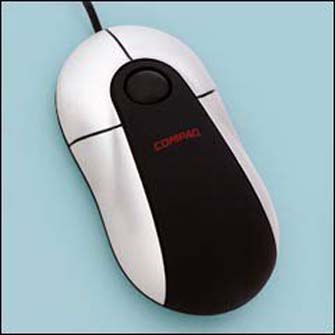 • Item #6 – Compaq Optical Mouse
Recently, I was able to restore my personal computer to working order. It was quite a process, as that thing was seemingly screwed up beyond repair. Now that it's in a better way – and beefed up with a new video card to boot – I've been putting it to good use as a gaming PC. Not that I play many PC games, but I need to use the damn thing for something.
Sadly, most of the games I play put a pretty strong emphasis on having a scroll wheel on your mouse, and my old mouse just couldn't afford me that luxury. So I went out and picked up a cheap optical mouse. It's pretty darn neat for a mouse too, as it's all mini-sized and intended for a laptop. The scollball thing doesn't work nearly as well as a real scroll wheel though. It seems to have something against scrolling down, but applying a little force gets it back in line (just like women!). That little bug aside, it works well, and I really like the tiny size. Also, my simple mind is totally amazed by the little dongle it comes with so you can plug it into a normal mouse port instead of USB. Good thing too, because my USB ports are always full… Score: A-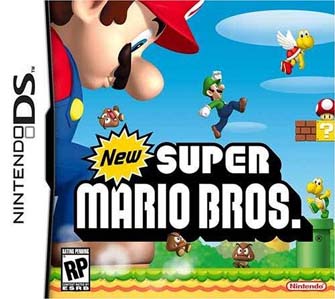 • Item #7 – New Super Mario Bros
I'll give it to you straight: If you liked any Super Mario Bros game before this, chances are that this is worth buying a DS for (this and all those other awesome DS games). But seriously, I haven't played a video game this good since Super Mario World (because I like Yoshi's Island and Mario 64 a little better), and I think that says a lot, because I play a hell of a lot of video games. It's got all the charms of an old Mario game, and does so much awesome new stuff that I couldn't even begin to describe its greatness in three paragraphs.
First of all, it's clearly an homage to the games of yore, and a much better homage than simply porting those games. If you give it a shot, New Super Mario Bros will immediately win your heart. From the total lack of story (the princess is captured, Mario must save her) to the unnerving difficulty of some levels and obstacles, this game just oozes Super Mario. The 2D/3D look of the game is incredible, and makes use of some great effects, like morphing entire landscapes under your feet and growing Mario and enemies to gigantic size or shrinking them down to a size similar to that of one Edward Elric.
As you may have heard, there is a bit of an overabundance of extra lives. The game is tough, so you'll be putting them to good use, but I doubt anyone with even a little skill will ever run out. The other small issue is that it opts to use that damned Bowser Jr over and over where the Koopa Kids would clearly fit very nicely. Dammit Nintendo, you need to listen to the fans more carefully! Do you know how happy we were when they showed up in Superstar Saga?
Anyway, Score: A++
That's it for this week. I'm sorry I cooped out and did another mass review so soon after the last, but I'd just bought so much stuff that it would have been a waste not to do it. You know what? This apology is really more suited for the ol' blog. Yeah. I'll just wrap it up here then.