I don't know how many times I've started an article with this fact, but I play a lot of video games. Perhaps too many, but not nearly as many as some of the real hardcore people. Why do I play video games? Mostly because they're fun. At least, a good 40% or so are fun. The other 60% are licensed crap and RPGs (not a typo). Most of the good ones are fun in their own special way too, and that's why it's good to play a large variety; you never know what's gonna amuse you next.
I've clearly taken it upon myself to make up a list. And not just any list, but a list of the ten absolute most fun things to do in video games. And while my ego does like to believe that my list is absolute, it is in reality only my personal list. You may disagree on some counts (as they're somewhat sadistic), but I'm sure you'll agree that most of them are in fact awesome, even if you wouldn't put them on your own list.
To slim things down a bit and keep a little less bias about than usual, I've weeded out any ideas that are too general. Basically, I'm going to ignore entire games and multiplayer modes in general (for the most part) because let's face it, the list would be Super Smash Bros Melee ten times over if I didn't. Mind you, I didn't spend a whole lot of time coming up with the list (only about two hours), but I think I got the essentials down. You should also take note that they're not in any particular order, because there's no way I'd ever be able to decide. So with the intro out of the way, let's hop to it!
Smashing Opponents Into The Electric Fence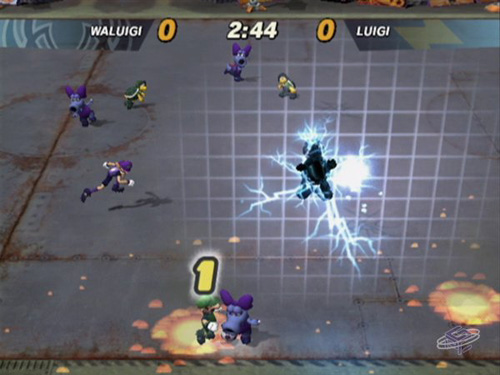 Game: Super Mario Strikers
Platform: Nintendo GameCube
Fun Rating: 8/10
Description: While Super Mario Strikers is a ton of fun in general, there's one thing that really brings it above any other Mario Sports title: the amount of mayhem. While a game of Mario Kart can get pretty heated, it's nothing compared to Strikers. The explosions, the Bowser, the hitting. You could piss away entire games simply body checking any poor soul that makes the mistake of getting too close and still enjoy the game to pretty damn well near its full potential. The thing that makes this even better is that the pitch is surrounded by an invisible barrier. What's so great about that? well when you hit an enemy into it, they find out the hard way that it's coursing with a many million volts. If 10,000v is the maximum real world voltage for an electric fence, then this one is likely around a couple megavolts. Anyhow, I find this extremely fun not only in the fact that I'm frying my opponents good, but also because they always let out a very painful-sounding scream as the electricity courses through their bodies. I told you some of these would be a little sadistic.
Traditional Super Mario Games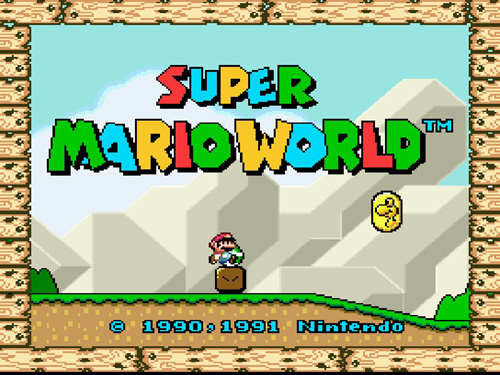 Game: Super Mario Bros/Super Mario Bros 3/Super Mario World/New Super Mario Bros
Platform: NES/ARC/GBC/GBA/SNES/DS
Fun Rating: 9/10
Description: I really didn't want to include entire games (nevermind a whole series) in this, and rather just elements of games, but it's too damned hard not to give a mention to Mario platformers. They've always been the cream of the crop as far as video games go, and you can always play them over and over. Mario's the most recognizable video game character ever, and with good reason. People all over the world were enchanted by Super Mario Bros and many still hail it as one of the best games ever, and when it isn't mentioned, it's usually replaced by SMB3 or Super Mario World. Not only were the games fun because of their simple and addictive gameplay, but also because they could frustrate the Hell out of even the greatest players. Not catching on? Maybe the words "Outrageous" and "Tubular" will get those synapses firing. Lastly, I won't spoil it, but New Super Mario Bros has like the greatest final boss fight ever. At least for a side-scroller.
Being A Zombie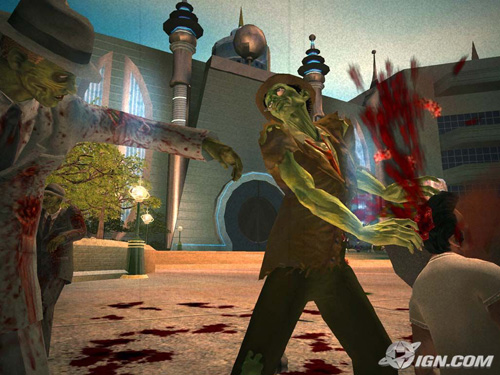 Game: Stubbs the Zombie: Rebel Without A Pulse
Platform: PC/XBox
Fun Rating: 7/10
Description: I knew right away when I heard about Stubbs the Zombie that I had to have it. Even though the game turned out very differently than I'd imagined while reading about it, it still pleased me to no end when I finally got down to playing it. I don't think there's been a video game that's let you be a zombie before (aside from a couple power-ups or bonus-games), and my dream came true with Stubbs. Its a pretty linear game, and doesn't afford you a lot of options (early on, anyway), but it's incredibly fun. Stubbs can do all sorts of awesome things like eat brains and create a horde of zombies. You can even rip off people's arms and use them to beat other bystanders to death. Nearly 100 times more fun than a boring ol' baseball bat. Posessing humans is pretty nifty too, and I don't think I'll ever get bored of using Stubbs' "unholy flatulence" move. The only thing that really brings the experience down is that the game occasionally forces you to play as a [posessed] human, and the death of that host means having to start the area over. All in all though, playing for the zombie team is about as good as it gets.
Rolling People Into A Katamari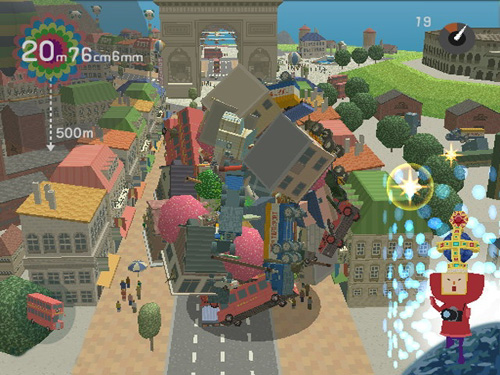 Game: Katamari Damacy/We Love Katamari/Me & My Katamari
Platform: Playstation 2/PSP
Fun Rating: 8/10
Description: I don't know how many times I have to reiterate this: the Katamari Damacy series is the best thing to happen since opposable thumbs. The music is insane, the graphics are hilarious, and well, the gameplay was good enough to make me buy a PS2 (and maybe even a PSP, should it get a little cheaper). You'd never think that rolling things up into a ball would be as much fun as this, but I'll be damned if it isn't. And while rolling up onigiris and shoes is all well and good, the really fun part (at least for me) is when you get to roll up the wandering residents of the Earth. Many games have memorable moments, but none are quite the same as the first time your katamari is large enough to roll up a child. Oh, those little guys can run. It's a truly amazing experience, and if you hadn't been sold on the Katamari idea up to that point, once you start hearing the screams of terror from your freshly rolled high-school basketball team, you'll definitely realize just why this series has the following it does.
Holding Up Soldiers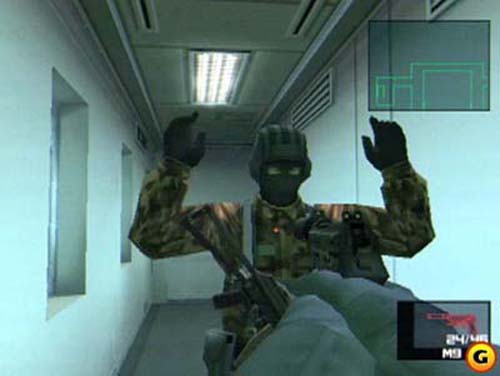 Game: Metal Gear Solid: the Twin Snakes/Metal Gear Solid 2/Metal Gear Solid 3
Platform: Nintendo GameCube/Playstation 2/XBox
Fun Rating: 6/10
Description: It may not be the most exhiliarating thing on the list, but there is definitely something to be said for the hold-up tactic found in all the Metal Gear Solid games since MGS2:Sons of Liberty (though the mini-game-esque "Hold Up Mode" was only in Substance). Playing with the guards and soldiers is a huge plus for the series, especially since getting through the main games doesn't take too long (cutscenes aside), and possibly the most entertaining thing you can do to them is the hold-up. A vital tactic for procuring dog tags in The Twin Snakes and Sons of Liberty, the hold-up is exectuted by simply sneaking up behind your target and readying your gun. Walking in front of them and using first-person mode will scare them into dropping a dog tag (or other goods), and from there, they're yours to play with. You can proceed to shoot out their radios, injure various limbs, or just shoot them in the ass to make them jump. some are even would-be heroes and try to pull their guns on you after you hold them up. Pumping a bullet into them will put 'em back in line.
Drenching Isle Delfino Residents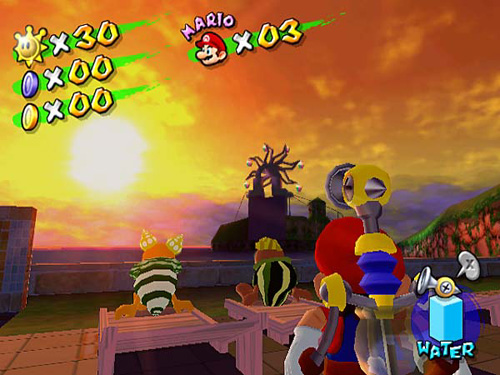 Game: Super Mario Sunshine
Platform: Nintendo GameCube
Fun Rating: 5/10
Description: If the FLUDD is good for anything, it's annoying the crap out of all the NPCs in Super Mario Sunshine. A past-time that I don't tire of quickly, soaking anyone nearby doesn't rank too highly on my list, but it's still a good wad of fun. Nokis try to take that fun away by simply retreating ito their shells, but the vast majority of Piantas will get all flustered and make a huge fuss about it. If only they'd actually take action after so long (I'm thinking they could exact revenge like the cuccos in Zelda games)… And then there's Toadsworth. While the basic Toads just screech a little and act like they're going to melt, the mustachioed mushroom lets out the most hilarious "YAAHBLAHBLAHBLAH!!" you'll ever hear. That yelp alone is worth the place on this list. There are a lot of fun things to do in Super Mario Sunshine, but squirting Toadsworth makes me giggle like a schoolgirl every time.
Wasting Those Other Links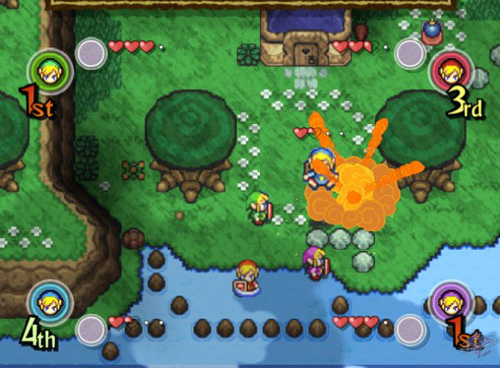 Game: Zelda: Four Swords Adventures/Zelda: A Link to the Past & Four Swords
Platform: Nintendo Gamecube/GBA
Fun Rating: 10/10
Description: Four Swords isn't exaclty Zelda as you know it. It's pretty close, but it's got something no other has: multiplayer. While it's multiplayer that encourages teamwork, it also makes sure to allow for plenty of friendly fire. Adventuring through stage after stage can get a little tiring, and every now and then, you just have to let loose and start murdeing any other Links that get close. Whether you're doing it to steal Force Gems because you're a backstabbing traitor (me), because you feel the need to start a war between the Links (also me), or just because throwing your friend off a cliff seemed like a fun idea (me again), killing each other can be far more fun than playing through the game proper. Four Swords Adventures even includes a battle mode tailored specifically to meet your teamkilling needs. Of course, there aren't actually teams in that mode, but you know what I mean. The weapons and items in the games provide you with endless ways to burn, slash, stab, trample, explode, pierce, and throw your friends. There's even an item in battle mode that unleashes a cucco who will rip out an opponent's heart. Joy!
Playing Anakin (Or Any Sith, Really)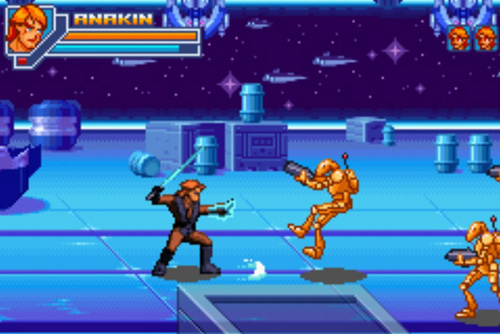 Game: Star Wars Epidoe III: Revenge of the Sith
Platform: Playstation 2/XBox/GBA/DS
Fun Rating: 8/10
Description: I know there are tons of Star Wars games out there where you can play a Dark Side character, but for the sake of brevity, I'm going to focus on Revenge of the Sith for this article. Yes, plenty of games let you be bad guys and perform actions not sanctioned by basic human morals, but Star Wars games really hand evil to you on a platter. I get much more satisfaction from watching an alien squirm as I crush his throat than I do from pumping bullets into people. The RotS games let you choose from Obi-Wan and Anakin, and Anakin is clearly the choice if you're playing for the fun of it. Obi-Wan tends to be easier to play, but his is a more defensive game, while Anakin's game focuses almost entirely on offense. Watching legions of battle droids crumble beneath the might of my Dark Side Force powers is a sight that couldn't ever get old. The console version is even better, intensifying everything with fancy effects and superior lightsaber duels. I can see why so many Jedis fall to the Dark Side… It's just so awesome.
Running Down Pedestrians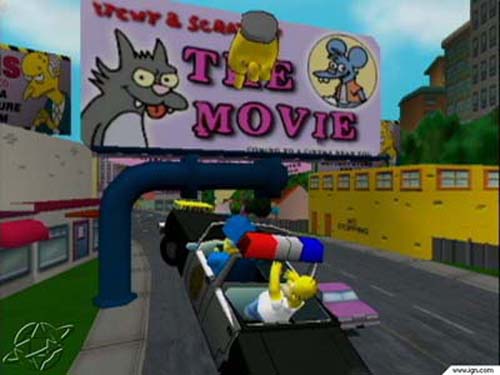 Game: The Simpsons: Road Rage/The Simpsons: Hit & Run
Platform: Nintendo GameCube/Playstation 2/Xbox/GBA/PC
Fun Rating: 7/10
Description: Yes, you can run over pedestrians in most driving games (and shame shame double shame to those in which you can't). I know this. I know this well. But in most games they just go splat and then you get out and take their money. In the Simpsons games, the pedestrian-smashing is a little more humorous. You see, rather than pulling a Frogger, the pedestrians in the Simpsons games will bounce into the air when they get smacked by a car, giving players the impression that they're all made entirely of rubber. Don't ask me why I like this way of hitting people so much more, but I do. In fact, I was originally going to use GTA3 as a headliner for this entry, but decided against it when I remebered how much more fun it is when Homer runs somebody down than when some run-of-the-mill mobster does it. The funny noise it makes helps too.
Bomberman Multiplayer!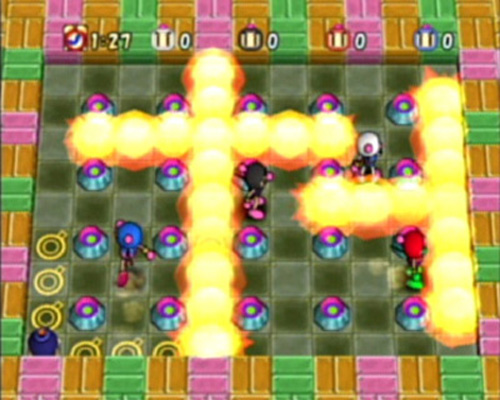 Game: Bomberman Generation
Platform: Nintendo GameCube
Fun Rating: 10/10
Description: Yeah, okay. So multiplayer in nearly any Bomberman game is stellar (except that XBox 360 abortion they call Bomberman: Act Zero). This is a well-known fact to nearly everyone. But I come here today intent on stressing how much I love the multiplayer mode in Bomberman Generation. Sure, you could just play the regular old blast-the-other-guys mode (which is A-OK, don't get me wrong), but I'm totally enamored with the ultra-frantic Dodge Battle. You don't get any bombs, and neither do your opponents. Sounds weak, but there's a catch: bombs fall from the sky! The basic idea is to avoid them and be the last one standing, and playing that way is cool, but there's even more. Each Bomberman starts equipped with both kick and punch abilities, so you can still put your back into getting your enemies killed, even if it's not the traditional way. There are some more special modes, but they don't kick nearly as much ass. You can read about 'em all in my Bomberman Generation FAQ… somewhere. It's on this site and GameFAQs, but I don't feel like linking to either one at the moment.
So that's it for now. I'm sure that there are some great moments that I've forgotten, but I'm content with my list. Surely games of the future will bring even more memorable moments, and I'm looking forward to all of them. I can't really think of anything else that needs to be said to conclude this, so off I go!