It's really amazing how much merchandise that Nintendo pumps out. Sadly, most of it isn't exactly the kind of stuff you want to buy, and very little of it is worthy promotion for the GameCube and GameBoy Advance. Sure the Pokemon line goes over really well with kids, but very few older Nintendo hardcores want Pokemon toys all over their room. I don't. At one point, I did have a small Gloom hanging out on my dresser, but it got lost. Kinda unfortunate because Gloom is one of my favorite Pokemon.
Of course, they have gone to certain lengths to make Mario and Zelda action figure lines. You saw a few of them in Hylian Idol. We even got a few burger restaurant deals, one promoting Super Mario Bros 3 at McDonald's, which was a long time ago. Last year, there were Mario toys at Wendy's, which I believe came along to help sell Super Mario Advance. The most recent was the Burger King deal, which was a menagerie of Nintendo most popular characters, such as Mario, Link, Donkey Kong, and Kirby. Everyone loves Kirby. Why we didn't see any kind of promotion for his TV show is beyond me though.
(>o.o)>
Whee! Look at him dance! I guess that's an ample intro for today. I really don't think it's that necessary anymore. After all, they do sway off the path of the articles a bit. But in the quest for longer and better articles, I must do what I have to do. But, enough redundant rambling, I'll just start the article now.
---
A long time ago, actually, less than a year to date, I was browsing the dollar stores of a faraway land and came across quite the treasure. It was a simple plastic bag with candy in it, but that was just the base idea. This bag of goodies was a Nintendo Surprise. Of course, the surprise wasn't really there, since there was a transparent area on the front of the bag. That and they all had more or less the exact same things in them. I went back this year to seek more of the bags-o-fun and I found them, only they had changed a bit.
The old Nintendo Surprise contained a sucker, a Ring Pop-like thing, a slab of gum, and a game tip card. They all sported different characters. The gimmick was that you could collect all of the different characters and candies. I guess the only surprise is what character bust you found in the ring pop. There were 2 different sucker "statues", 6 character busts in the ring pops, and 18 different portraits in the gum. The only problem with this is that they seem to be extremely rare, and no kid would be able to resist eating them.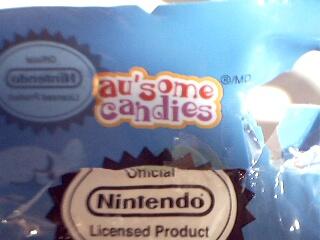 Now, produced by
Au'some Candies
, the "Nintendo Surprises" are simply plastic bags containing a bunch of gum. It's really a sad story. Why? Because the gum was the only collectible that you could really eat. the others left plastic remains to collect. Fortunately, you won't want to eat the gum after you try one piece. it tastes absolutely horrible. Bad, sinful, imperfect, rancid, unsuitable, wicked, tainted, hurtful, noxious, and terrible are all words that go hand in hand with this gum. the package says "sour" but this stuff tastes worse that eating Kool-Aid powder. I kid you not.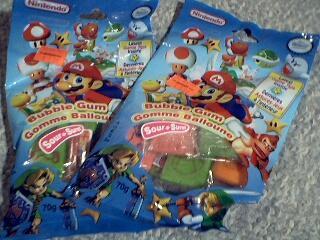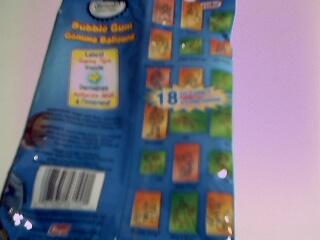 As I stated in one of the above paragraphs, there are 18 slabs of disgust that you can collect. Though,
Au'some Candies
seems to have cut a few corners when they were making them. The different characters are the following: Mario, Princess Peach, Luigi, Bowser, Paratroopa, Larry Koopa, Ganondorf, Ludwig Von Koopa, Yoshi, Ganondorf, Link, Link, Link, Diddy Kong, Link, Donkey Kong, King K. Rool, and Donkey Kong. Notice the abundance of Link. Even the two different DK gums are the same picture, just one is reversed. At least they look pretty good and not at all like some poor African kids drew them on.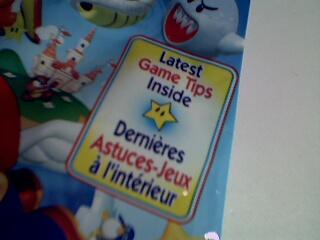 I also mentioned earlier that the Nintendo Surprise contained a card with a game tip on it. These ones are no different. But the use of the word "latest" is a bit of an exaggeration. At least now. I guess that I forgot to mention one little detail. After a little bit of researching, I found out that these things were made way back in 2001. I suppose it's not as bad as the Hulk gum that my brothers got. If you read X-Entertainment, you've seen it before. And if you want a bit of a more in-depth look at the 8-year-old crap, check out Matt's Video Store article.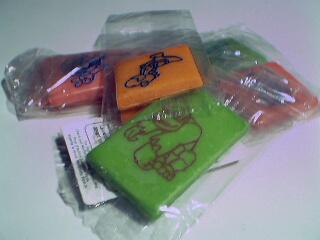 So, here's the contents of one of the packages. It seems a lot more impressive than it really is. A LOT. There's not a lot I can say about this pile of crap that I won't say later so instead I'll tell you about this GameBoy Advance link cable that I'm holding. Firstly and most importantly, it's a pretty shade of white, with a white tip for the first player, and gray tips for the second, third, and fourth players. That said, it obviously has four heads to link GBAs together. It's made by Pelican and was a lot cheaper than buying three Nintendo-brand cables. there's also a little switch on the connector that enables it to work with GameBoy Colour units. Back to what's important.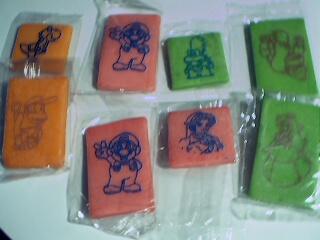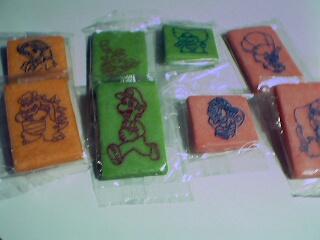 As you can clearly see, they come in a wide variety of colors. All three colors of the… uh… groraninkbow. Ha. Got outta that one with style. Oh yeah. Anyway, it's plain to see that a character is not confined to a single color. They can appear on any one of the three shades of gross. If you look even closer, you can see both Donkey Kongs and how it's the same picture, just flipped horizontally, just as I said. On the upside, I was lucky and scored both Koopa Kids. I'm at a loss to see why they didn't use all of them. If they hadn't repeated characters there would have been enough to host all seven of 'em.
Now, I'll try my best to describe what all of them taste like. Orange is clearly the best of the three. Incredibly enough, it does taste like orange candy-type stuff. Only it's way too soury-like. Bad memories of Kool-Aid powder are coming back… Yuck. Well, I guess I was wrong. Pink is definitely the best. It tastes decent, much like one of those sour soother things. It's still not worth eating, but at least it doesn't make me want to throw up so that there's a better taste in my mouth. Green is supposed to taste like apple, I think. It does a little bit, but then you notice that it has a hint of BILE in it. The package wasn't lying when it said they were sour. Maybe not as sour as some other candy, but it isn't exactly tame.
Look, it's the Game Tip card! When I say card, I don't mean card in the normal sense, or even the tradeable sense. It's just a piece of hard paper with a picture and some words on it. Oddly enough, it's the only thing included in the Nintendo Surprise that isn't collectible. I guess you could collect all of the different tips, but to date I've only seen three different ones, and I and my brothers have been through at the very least twenty packs of this stuff. Oh, I forgot another important thing. The gum's taste lasts for an average of 40 seconds. You'd be much better off with some Wal-Mart candy machine gum.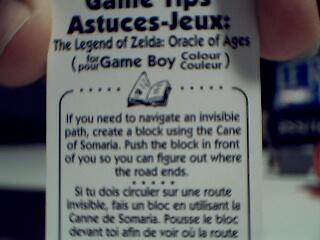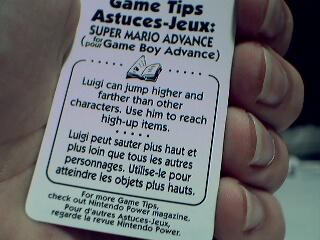 As usual, you can click on the pics to enlarge them if you want to read them. The first tip is for
the Legend of Zelda: Oracle of Ages
. It's pretty handy, and is something you might not think of right away. But, most people who played the
Legend of Zelda: A Link to the Past
have already figured this out. The second "tip" is both asinine and redundant. It tells you that in
Super Mario Advance
Luigi can jump the highest. It might have been helpful, but the game itself gives you this tip, so like I said, it's redundant. Note that they have French tips too. If you can't read the language, don't worry, it says the same thing. This also leads me to believe that Nintendo Surprises were only distributed in Canada.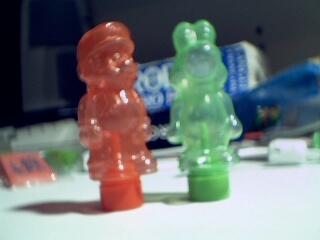 For the sole purpose of writing this article, I saved some of the plastic carcasses from the original Nintendo Surprise. Shown above are the sucker cases. There are only two to collect, so if you went the whole nine yard to get all the gum pieces, you'd have a lot of extra sucker cases. The two characters chosen to be immortalized as suckers were Mario and Yoshi. I don't see why not. But they could have just as easily modded the Mario mold a little and at least made a Luigi. Oh well.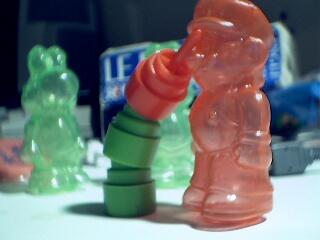 If you did manage to get you hands on a lot of these guys, they could be used as really low-budget action figures. I have several Yoshis and use them to war against my Star Wars figures with Mario as their leader. The detachable bases can also double as hats or a bad game of stack-the-sucker-bases. That's what they seem to be doing in the picture above. To tell the truth, I'm really scraping for idea for this one. There's a cool picture of a pelican on my GameBoy Advance link cable.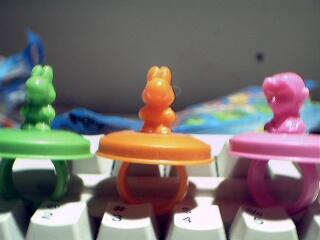 Pictured above are the remains of a couple of my Nintendo ring pops. They come in the same colours as the gum, but they taste a whole lot better. In fact, so do the suckers. Everything tastes better than that gum, except clams. I hate clams. Stupid chicken nugget-looking clams. I hate you, clams. I hate you and your cousin the oyster. In fact, I hate all seafood. Except sushi, I've never tried sushi. Or lobster. It's pretty sad, but I plan to try it the next time we go to Red Lobster. Which should be in about 3 years. So I may never try lobster until it's too late. I bet lobster tastes better than that stupid gum. And clams.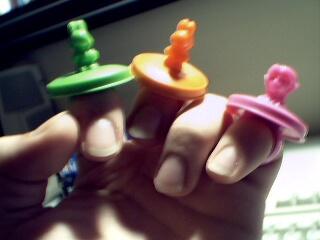 By now you should be aware that this bag of sugar was made for kids. This is further evidenced by the fact that the rings barely fit onto the second joints of my fingers, never mind the third. It also teaches us that Link doesn't look good in pink. Red, blue, and green yes, but pink no. Yoshi can come in any colour and seems to be enjoying his orangyness quite well. I think green Yoshi is a bit jealous of orange Yoshi's happiness. And Link seems to be jealous of both of their decent colour palettes and full bodies. Poor Link is just a bust of himself.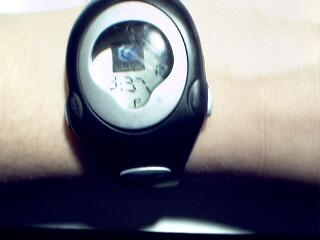 While I'm writing about shoddy Nintendo products, I guess I should mention this GameCube watch. It's not really that bad, I did get it for free after all. My complaints focus mostly on the extremely easy to press buttons, causing the time to change by itself. If compared to most digital watches of today, it's got no options, just the time and date. No fancy bells, whistles, or beeps. Then again, the time and date are all you really need. I never need a stopwatch or alarm anyway, so I guess I don't care.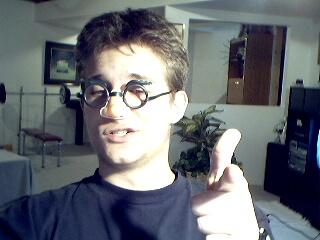 Now, back on topic, after finding my goods, I went to the dollar store next to the dollar store I had just been in. There I browsed the party favors and found some Groucho masks without the mustache. I had to have them. I'm not sure why I wanted them, they don't fit, but I wanted them anyway. So that's me with one of the masks on. Wow… I look nerdier than usual. It would probably have been a good idea not to upload it, but nobody who would judge me reads this site anyway. I guess I'm safe.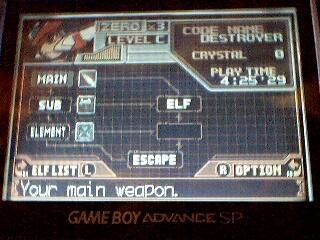 So to turn around the theme of the article and show a excellent Nintendo product and add some cool, I'm including another picture of my AGB playing MegaMan Zero. Once again, it's an awesome game and if you have an AGB, you owe it to yourself to get it. Really. Or you could just wait a few months and get MegaMan Zero 2. Or you could not wait and import RockMan Zero 2 if you don't care about knowing what to do or can read Japanese. In any case, it's one of the best games I've played in a long time. Well, that's about that for that.
---
So now you know what I was blabbering on about in that one news update. Ummmm… this whole conclusion part is the toughest thing to write. I guess I could mention that I have plenty of gum left if anybody wants to try some. I'm more than willing to let go of a piece or eight. That's all I have to say for today. I have no more ideas about what to review, so I don't know when the next article will be. Maybe I'll finish that MegaMan article sometime within the week.