As you might be aware, I already did a little overview of the Legend of Zelda cartoon in my first article. But, I was recently given the chance to see all 13 episodes of the series, of which I've only watched 7 of so far. I know I was a little bit harsh on it back in the other article, but now I see the error of my ways.
Why was I so harsh? Well, it's mostly because I hadn't seen the show for so many years that I had forgotten that it's f***ing hilarious. Yeah, I was so very amazed at how funny the cartoon actually is. While most of the funny came from laughing at the show, there was still a lot of intended funny. I have to say that this is the first show in a long time that's made me fall off the seat laughing. Actually, it's the first anything in a long time that's made me falling off the seat laughing.
But today I am going to focus on the absolute funniest episode that I've seen so far. It's called "The Missing Link". Now that name by itself just screams hilarity, don't you think? Well even if you don't, I do. Actually, the title is a bit misleading, seeing as Link is never actually "missing" per se, just more not there. Sure he may go "missing" for 2 or 3 seconds, but that's just for effect. Now that I think of it, most of the titles up to this point are misleading. But that's besides the point.
---
"The Missing Link" is definitely my favorite episode so far, mostly because it's funny, but also because the plot is rather good. You know, for a kids show. If it's wasn't an ancient kids cartoon, I might be a little more picky about how good the plot is, but seeing as it's so damn funny, I'll let it go this time. Well, enough babbling, on to the show!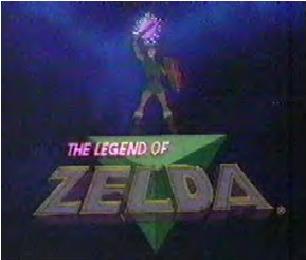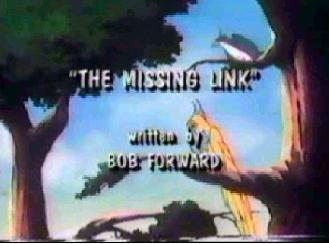 "The Missing Link" is the sixth episode in the series, or so I've been led to believe. This really has no effect on anything, since there is absolutely no continuity anywhere in the series. Well, maybe a little, but nothing that would make any difference.
Our show starts with Zelda picking flowers in the castle courtyard. Just another day in the seemingly unpopulated world of Hyrule. But then, out of nowhere, the fountain explodes in a pillar of sparkly pink dust and Ganon and his entourage of Stalfos and Moblins appear out of a hole in the ground. Now this is not at all awkward, since unlike the game, everywhere in Hyrule is an entrance to Death Mountain. The blast knocks Zelda over and her flowers to an untimely doom.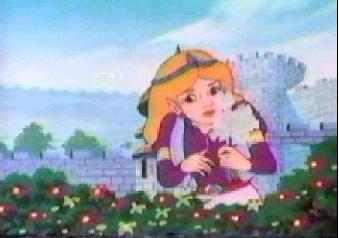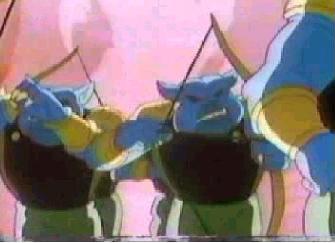 Where is our hero? I'll tell you where he is. He's up on a bridge-type thing polishing his shield. Now this is the one thing that's plagued curious gamers since the first Zelda game came around. Where does Link hold all of his stuff? Well the cartoon answers all. Apparently, in Hyrule, everything is "magic" and can conveniently be shrunken down to mini-size and stored in a side pack. And speaking of shrunken, Link's sword is tiny! I have LEGO swords that are bigger than that thing. But it gets the job done so can't complain.
Link jumps down from the bridge, and the Moblins start shooting magic arrows at his nice clean shield. What a downer. He asks Zelda if she's OK, she replies yes, and the Moblins get an idea. They immediately open fire on her so that Link can get in as many shots as he needs. When Link attacks, the sword's shot makes the right noise, but when the bad guys blink out of existence, they make the sound of collecting a rupee. Strange, no? Zelda takes Link's shield and runs away to get the Triforce, leaving Link defenseless against the barrage of arrows.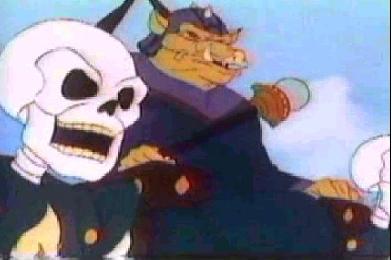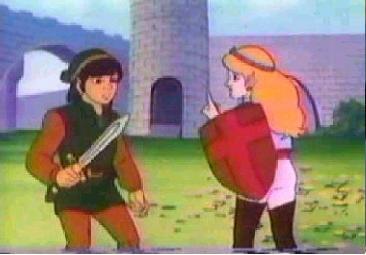 Ganon reveals that he has a new weapon, the Magic Wand! Real new, pig-face. He intends to use it to zap Zelda into his "Evil Jar". I'll explain this as clearly as I can. Ganon has this really big jar in his lair. When monsters are "zapped" by anything "magical" that touches them, they go into this jar for recycling. But,
when humans get hit by one of these magic zaps, they just fly ten feet backward. So, Ganon has conjured up a staff that will allow him to put humans in the jar. Simple, right?
Zelda reappears with the Triforce and no shield. She zaps a few Moblins and then Ganon attacks. Zelda is able to reflect the powerzap with Triforce magic. the zap bounces off a few walls with a rubberness that Flubber would be jealous of, and then, since he has no shield Link takes the blast and fades out of existence. Ganon decides to cut his losses and return to Death Mountain. Zelda realizes that she took the shield which makes her responsible for Link's being zapped. Ordinarily she wouldn't care, but since it's a special occasion, she breaks down and cries over Link's dropped sword.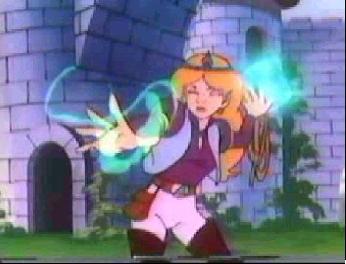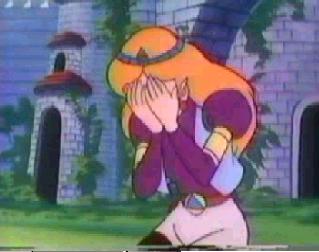 But what is this? Link's ghost appears out of nowhere and Zelda ends up doing a faceplant while trying to hug the "ghostified" Link. Apparently all that bouncing around weakened the power zap and only Link's body was taken to the Evil Jar. Sprite the fairy appears and now we see that Zelda is the only one who can see ghost Link. The dynamic duo decide that they must go find Link's body. It's not like there's anything else to do in Hyrule. I told you, nobody lives there except for Link, Zelda, Sprite and the stupid-ass king. I guess they could all play a game or something, but they would tire of each other eventually.
Now we have a problem. Link can't pick up his sword.
Link = What am I gonna do?
Zelda = The only thing we can do. Get it back.
(She pick up and swirls the sword around)
Link = My heroic princess. Kiss me.
Zelda = Oh shut up.
I laugh every time I hear that.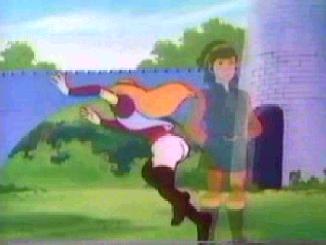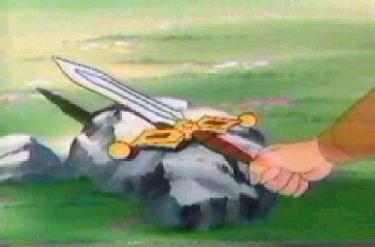 So the two head into Death Mountain, and are attacked by Stalfos. Zelda manages to zap them all, with the help of Ghost Link. But like Sprite, the Stalfos weren't able to see Ghost Link. Zelda wonders why she is the only one who can see him… They move on and find a balcony over Ganon's chamber.
The jarred(as in "now stuck in a big jar") Stalfos tell Ganon about how Link is a ghost and nobody can see him but Zelda. Ganon yelps and turns away in disgust, stating that the only way Zelda could see Ghost Link is if…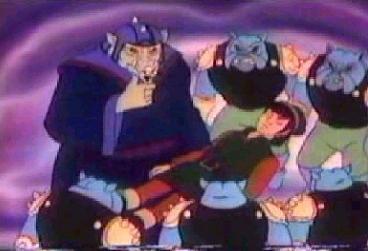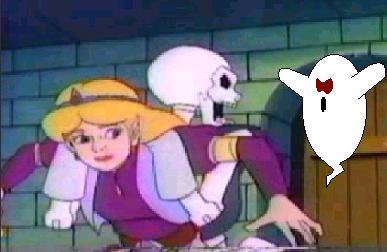 ZELDA WAS IN LOVE WITH HIM!!!
Our heroes overhear the conversation and Link gets up on the balcony's edge and does a little song and dance, being so happy that Zelda loves him. She inevitably denies it, saying she only likes him a little bit. But since Ganon can still hear Link, his outburst alerts the bad guys and Ganon sends a bunch of Moblins after them. they jump down and Link runs to the jar as Zelda tries to fend off the Moblins.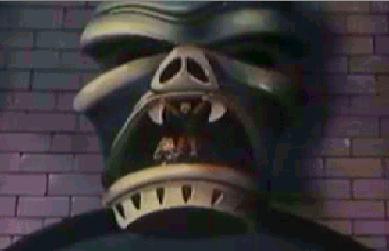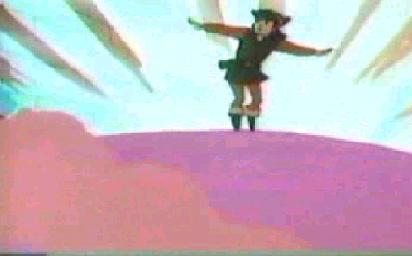 Link swims through the endless pink fog that is the inside of the jar and comes across his body, guarded by a lone Stalfos. Link enters his body and demands that the skeleton gives him a bomb. What could he be thinking? A bomb? Inside the Evil Jar? Link, you'd better not be planning what I think you are.
Meanwhile, Zelda isn't putting up much of a fight, and the Moblins are really ahead in the fight. Just as they're about to finish her off, the jar blows up and Link comes surfing through the waves of purple liquid on… nothing. The "water" washes Ganon and his minions away, and Link saves Zelda from the remaining Moblins. But just as they are about to celebrate *wink wink* the Evil Jar starts to explode and they are forced to high-tail it out of there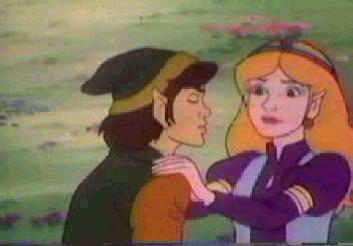 Will Link finally get his kiss?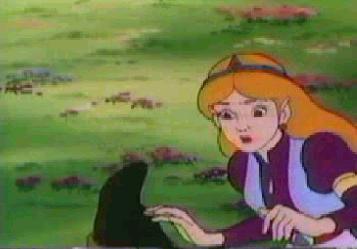 Nope. Instead, he falls into a hole.
For what it's worth, he does get a kiss when he falls and kisses the dirt, but for the sake of comedy Link goes through all this for nothing. I guess it's just to teach kids at home that when they're about to be kissed, to look out for plot-holes. Get it? Plot-holes?? Ha ha ha ha ha! I kill me.
Then as the show fades out, Zelda bursts into a laughing fit that sounds suspiciously like the crying fit she had at the beginning of the episode. Luckily, I downloaded this episode, so I didn't have to put up with Captain Lou and Mr. Wells making complete idiots out of themselves. I think karma is finally repaying me for all the good things I do. Thank you karma.
---
So that's it. I really recommend you try to download it from somewhere or scour your local Blockbuster for a tape. I know ours has some Mario Bros. videos, so you might be lucky. Even some other video shops might have them, I'm not sure, I don't look at the movies, especially the kiddie movies. Like I previously said, the plots of these shows are a bit lacking, but that really doesn't matter since they're so damn funny.
I just noticed that this review is really long, especially compared to my other ones. But long is good, right? I probably could have compressed it a bit and cut out some filler, but I like it the way it is, so that's the way it's gonna stay. I really don't have anything to go out on, so I'll just leave you with this little tidbit: Smile, it makes people wonder what you're thinking.