">

It's been a while since I've done one of these mass review articles (usually they're just blogged). More importantly, it's been a while since I've done an article at all. Much to my own dismay, a cheap mass review is not way to worm my way back into the game, but it's all I've really got the gumption to work on at the moment. It's not that I don't want to write articles anymore, it's just that there are so many other things I want to do more. And even more things I need to be doing.
But I digress. Blabbing about why I'm no longer writing full-length pieces is not today's topic! But rather I'm here to discuss money well spent? I decided to end that sentence with a question mark because at this point I still can't gauge the actual quality of most of the products below. I just bought most of them through good word-of-mouth and personal tastes. In fact, I'm pretty sure that at least a couple would be considered complete garbage by the general population, but we'll see!
So the bonus theme here is that I picked up all this stuff when my girlfriend and I went away to Fargo(, North Dakota) for the weekend. I did a little photo gallery with commentary of last year's trip south of the border (see sidebar), so maybe you'll prefer that one if you're looking for an article with a little more meat on its bones. Also, certainty. This here article, as of this writing, is pretty much all assumptions. It's built on the hopes and dreams of millions! …Or maybe just me.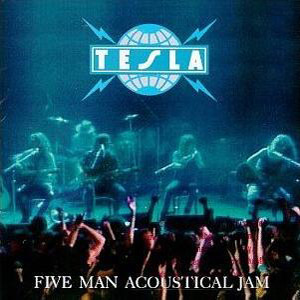 • Item #1
Tesla – Five Man Acoustical Jam
Okay, I know said it was all assumptions from here on in, but I'm starting with something I know is awesome: Tesla. I've been listening to Tesla for many, many years now, and sadly, I've only ever been able to find one of their CDs in any local stores. Thus, I often take it upon myself to scour the multimedia-type shops south of the border for anything I can find by them. This time I got real lucky, finding the two Tesla discs I was really gunning for. Five Man Acoustical Jam is obviously enough, a recording of a live acoustic show. It's one of very few Tesla albums that I haven't downloaded, so jackpot!
In other news, it's completely awesome. Tesla is a great band, and they made their name through their acoustic prowess, so the only logical conclusion is that this album must rule. And rule it does. Don't know what else there is to say other than I love it. Score: A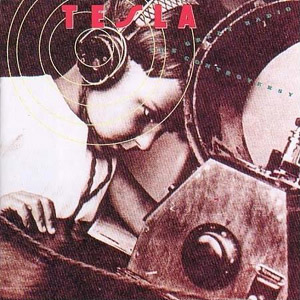 • Item #2
Tesla – The Great Radio Controversy
I know it seems silly that I only bought two Tesla CDs while I was down there, and now that I really think about it, I probably am really silly for it. I mean, I probably could have completed the full discography, but I stopped looking after I picked up these two.
Unlike its lovably live cousin above, The Great Radio Controversy is a studio album, but that means little. The Tesla-loving community largely believes this to be their finest work, and I'm not one to argue. It's everything that makes Tesla great (minus the "awesome live performers" bit), and while it may not rock quite as hard as Psychotic Supper, it rocks just as well or better. Two thumbs up. Score: A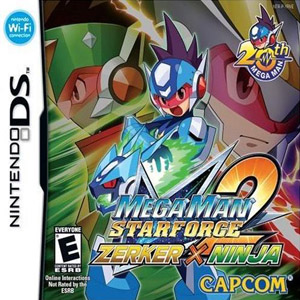 • Item #3
Mega Man Star Force 2
Yeah, I know you're groaning right now and about to skip this paragraph, but that's quite alright. You put up with more than enough of my Mega Man nonsense that you deserve a break from it if you can find one here or there. So go ahead and move on to the next item if you've gotten sick of hearing me rave about Mega Man.
For those that care, Star Force is the dual-screened big brother to the MegaMan Battle Network games. It seems like it'll be following the same "new chapter every summer" release schedule that Battle Network had. I played the first one almost to completion last summer (I didn't beat the final optional boss), and I was surprised to see this one in stores because honestly, I had no idea it was out. so I picked it up, and I've got to say, it's most certainly not as big a step up from the first as Battle Network 2 was to its predecessor. I mean, I'm enjoying the game, but it hasn't offered anything that improves on the first game. Well, not enough to make it feel exciting and new anyway. Score: C+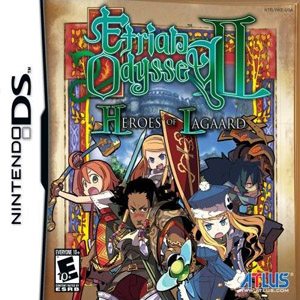 • Item #4
Etrian Odyssey 2: Heroes of Lagaard
As soon as I'd finally stopped flip-flopping on whether I wanted the first Etrian Odyssey or not, it had long since become impossible to find at retail. I was afraid EO2 would see a similar fate (despite being a new release), but after searching each and every store that sells video games in Fargo, I gave up and checked GameStop. As much as I generally loathe the GameStop/EB chain, it has to be said that they do actually carry Atlus games, and as a fan of Atlus' niche titles, that scores some decent points in my book.
Anyway, I haven't actually had a chance to plug it in and start playing yet (probably because I'm awasting all sorts of time writing about shit I buy), but I've read more than enough on the subject to be more or less familiar with what I'm getting into. The Youngest One bought it too (before I had a chance to advise him otherwise), probably because he thought "Ooh, an RPG. I should buy it", and promptly got his ass whupped and put it right down. I doubt he'll be spending too much time on this one, but someday when I'm in the middle of fewer games, I'll crack this one open and spend a little quality time with it.
Edit : Decided I'd just forego finishing some other games so I could sink my teeth into this one. I'm not regretting it. Etrian Odyssey II is even better than I'd imagined. This is a real horror game, because you're always on the edge of your seat, wondering if you'll be able to survive the next fight. Also, even the slightest progress feels like you've made a huge accomplishment, so yeah. props to that. Love it. Score: A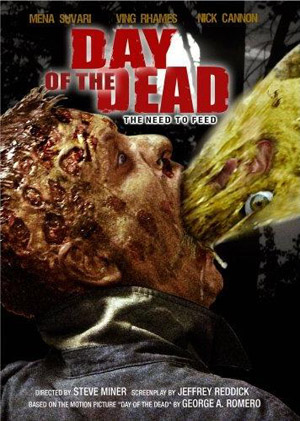 • Item #5
Day of the Dead
No, it's not Romero's classic with a new cover. It's one of those horrid "re-imaginings", or so I assume. At least on the back cover it said it's inspired by Romero's Day of the Dead, so we can hope it at least pays a little homage to the original. In any case, it's a zombie movie, so it most definitely belongs in my collection.
I should let you know that I fully expect this to be completely awful. That's how these movies are. The characters are stupid and unlikable, the plot makes little to no sense and there's buckets and buckets of gore. Yeah it sounds like a disaster, but that's exactly what I'm looking for. I enjoy a good zombie movie, but I love a zombie movie that makes you want to root for the zombies. It's brainless (in a manner of speaking) fun, and that's really what I want in movies. So despite the fact that it's defacing a classic, I have high-ish hopes for this one.
Edit : Yeah. So I watched it, and it's not so great. It has almost nothing in common with the original, though if you concentrate real hard you can find a couple loose parallels between the two. But yeah, it's not even a fun gore-fest. Just low-grade zombie schlock. When Nick Cannon is the best part of a movie, you know that you've got a bit of a train wreck on your hands. I'm a little let down by this one, honestly. Score: D+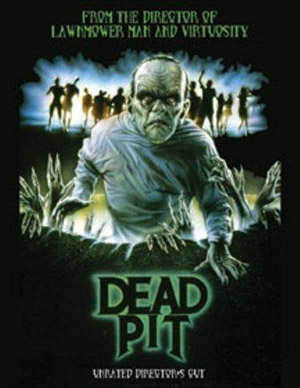 • Item #6
The Dead Pit
As I was perusing the horror section at Fargo's Best Buy (why doesn't our Best Buy sort movies by genre? It's so much easier…), and I saw that Day of the Dead remake thing, and then right beside it, The Dead Pit caught my eye. The cover didn't really get the idea of zombies across to me, but reading the synopsis on the back confirmed my suspicions: zombies!
Much to my delight, this is one of those 80's zombie flicks that pretends to have a cohesive plot. By that of course, I mean it's more than "OMG zombiez. Let's try to survive!" Something about a mad scientist attacking a mental ward with a horde of zombies? I dunno and I'm too lazy to go check the case, but it sounded like a riot at the time. I honestly think this could be as unpredictably lovable as Hellraiser. Score: B (pending)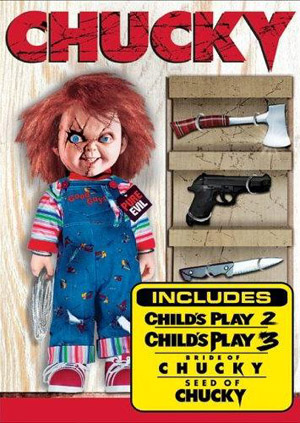 • Item #7
Chucky: The Killer DVD Collection
I'll level with ya, I've only ever seen the first Child's Play movie, and even then, I was still a little squeamish at the time and covered my eyes a lot. I did like the movie though, and I've always wanted to at least see the first two sequels. Bride of Chucky isn't exactly a priority, and Seed of Chucky seems like they're just taking it too far. Alas.
I've been putting off buying this collection for a while now because I knew that not having the first one would drive me bonkers (OCD, you see), but it actually hasn't been grating on my nerves too much. It's not like the movie isn't on DVD or anything either, I just can't find the damn thing anywhere. Oh well. I'm sure some day I'll be in the right place at the right time, and it will be mine. Or I'll have forgotten my wallet and smack myself in the forehead. Score: B+ (pending)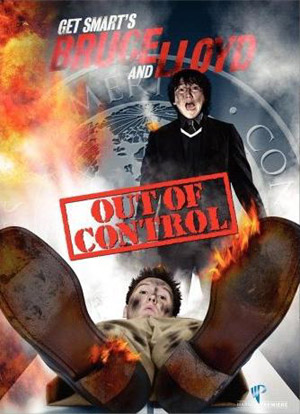 • Item #8
Bruce and Lloyd: Out of Control
I'll say this now, because it's the most important note here: I was promised a lot more Patrick Warburton than I got from this purchase, and it makes me ever so slightly disappointed. Other than that, good times!
If you haven't seen Get Smart yet, you're really missing out on something. I loved it so much, I ran out an bought this straight-to-DVD supplemental material without even reading a review first. Fortunately, it's not nearly as awful as most straight-to-DVD stuff, but it's still nowhere near as great as the main movie. Then again, I never expected it to be. I'm just confused as to why exactly Steve Carell couldn't make at least a cameo. Anne Hathaway shows up in one scene, so why do we get no Steve Carell? Ah well. If Get Smart was at the "hilarious" level, I'd probably only rate this one as "silly" at best, but it's still worth a look if you liked the source material. Score: B
Also, I should mention that I bought some other stuff, like shorts and foodstuffs, but I decided to cut them out because clothes are boring (do not tell my girlfriend I said that, she bought clothes almost exclusively) and junk food isn't something that really needs to be logged into the annals of internet history. At least, not any of the food I bought. It was all pretty much run-of-the-mill junk food that a) isn't available in Canada or b) is ridiculously expensive in Canada. So yeah. That's the end then. Good night.