The other day, I wrote about how I'll never have the complete set of Mega Man comics because Archie had zero respect for the series or the fans. When it comes to IDW's Teenage Mutant Ninja Turtles comics, though? Any that I've missed out on are totally my fault.
Actually, IDW has done a pretty great job of making sure that their original TMNT series has been easy to purchase in one format or another. Right now they're releasing them in really nice hardcover collections, and you know that I'm all over those.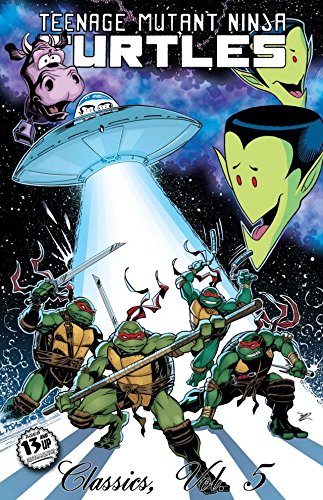 However! IDW has not been quite as good about making some of the other TMNT comic series available. Particularly TMNT Classics, which are a pain to describe fully, but essentially they're re-releases of selected issues from the original Mirage comics series. Ten trade paperback volumes were released from 2012 to 2015, and I only picked up the first four, since those were some of the poorest years of my life and comics were low on the priority ladder.
Fast-forward to today, where my financial situation is much more comfortable, and TMNT Classics are no longer in print. So no more getting them from any bookstores or Amazon or anywhere that isn't some dude trying to pawn a used copy for three times (or more!) the original price. Well, shucks!
The good news is that IDW does actually still sell the TMNT Classics line directly from their website! The bad news is that while each volume is listed at the regular price, the shipping fee is ridiculous. I put three volumes in my cart, and they wanted to charge me nearly $50 in shipping. Yikes! And that's all before the foreign exchange calculation. Eventually I'll pony up for those "lost volumes", but it's going to hurt the ol' pocketbook.
The saddest part is, that everything I wrote above also applies to two other series: TMNT Adventures, which collects the old Archie TMNT comics, and Tales of the TMNT, which collects the Mirage comics of the same name. So if I want to catch up on my Ninja Turtles comic book collection, I've got a long, expensive road ahead of me. Unless the Canadian dollar gains some value. Then it won't be quite as bad.