~ Run ~
As I browse through Netflix's library of horror films, I come across the image of a wheelchair-bound girl in what appears to be a well-lit, but slightly distorted grocery store. I wonder if this can't be a mistake and maybe the film was tagged with the wrong genre. Alas! Run is definitely a horrifying film, and one that I found surprisingly enjoyable.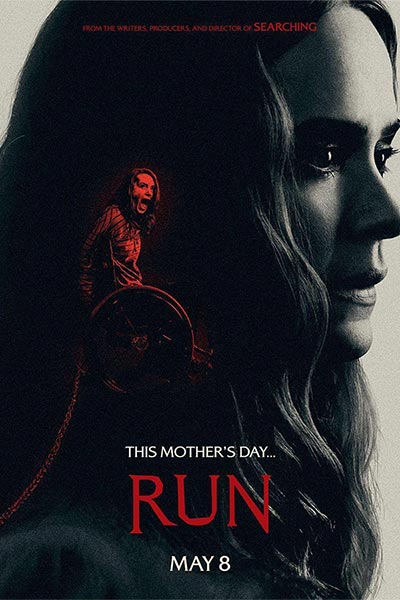 Run is the story of a young woman, Chloe, who lives out in the bush with her mother. Chloe has a long list of physical ailments. All of them, probably. And the story really kicks off when she discovers that the labels on her pill bottles are fake, and those bottles were originally prescriptions for her mother. From that point, she begins to wonder about what kind of medications she's being given, and really her whole life situation.
The paragraph above covers roughly the first ten minutes of the film, and I honestly don't want to write another word about what happens afterward. I'll go ahead and say it now: Run is an excellent movie and I 100% think that you should make some time to watch it as soon as possible. Maybe even right after you're done reading this post!
Run's strengths are twofold. Firstly, the two lead actresses are amazing. They do an incredible job of selling their characters, and Kiera Allen in particular was fantastic throughout. Secondly: the pacing is perfect. Normally, more grounded movies like this kind of bore me and I end up half-watching while noodling on my phone, but once the short setup was out of the way, the ball started rolling and never lost steam. The tension in the basement scene before the climax was thick enough to clobber someone with, and from that point on, I don't think I blinked once until the credits started to roll.
I don't know if it'll be the one that I enjoy the most, but I have a strong feeling that Run will be the actual best film that I watch this Halloween season. Again, I highly recommend this one.
~ The Girl With All The Gifts ~
Content warning: This is a zombie movie, and I know that those are more uncool that ever these days. So if you've got a bias against the walking dead, then maybe just skip this mini-review.
When I read Netflix's one-liner description of The Girl With All The Gifts, I figured, okay, it's probably a pretty stock-standard zombie flick. But I haven't watched one of those in years, so might as well! And because this has become part of my movie vetting process, I also looked up the Rotten Tomatoes score, which was a surprisingly high 88%! So off I went.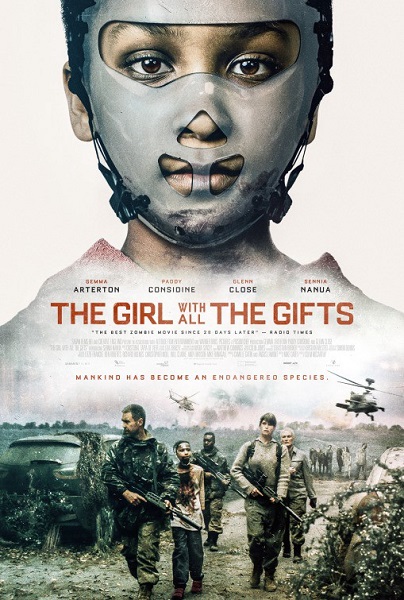 First thing to note: This movie has very similar high-level plot points to the video game The Last of Us. Firstly: the zombies in this film are created via fungal infection, not some random flesh-rotting disease. I actually like the 'shroom zombies a lot better, because it kinda-sorta has a basis in reality, if you squint really hard and plug your ears and go LALALALA I CAN'T HEAR YOU SCIENCE. Secondly: the movie is about protecting a young lady whose brain can be harvested to create a vaccine for the infection. Well, sort of.
Now, of course nothing ever works out in this kind of movie, and The Girl With All The Gifts is no different. No more than 20 minutes in, everything goes to hell as zombies swarm the super-secure military base where the vaccine-brain girl (Melanie) and a host of other children being held. Melanie, a few soldiers, and the doctor that wants to harvest Melanie's brain escape and head out towards another super-secure military base. Spoiler, it continues to not go well.
It's clear from the beginning that something is not quite normal about Melanie and her schoolyard chums. Halfway through the movie, we learn that she was born a mushroom-zombie, as she was still gestating when her mother was infected. "Second-generation" zomboes like her are somehow able to retain their intelligence, but still succumb quite easily to the desire to devour living flesh. Eventually this all culminates with Melanie having to choose between helping to protect humanity, or to side with the children of the 'shrooms and become the next dominant species on Earth.
While I can't say I was 100% invested in this one, I did quite like it. It messes around with a bunch of the hoary, old zombie tropes enough to feel unique, but then also plays every other zombie trope completely straight. But I did think that the twist on the usual character relationships (bolstered by the excellent cast) really did elevate it over the typical zombie fare. I can't think of any other movie that had humans working together with a zombie who has access to her full mental faculties. There have to have been some! But I don't believe that I've seen any.
The point I'm getting around to, though, is that yes, I would recommend The Girl With All The Gifts. Unless you're one of those people who immediately writes off anything with zombies. This movie does an okay job of trying to be different, but I don't think it's anywhere near different enough to change hearts and minds that are clouded by discrimination.
Note: While looking up the poster, I learned that this film is based on a book, which probably explains why it's been received better than most of its peers. Now where's my Monster Island movie, dammit!?