~ Game Over ~
The Legend of Zelda: Breath of the Wild (Switch) – Amazing game. Still so much content yet undiscovered. I look forward to diving back in after taking a short break from Zelda-mania.
NieR: Automata (PS4) – So far, it's been a wonderful follow-up to NieR, and a huge step up in quality from Drakengard 3. Boar drifting is still a thing! I've completed Branch A, and picked up a handful of the 21 "joke" endings. Really liking how differently Branch B plays.
Shovel Knight: Specter of Torment (Switch) – You should already know that I like this one.
Drakengard 3 (PS3) – Powered through the impossibly difficult final boss rhythm battle, which may be the greatest achievement of my life. Also, played through all of the DLC chapters and got that sweet platinum trophy. It's finally time to close the book on this one, thank goodness.
Dragon Quest VII (3DS) – IT'S FINALLY OVER.
Shovel Knight (Switch) – Played through yet again to experience Body Swap mode, wherein I flipped the gender of every major character. Mostly to see the Order Knights' lady-style redesigns.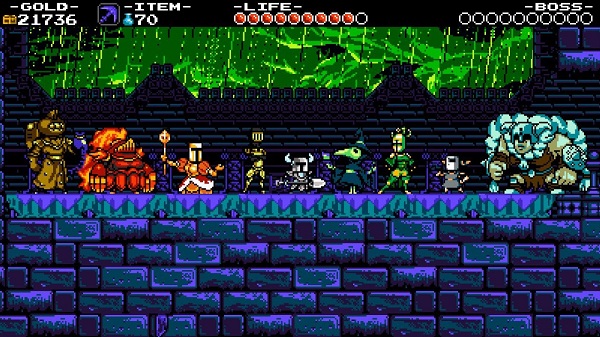 ~ Now Playing ~
FAST RMX (Switch) – Thank goodness that Shin'en has stepped in to make a really good, super-fast, futuristic racer now that Nintendo no longer makes F-Zero games.
Snipperclips (Switch) – A cooperative game where the hook is that you chop each other's little paper guys to bits to make shapes and solve puzzles. An absolute blast as a party game.
Has-Been Heroes (Switch) – I stopped playing roguelikes after Binding of Isaac broke me. This is where I will try getting back on the wagon, and I think I'm just going to end up broken again.
1-2-Switch (Switch) – I still wouldn't buy it myself, but it's way more fun than I ever would have expected. The board game party mode is a killer way to spend a Saturday night with friends.
Stardew Valley (PC) – Pelican Town's economy has been thoroughly destroyed by our farming empire, and we have begun recruiting babies to use as future slave labour.
Retro City Rampage (3DS) – I browsed through my library of unplayed 3DS indies after finishing DQVII, and this is what I picked. A mediocre GTA clone with never-ending pop-culture references.
Rhythm Heaven Megamix (3DS) – Every time I got frustrated with Retro City Rampage, I quit out and loaded this up to brighten my mood. That was, until…
Final Fantasy Explorers (3DS) – My first Monster Hunter knockoff. This could set a bad precedent. Though it's decent at best, so it probably won't absorb my life like real MonHun.