Today is that seemingly holy day of chocolate – Easter. I know it's got some kind of religious meaning, but most people just associate it with chocolate and rabbits instead of Jesus. And you wonder why the world is going to Hell? The sucky part is that the damn non-Christians get to benefit from it too. I'm mostly pissed off at the Atheists though. They deserve nothing. Make them go to school or work. Stop leeching off those who have beliefs!
Enough about that. Today I will present a comprehensive review of all of the candy and other assorted crap I got on Easter morning. Yes, by now I should have grown out of it, but hey, why should I give up a perfectly good opportunity to get a load of free candy and junk? Besides, I've only got one year left that I can profit from holidays to this extent, so I've decided to milk it for all that I can.
Now we all know that there are upsides and downsides to everything. The great things about Easter are no doubt the candy, chocolate, and the family get-togethers. Also, I have a good excuse to use girly colours for my backgrounds. The downside is that this is one of the two times of the year that they throw church at you from every angle. Not that I really have anything against going to church, it's just when I have to go several times a week that it starts to get to me. And on a totally unrelated topic, I finally got that haircut I've been wanting for so long.
---
Now onto the candy! We'll start with a more obscure piece of milky chocolate goodness. This is one of the things that I got that didn't really stand out among the rest, but still provoked many questions. What is this mystery chocolate? That's exactly what it is – mystery chocolate. Now normally I don't like to eat anything I can't identify with either my expertise or the help of a handy label. Just take a look at it.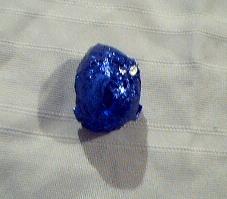 Willy Wonka's got nothin' on this mofo. Seriously… it's just a blue foil wrapper. This (badly wrapped) oily ovalish odyssey was just begging to be opened. Maybe not. After all, the wrapper was starting to fall off by itself. So I figured if I didn't get to the bottom of this thing first, it might get to me. So I picked it up, and the wrapper more or less came off, leaving the next layer sitting upon the table. It only get stranger from here folks.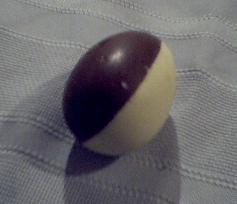 This baby was a strange one alright. Look at it! White and dark chocolate! Maybe it's a sign. Maybe it's telling us that chocolate isn't as racist as we thought it might be. Whatever the case, I picked it up to examine it further. Upon doing that, I discovered that it was a hollow egg. Only, there were things inside. Things. They rattled around maniacally, waiting to jump out and kill me. So I took the next logical step. I split the bastard in two.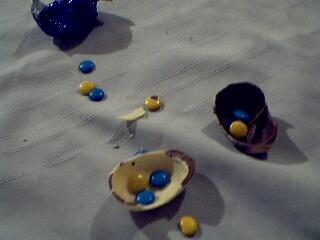 So maybe it wasn't evil. So maybe it wasn't plotting to eat my eyes. But it could have been. And I took that chance anyways just to give you a decent article. You should be thankful and send me more mystery chocolate. Preferably none with razor blades though. Poison is OK, but I've got a big enough razor blade collection already. Looking back on how much I've written, I probably could have gotten a decent article out of just this egg. Oh well, it's too late now.
Our next subject is one of the most beloved candy icons in the world. To my knowledge, they only come around at Easter time, and that's when the people gorge themselves on the puffy delights. Personally, I don't like them that much, but the rest of the world can't be wrong, can they? By now you should have an idea of what I'm talking about. Yes, it's the cutest marshmallow out there next to Kirby… the Peeps.
Peeps. What makes them so loved by everyone? Is it the cute little eyes? The cute little beaks? Or do people really get a kick out of eating something that vaguely resembles a little baby chick? That must be it. Stupid voraphiles. As you can probably tell from the photo, my teeth already had their way with three of the sugary yellow chicks, leaving only two. They weren't happy about having to share the fame, but that's the way it goes when you're Siamese conjoined twins. In fact, they were so unhappy being stuck together that I had to perform a little unnecessary surgery…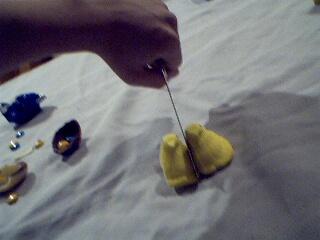 So they lived happily ever after… in my colon. Well that about sums up the marshmallow content of my goods, let's move to the next.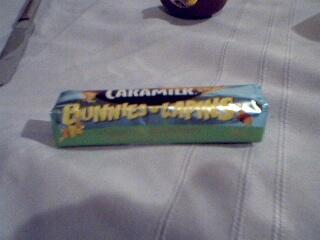 These are another chocolatey Easter menu item that voraphiles could really enjoy. Caramilk Bunnies. These little wonders aren't quite as popular as the Peeps, but they do have their own commercial running, and that's gotta count for something. While normal Caramilk bars seem to have some kind of mystery surrounding them, their rabbity counterparts have a much easier and fun way to get the caramel in. Just take a look…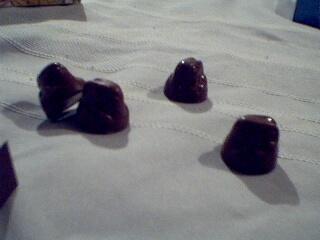 I suppose that the term "F***ing like rabbits" refers to any type of rabbits. Even tiny chocolate ones. Note how the other two are content just watching the love bunnies get it on. They had better not caramel all over the tablecloth. Maybe that was a bit dirtier than most of my other work, but it's only gonna go downhill from here, so don't be surprised if i stop censoring the big curse words somewhere down the line.
Now we have a couple other egg-shaped chocolate bar spin-offs. Note how both have the exact same rabbit picture on them. Thank God for continuity. On the right is a Reese Egg. It sounds exactly like what it is. It's basically a Reese Peanut Butter Cup in the shape of an egg. Let me tell you, the PBC's shape is part of why it tastes so good. This one just isn't the same caliber as a normal PBC. I can't quite put my finger on what it is, but it does taste different.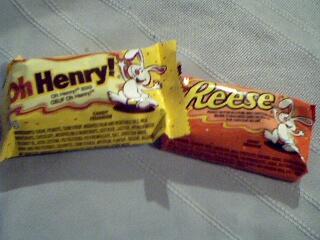 On the left in the yellow packaging is an Oh Henry! Egg. I've never been too partial to Oh Henry! bars, and this one is no better. It tastes the exact same, only it's smaller, and it looks even more like a lump of dog feces. I'd take a picture of it, but I took all the pics before I started writing and I'll be damned if I'm gonna re-bust out the cam. I still haven't put that Mystery Chocolate anywhere near my mouth.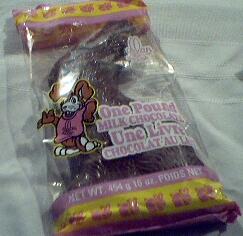 This big boy is the mainstay of any Easter goody basket. If a kid gets one thing for Easter, this is probably what that one thing will be. After all, Easter would be nothing, I repeat nothing, without a solid pound slab of chocolate vaguely shaped as a rabbit. The only thing that can top this is one of those huge hollow characters. My littlest bro got a big hollow Spider-Man. Needless to say, the rest of us were rather jealous.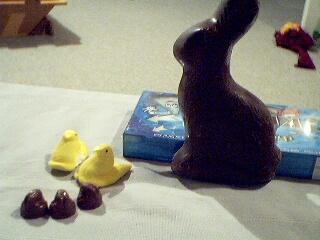 Unknown to me, while my back was turned to save the pic, the big bunny broke out of his wrapper and started straight toward the other animal-shaped chocolate. None of them realized what was heading their way, but luckily I caught the heinous hare before he was able to trample the smaller, cuter candy. That and I couldn't find any red food colouring to make it look like the Peeps were mutilated by the big guy.
We're nearing the end of my candy smorgasbord, and I saved the best (or worst?) feature item for last. This one is even weirder than the Mystery Chocolate. It makes little to no sense, and it's almost Christmas-themed to boot. Behold the power of the mighty Hershey Kisses Game!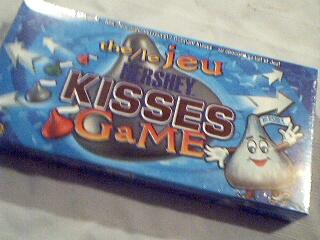 Look at it in all it's glory. I can't figure out for the life of me who isn't going to simply rip it open and eat all the Kisses. Yes, we all play with our food, but only when we're making the rules. Nobody in their right mind would play a board game with candy. They'd lose all their pieces by the second roll of the dice. Then again… maybe that's the point.
I haven't opened it yet, but my bro opened his, and we were in for quite the shock. All the Kisses had silver, red, and green wrappers. See? It's Christmas-themed. Despite the fact that the box suggests no particular holiday, you can tell by the colors that they intended it for Christmas. In all likelihood, Hershey just had a lot of leftover red and green foil and were too damned lazy to make Easter colors for their "game". And it's not an all-year round thing either. I've never seen it out of Easter season.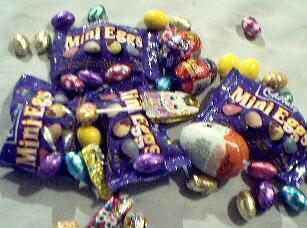 This concludes my winnings this year. I really didn't want to look at all of these other things individually, so I just took a picture of all the little stuff and focused on the big things. Maybe you could consider the Kinder Surprise, Creme Eggs, and Mini Eggs big things, but like Hershey, I'm just too damn lazy to do all that extra work. Especially after I've eaten all that crap. I'm gonna be doing a lot of crapping over the next couple days. The ironic part is that the Oh Henry! Egg won't look any different than what it looked like before I ate it.
Oh, I guess I should also mention that my parents always get us a little something else just for the sake of they're such good people. This year I got something a bit more expensive than the usual CD, but it'll also keep me occupied for some time. Check it out.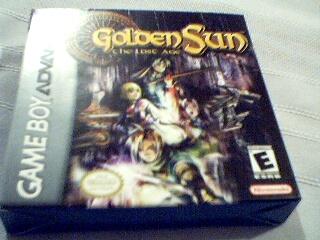 ---
And that sums up this year's Easter candy. If I'm still interested in this site by the time next year rolls around, maybe I'll do another article like this. And that'll be the last Easter where I will receive any candy, because after that I won't be a kid anymore. Oh well. Life goes on with or without a mountain of chocolate.
On a side note, this little expose marks my 10th article! when I started I never thought I'd be interested long enough to get even this far, but it looks like I've done it. Maybe some day it'll be a real site that real people visit. Next milestone is 50, so I've still got a long road ahead of me. Until next time.