Throughout April, The Wife and I watched a show called The Killing on Netflix. It is an excellent crime drama with a fun twist: the entire two-season run focuses on a single case. My initial thought was that stretching one investigation over 20-something episodes would make the show too slow and repetitive, but I was so wrong. There were no filler episodes; each one offered something pertinent to either the case or character development. It wasn't perfect but god damn if that thing did not have me absolutely hooked by the end. And the ending! Oh, that ending. Powerful, powerful stuff.
So after that, I was thirsting for something similar. I have never been big on the television crime drama, but The Killing left a very good taste in my mouth. So when Netflix started advertising for their upcoming exclusive series called Hemlock Grove, my interest was piqued. Here, take a look at the description pilfered directly from Netflix:
When the mangled corpse of a local teenager is discovered, rumor and suspicion spread like a plague through Hemlock Grove. As dark secrets bubble to the surface, everyone becomes a suspect in the hunt for a monster that may be hiding in plain sight.
Hey! That sounds exactly like what I'm looking for! Seriously, if you replace 'Hemlock Grove' with 'Seatlle' that could (very) loosely describe The Killing as well. If only I could go back to a couple weeks ago and tell my past self that no, oh sweet crepes no, it is not what you're looking for.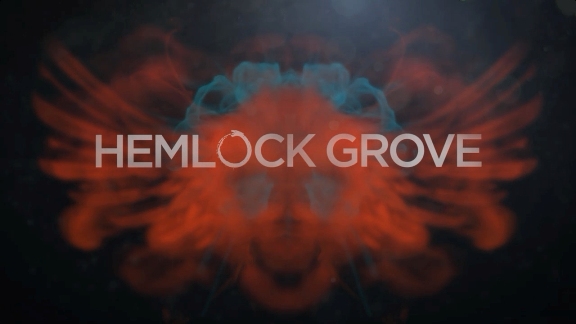 The Netflix poster/cover thing for Hemlock Grove is a hand protruding from the mouth of a wolf. I figured that it was more symbolic than anything, especially since the O in Hemlock is stylized as a snake eating it's own tail, as in the Ouroboros symbol. So, "okay," I thought, "this seems fairly deep and rooted in some sort of mythology so I am so in."
Yeah, it didn't turn out that way. I won't spoil too much, but Hemlock Grove is kinda like what would happen if Twilight took off the kid gloves. So it's an awful, stupid, confusing mess, but at least it's an awful, stupid, confusing mess that shows boobs pretty often.
Basically what goes down is that this chick gets killed -disemboweled "snatch-first"- and two teenage loners decide that they want to investigate the murder. One (Roman) is a rich pretty boy who's got a blood fetish and can do the Jedi mind trick. The other (Peter) is a Gypsy that just moved into town and people just assume that he's a werewolf for no real reason. Apparently there is some sort of vague enmity between their families (this is only barely touched upon in the final episode) but they bond pretty quickly. Which becomes somewhat problematic for the viewer.
The chemistry between these two is one of the more aggravating parts of the show. Roman has his way with all the ladies and Peter develops a pretty serious relationship with a girl throughout the series, but they are so impossibly gay for each other it hurts. I don't know if maybe it was written that way on purpose or the actors just don't understand body language, but they are constantly giving each other the look and spouting off gay innuendo but nothing ever comes of it. There is so much more unresolved crap in this show, but the sexual tension between these two is thick enough to bludgeon someone to death and if the two of them had just admitted their true feelings and gotten their queer on, I'd have been satisfied enough to not demand my thirteen hours back.
The very, very worst part is that the best, most sympathetic character, Roman's sister Shelley, ends up just being a deus ex machina. It is infuriating and whyyyyyy do we not spend more time getting to know Shelley? All she is over the course of the series is the sheltered girl who's pretty much Frankenstein's monster less the neck bolts and sometimes she glows blue for no well-defined reason. I don't really know about that last one, I fell asleep during the episode where I'm guessing that maybe they explained her backstory. But rather than have her slow growth towards independence mean anything, it just turns her into a big ol' plot device out of nowhere. It is infuriating.
As for the other unresolved crap.. well, I guess the show answers the main questions, those being "who is eating all these vaginas?" and "why is someone eating all these vaginas?" but not a single one of the character arcs comes to a satisfying conclusion. Every member of Peter's family has some sort of supernatural quirk about them, but not a one of them gets any real explanation. His mom sort of gets some backstory at the end, but even that isn't enough to explain really anything at all outside of why she's so damn frigid. It really confuses more than it enlightens. I guess the best way to explain it is that the show tries to frantically wrap up a handful of loose ends in the last episode rather than let the resolutions work themselves out naturally over the course of the series. It would make a much better payoff to have some sort of revelation during or at the end of each episode, rather than just adding a bunch more questions onto the pile. You know, like LOST. LOST was pretty great.
Side note: There is also a cubic buttload of fantasy terminology that is used but never even given context, nevermind outright explained. So if the words Upir and Vargulf and Ouroboros don't mean anything to you (and they probably don't unless you're some kinda goth douche), you might want to keep your smartphone next to you while watching. You know, so you can Google some of the wacky fantasy garbage. Actually, Ouroboros is friggin everywhere in the show, but isn't really all that meaningful in the context of the show. It sort of represents one character's major development (at the very end), and is also the name for a big science project that we never learn a damn thing about. HEMLOCK GROOOOVE!! *fist shaking*
I suppose the "silver lining" here is that Hemlock Grove is based on a book, which is the first in a trilogy. So maybe some day its insanity will all work itself out, but really, that's not the point. The point is that this first season of the Hemlock Grove TV show is deeply disappointing outside of some pretty gnarly gore effects. I guess two or three of the characters could have been pretty likeable too if they had gotten anything resembling real character development but oh well. Mostly every character who isn't Roman or Peter or Shelley is a straight-up douchebag or a babbling idiot (sometimes both!), so why should I even care?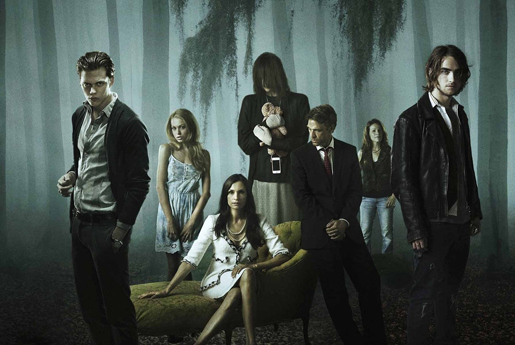 TLDR: Don't waste your time on Hemlock Grove. Read a plot synopsis or something if you've got a burning desire to know what it's about. Hopefully the writer will add some supplemental information, because that's the only way any of this garbage is going to make sense.