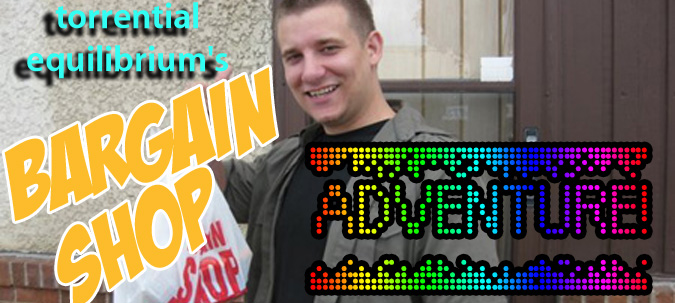 So I was in Lac du Bonnet the other weekend. Not something that's going to be happening all that often in years to come, even though it used to be a trip the family made many times a year. Me and the girlfriend went to see the Canada Day fireworks display (which had been rained out in July and postponed to August 1st), and it just so happened that her uncle runs the Subway down there, so her whole family was there too.
Before hitting Lac du Bonnet itself, I decided to take her around the surrounding area and show her some places I used to frequent, like the cottage that used to belong to my grandparents, and the legendary Pinawa Burger Boat. It was a long morning/afternoon of adventuring, and we finally headed to Lac du Bonnet and made camp at the Subway. There were still many hours to kill before the fireworks began, so we had to busy ourselves in town. Reading her Cosmo and playing CrossworDS (guess who was doing which) only lasted so long, and we were forced to explore the small town to eat up the rest of our day.
Fortunately, that meant doing my absolute favourite Lac du Bonnet activity: scouring The Bargain Shop for interesting goodies. There's also a dollar store that's so generic that I can't even remember what it's called, but ever since my brothers and I were tots, I've loved prowling that The Bargain Shop. It even moved across the street into a bigger building a few years ago, making room for even more crazy crap. I bought a whole bag full of stuff that day, and all for less than $15! Let's take a look-see, shall we?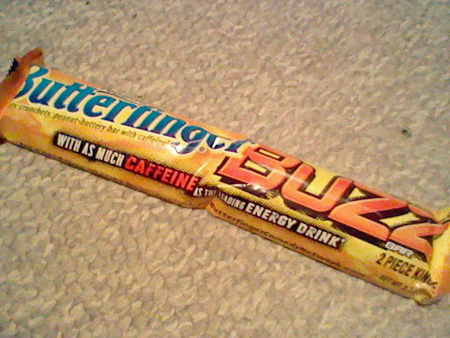 Probably the last thing in the store to catch my eye (the first being shitty Transformers clones with absolutely horrid grammar on the box, sorry for the lack of pictures), but easily the best thing I bought were the Butterfinger Buzzes. They were three for two bucks, and my curiosity was piqued by the allegations that it contained as much caffeine as the leading energy drink, so I dove right in. It bears mentioning that the woman is currently addicted to/dependent on energy drinks, so it was easy to convince her to take one. I like Butterfingers, but I'm not a glutton.
Now, a Butterfinger is pretty good on its own, and the promise that it's brimming with caffeine is even more enticing, but I was a little turned off by what I found when I opened the wrapper. For whatever reason, "loaded with caffeine" is apparently synonymous with "dyed an unnervingly bright red". I guess it's just that I was used to the golden Butterfinger, but the insides of these bars were bright, bright red. Possibly dyed with the blood of a thousand neon children.
In the end though, it was just a Butterfinger. Flamboyant colouring aside, it tasted perfectly normal, and despite promises of giving me the caffeine rush of a lifetime (I ate two!), I felt no more energetic after consuming them. Overall, I'm not disappointed though, because they were cheap and as I've stated at least twice by now, I like Butterfingers.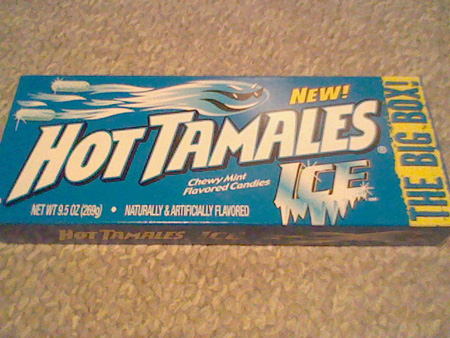 What I've never cared for, however, are Hot Tamales. Not sure why, but they just never caught on with me. I love cinnamon hearts, so it's not the flavour or anything like that. Maybe the chewiness doesn't mesh with the cinnamon in my head for some reason. Maybe I just don't see the point of getting a box of Hot Tamales when you could get the far superior Mike and Ikes that are always right beside them. I may never know.
What I did know, however, is that I absolutely had to get the box of Hot Tamales Ice. It makes no sense! It's so wonderful!
So as you can see from that box shot up there, these are minty flavoured instead of cinnamon, and as far as I'm concerned, are much more enticing. They give off that same cool aura as spearmint leaves, but have the smooth, pill-like texture of Hot Tamales. I don't know if it was just an old box or that Icy Tamales are naturally hard, but these ones in particular were a bit tougher than your garden variety Hot Tamales/Mike and Ikes. This problem was circumvented when I left the box in my hot car one day and they became soft and more like their forebears.
On the note of this possibly being an old box, I could find no mention of the Ice Tamales on the official website, however it did show me that they're producing a product that opposes the Ice Tamales even more than the original: Hot Tamales Fire. It is now my lifelong quest to find the Fire version. And then procure another box of the Ice, so that I may put Fire and Ice on display together as my most prized possessions. Sadly, this requires at the very least, a three-hour trip back to Lac du Bonnet. I guess I can just hope that they're still there next year.
As an end note, I'm still a firm believer that Tropical Typhoon Mike and Ikes are the best of this candy family.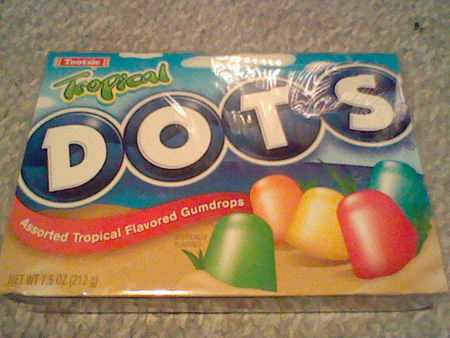 And speaking of tropical things, look at what we've got here! It should be known that I'm also a huge fan of Dots, even moreso since I've learned that Wal-Mart carries big ol' boxes of 'em and I don't have to wait for Halloween for my Dots fix. Even then it was a gamble. Dots always topped my Halloween candy wishlist, even though they're not even close to being the best candy. You were always guaranteed to get a king's ransom in Reese peanut butter cups and Tootsie Pops, but Dots, Dots were the rare candy that always made my Halloween.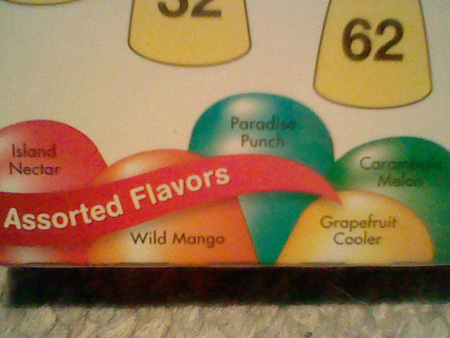 The Tropical Dots, however, are not my friend anymore. I gave them the benefit of the doubt at first, as they come from good stock, but then I ate one. They come in five flavours, all listed in the image above, and none of them are any good. They all taste vaguely similar, and kinda waxy. The Wild Mango and Paradise Punch stand the best chance of being deemed "acceptable at best", but I really couldn't give a rat's ass about what happens to the rest of them. Very, very disappointed here. I'm talking last-episode-of-Seinfeld disappointed.
Also, there's a math puzzle of some kind on the back of the box. Boo, Tropical Dots! Not only do you taste bland, but you also use your box activity to attack my weak point! Massive damage! I hate Tropical Dots.
To add an extra level of woe to my already melancholy situation, I purchased two boxes of these chewy little abortions in my excitement of seeing a new brand of Dots. Eating two boxes of Tropical Dots does not make one a happy camper. I really hate Tropical Dots.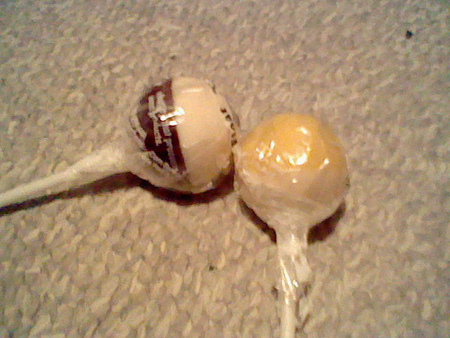 These suckers are less interesting than most of the other stuff I picked up, and in fact you can easily find them at most dollar shops or Zellers. Usually as a feature item, because they're two for a buck. These really only made their way into the bag of swag because the girlfriend is totally nuts over suckers. And why shouldn't she get a good tongue workout? Oh yeah. I went there.
The nice thing about them is that there are a ton of flavours, and most of them are awesome. Root Beer and Banana Split, which I have pictured here, are my favourites. Cherry Cheesecake and -strangely enough- Grape are also worthy competitors. There's even some kind of margarita flavour, so there's really something for everyone. I should also mention that they are incredibly tasty and much bigger than the average sucker, so you're getting a great value with these little guys. If you see a stand next time you're picking up cheap greeting cards, don't hesitate to buy a couple.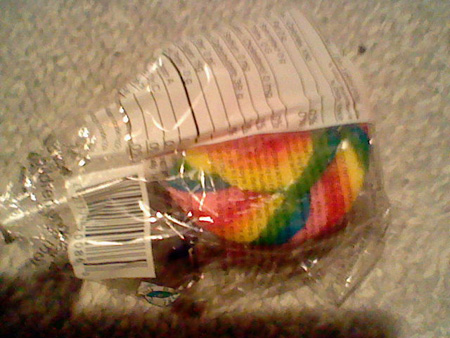 This big ol' lolly is both more and less interesting than the previously showcased suckers. It's more interesting because look at all the colours! Whoo! they swirl so brightly! Also it's much bigger. But the real amazement lies on the backside of this lollipop…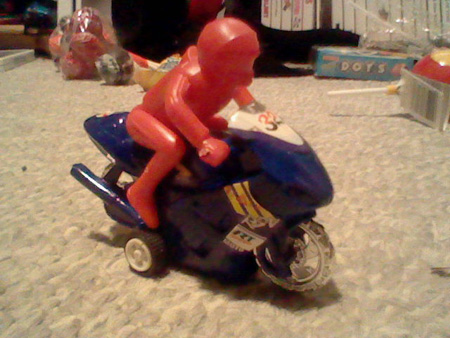 BAM! It came with a toy! For a dollar!
Yeah, I know it's the cheapest-ass toy ever made, but still! Little motorcycle dude will reside in my room for possibly weeks or months to come, until I finally get too annoyed with his poor construction. It's too bad, because despite his small stature and cheap build and training wheels, I really like Moto Dude.
The real tragedy here is actually that big lollipop itself. I've had many lollies like this one, in different shapes and sizes, with different colour patterns, and different characters emblazoned on them, but I've never had one like this. Not even close. This was hands-down the worst lolly I've ever had the displeasure of having in my mouth. Initially it had no taste at all, so I figured it was some kind of shitty coating that caused the lack of flavour, so I sucked some more, and eventually it just started to taste like plastic. The colours weren't running at all despite the mass amounts of saliva being slathered upon it. I couldn't even bite the damn thing. I'm beginning to think it was just a prop lollipop packed in as an easy way for whoever made this to sell their shitty little Moto Dudes.
Sadly, I've got to be one of the very few suckers ever to fall for it. Pardon the half-pun.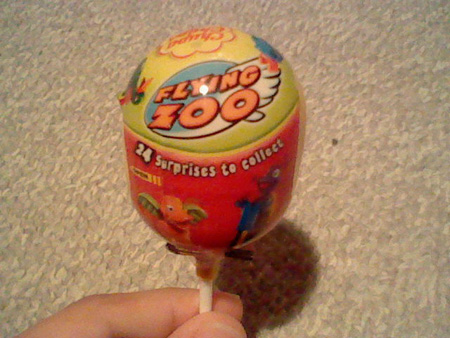 Okay, now this can't possibly disappoint me, right? A sucker version of a Kinder Surprise? This has gotta be awesome.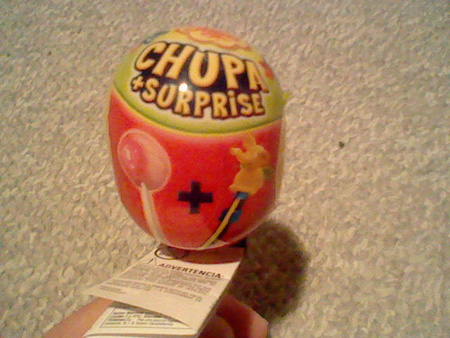 But just one thing bothers me; how exactly did they get the toy and giant chup in that egg? Certainly the toy must be held in an egg within the chup, just like a fruity version of a Kinder Surprise. Yeah, that's gotta be it.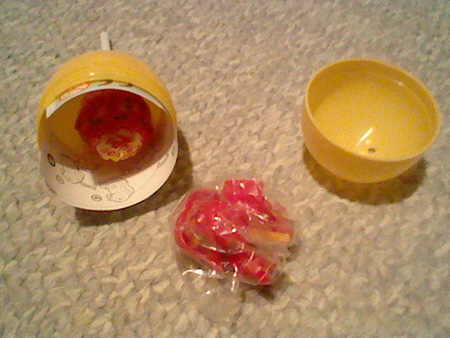 What!? It's just a regular sized chupa with the stupid toy taking up the rest of the space inside that humongous egg? I'm outraged! Mostly.
On the upside, the Chupa Chup is a sucker that you know you can depend on. They will always be good, as they always have, even if they aren't bloated to an unbelievable size, as the packaging had led me to believe. Seriously, I only bought this because I thought I was getting a ginormous chupa with a toy encased within. If I had known it was a regular chup, I probably wouldn't have been nearly as excited about it.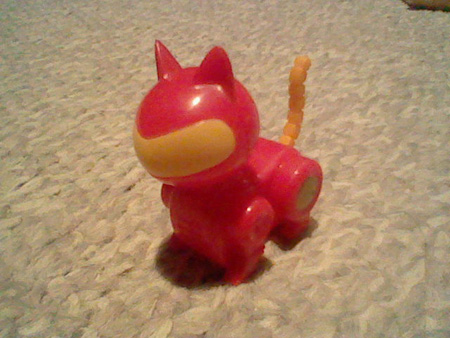 To dishearten me even further, the toy included inside was not at all the pencil topper that the various images on the package had promised. I mean, it's a robot cat, which is cool and all, but Robo-Cat does not top pencils. He doesn't even try. He just rolls back and forth whilst bobbing his head. Despite the fact that my fat sausage fingers weren't nearly dexterous enough to assemble Robo-Cat without an hour-long fight, I've become quite attached to the little guy. He now sits atop my Wii with Moto Dude. I give them about a week before my dog eats one of them, having caught the scent of facetious suckers on them. I do not relish the thought of having to hold a tiny funeral for the tiny, unfortunate soul.
And that's what I got. It may seem like I got taken to the cleaners for spending just under $15 on this mostly disappointing junk, but you've gotta remember that that comes out to over 130 words per dollar, so it more than evens out on a penny-to-word ratio. If I hadn't written this completely pointless article, then the only thing I'd have had to walk away with was the enjoyment I got from the few candies that were good. Also a Robo-Cat. And that's more than enough to satisfy me. Case closed.