The first day was long, and we were all ready for a good night's sleep. Only problem was, nobody seemed to realize that that first day was going to seem like no big deal after the rest of the trip had gotten through with us. I knew in the back of my head that everything had only begun, even though I'd seen and done what seemed like so much already. We were used to below 0 degrees Celsius, and now we were going to bake in the Floridian temperatures of over 80 degrees Fahrenheit (about 27°C). And there was going to be a lot more waiting, too.
But of course, you don't really tend to complain about waiting and heat when you get to go to Disney freaking World for almost no cost at all. Even with these impediments that usually prove fatal to people like us, we knew that it would all be worth it, because this is one of those "of a lifetime" experiences. After not nearly enough sleep (we were at Wal-Mart until way past midnight, and didn't hit the hay till much later), I got up and started preparing for the long road ahead.
Of course, nothing starts your day like a good shower, so I hopped in and turned on the faucet. I was instantly repulsed by the terrible odor emanating from the tap. I'm not sure where exactly you're not supposed to drink the water, but if Florida's not on the list yet, add it. The stuff smelled like terrible, and tasted as such. So I did a rush job and ended up about as clean as I was when I entered, but at least I was outta there. Oh, and the towels were scratchy too.
To make up for the horrible showering problems, the hotel we stayed at provides a free breakfast buffet every morning. So we headed on down and prepared to stuff ourselves full, as my dad had threatened that he wouldn't be feeding us at the parks due to sky-high prices. The spread was quite impressive. There were pancakes, waffles, cereal, muffins, fresh fruit, and danishes. I ate a waffle (These were real-sized. None of that Eggo crap), an apple, a muffin and a couple danishes and finished it all off with some OJ. My morning had officially been made.
After breakfast, we went back to the room and geared up for our first day of awesome. I was stuck with the backpack full of water bottles, but later would be grateful for their cooling effect, even if I did get a soaked back. So we left and headed out to the Magic Kingdom. The best part about it all is that the Disney World mini-city was located not three minutes from where we were staying, so we were there in no time. Not only that, but inside there were signs every six feet that pointed out where everything was, so there was no getting lost today!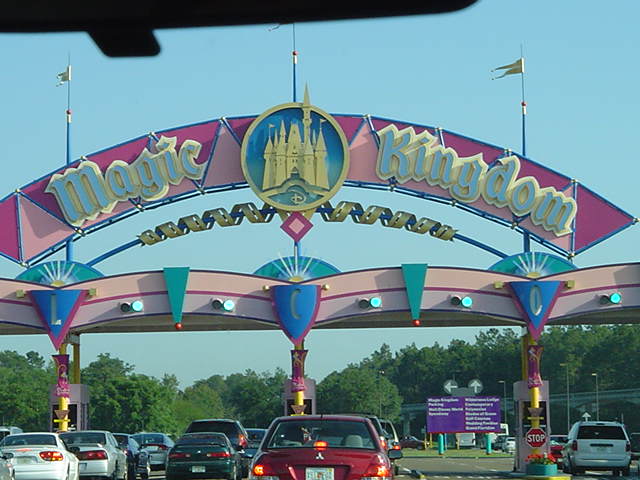 Not even ten minutes after we'd left did we arrive at the parking gates to the Magic Kingdom. So far everything was going great, and the near future was looking up for us. We paid the hefty parking fee of $8 and moseyed on in. They have the best parking system in the world there, and after we parked, we were stuck with the trouble of figuring out what to do next. As we tried to figure out where we were, I said cleverly "Remember kids, we're in the Itchy lot." thinking I was so smart. Everyone laughed and we found out that we were really in the Minnie lot. Then we saw the tram car that would take us to our destination and hoofed it on over.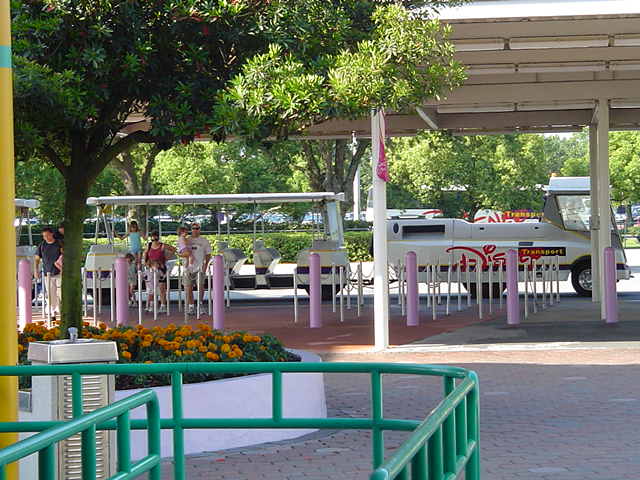 We hopped on the tram, and I heard the "Itchy lot" line at least 5 times, and felt a little less clever. But despite the terrible overuse of a Simpsons quote, the tram went on its way and took us to the real gates of the Magic Kingdom. There, we picked up our passes and waltzed in. But there was one final trial to overcome, and that was a giant lake. There were two ways over, a ferry or a monorail. We opted for the ferry, which seemed like the better choice at the time, and started our journey across the lake.
It wasn't a long ride, but everyone was getting very excited by the time we'd even gotten halfway across. We could see so many of the all-important Disney monuments growing closer in the distance, and the family kept asking the same questions about my last trip. It was growing irritating, and then it came into view. The castle. My mom had been longing to see the castle for pretty much all of her life, after seeing it week after week on that "World of Disney" thing on TV. I guess in a roundabout way, this really is the place where dreams come true.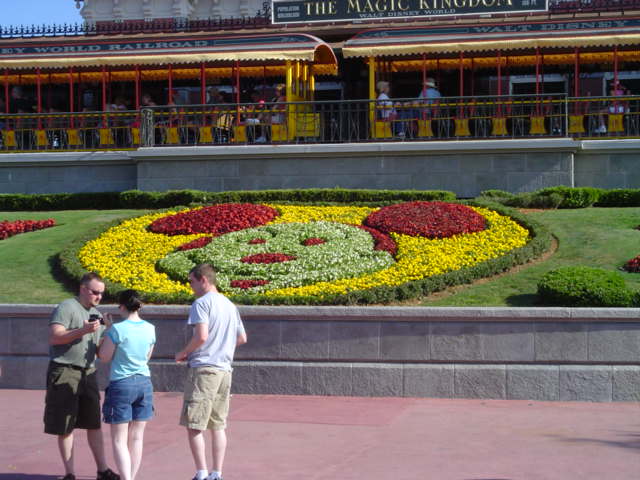 Finally, we were there. The feeling you get when you arrive at the Magic Kingdom for the first time (that you can properly remember) is indescribable. You'd think it would go for any of the parks, but nothing compares to this place. This is bar none (that I've ever heard of) the most extravagant place on the face of the earth. Everything stands out, and you can tell that when they built this place, not a single corner was cut, not one spared expense. If Bill Gates did something like this with his money, I'd probably respect the guy. But seriously, best place ever.
Before we got anywhere though, there were small souvenir shops right near the entrance, and since it was the first day, we dove right in. The boys picked up pens and autograph books, and as for me, well I decided that I'd just take the pictures this time around seeing as I left my old autograph book at home. After we'd finished our pre-park shopping, we passed through the train station and walked right into the middle of Main Street U.S.A.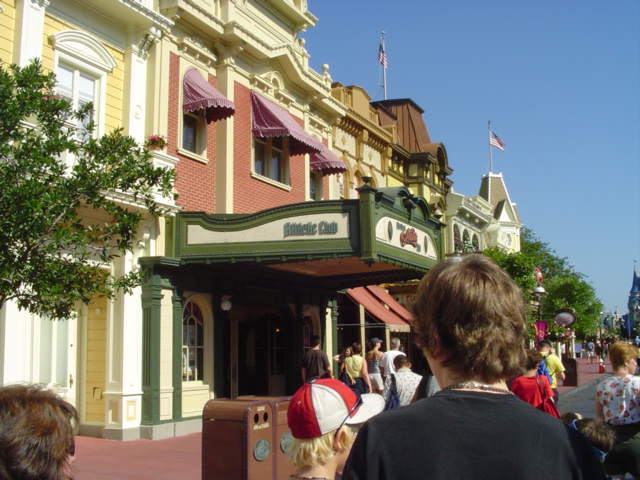 Main Street is basically the long stretch of shops and such which leads up to the park's hub, which is the castle. From there, the park branches out into six differently themed "lands". While the Disney and Minnie statue certainly is a nice decoration, it doesn't exactly maximize seating space. Especially when someone has seated their bag in the empty spot. But there was no time to waste sitting down. After my brothers picked up their first few autographs, we moved on down the street. You know, here's a map for you, in case you ever want to get a kind of idea what the place I'm talking about looks like on a map.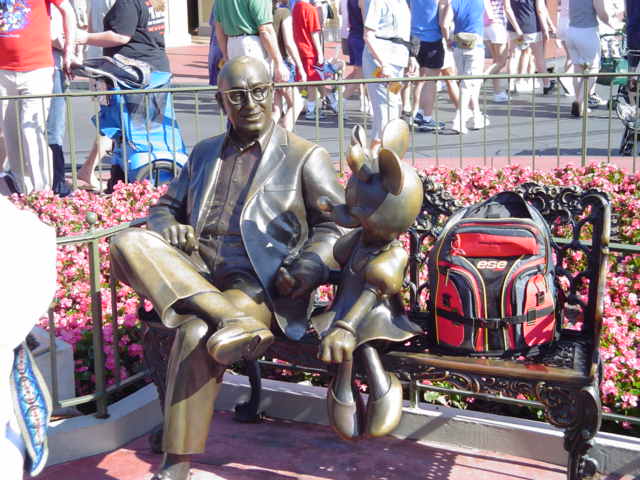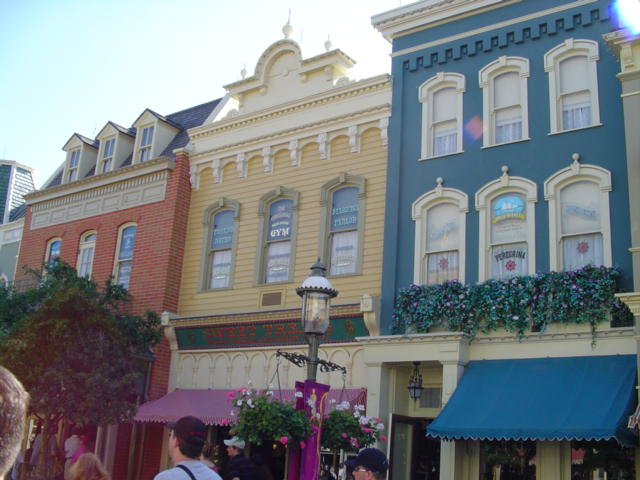 To our left were shops upon shops. To our left, more of the same. And while they all sported some sort of reason to visit all of them individually, we only entered a single store. Oddly enough, it was the sports-themed store. There were indeed plenty of sports-themed goods inside. If there's one thing you can say about Disney World, it's that that there's no false advertising. And in the "back" of the store, there was even a huge screen playing some old black & white Goofy cartoons. Can you say "sweet"? On a completely different note, there was one place on the street called "Penny Arcade". It made me think of all the good times I'd had reading the webcomic of the same name. Sadly enough, I never got the chance to check it out.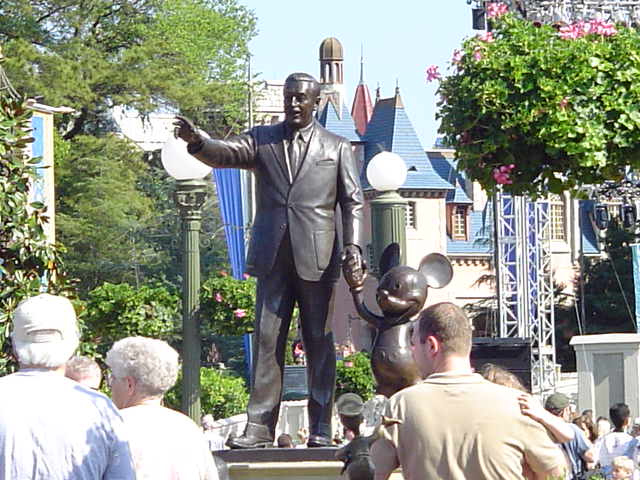 And right at the end of the street is this rather famous statue of Walt and Mickey. There's not a whole lot I can say about the statue, except that it seems to be made of an excellent type of bronze, as it has withstood many many years, and is still in tip-top condition. Yup, that's about it. Can't move on yet though, cause the next pic has to be seen before I can. And I cant' have this paragraph be too short, now can I?
There ya go. The most recognizable structure on Disney soil; Cinderella's Castle. It's actually not a whole lot, for what it is. Basically, it's just the castle with a path through the bottom leading to the other side. Sure, there's a store and a restaurant to either side, but you really don't get to see much else. Sometimes some of the characters will be running around up on the balconies and putting on shows, but other than that, it's a pretty boring hub. It's nice to look at and all, but like many beautiful girls, it lacks the substance necessary to make it truly incredible.
After we gawked at the castle for a while, we stood wondering where exactly we'd be starting today's adventure. I suggested the most excellent Tomorrowland, and after a few minutes of discussing why it was the most logical way to start, we were back to the chase. Unfortunately, we didn't get 20 steps further before we were stopped by the need to get the autographs of not only Chip and Dale, but Pluto as well. Now you might come up with some crazy idea that the character lines are unbearably long, but in reality, most of them aren't too bad. They move fast too, so we got the autographs and kept a-movin'.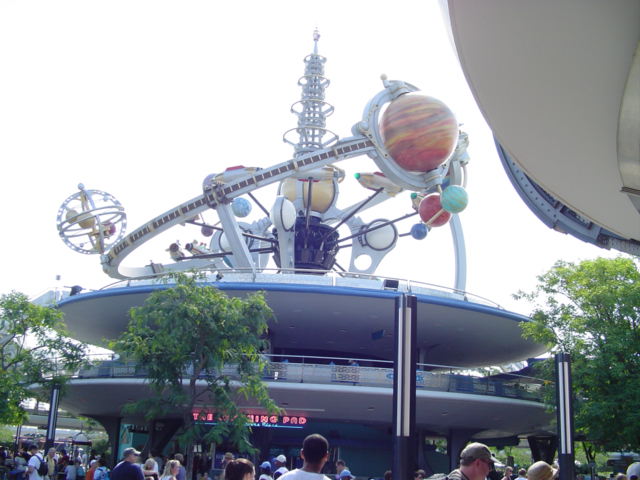 This was the best way to start, and I know, because I've done it twice now. Tomorrowland is my personal favorite part of the Magic Kingdom, but that's not to say that everything else isn't equally as impressive. In this picture, you can see the Astro Orbiter, which is basically one of those round-and-round spaceship rides, only it's really high up. It's conveniently perched above a some sort of restaurant that they call the Launching Pad. At least I think it might have been a restaurant, I never actually checked the place out.
Between the two was the something or other, which was more a tour of the Tomorrowland area than a ride. We hopped on that first to waste a little time, and being the first thing we did, it was fun. At first it was nice and slow, but every once in a while it would speed up. Not to a pace much faster than that of a slow car, but my mom was still caught off guard. Oh boy, was she going to dread Space Mountain. So anyway, the ride took us on a tour of the place, and went through a couple of the more thrilling (than this) rides, like Buzz Lightyear's Space Ranger Spin and Space Mountain itself.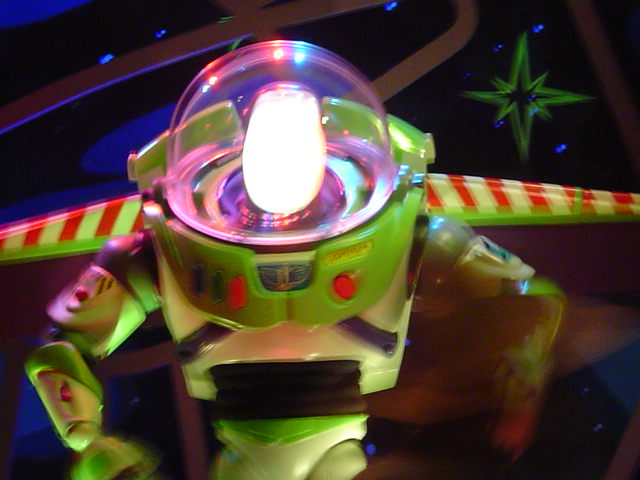 When we were done with that little tour, we arrived at the Space Ranger Spin. I'm sorry you can't see Buzz too well, but he was moving, and his face was being projected on so that it didn't look like another stupid animatronic robot. This was a fun ride. I hopped on, ready for some sort of tame roller coaster, but what I got was much better. On the "cart" was a sort of steering device, and mounted upon it were two guns. The point of this ride was to shoot as many targets as you could. And to make it more fun, you could manipulate the steering device to make your cart turn in circles, which was obviously the feature that put the "Spin" in the ride's name. Buzz's ride was a blast, even though I was only able to score a measly 1400+ points. It's not my fault thought. The guns don't have any real aiming device, so you can only shoot blindly.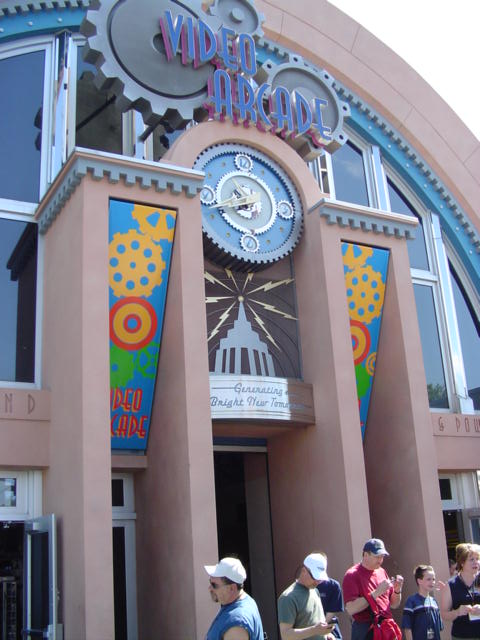 After that, we planned to go on the mighty Space Mountain, but of course I was distracted by this place. You know I have trouble saying no to video arcades, so you shouldn't be too surprised. There were only two disappointments here: they'd gotten rid of their Donkey Kong machine, and there was no Bust-A-Move. But if you can see past those faults, there are tons of other excellent games to play, such as Soul Calibur and a really cool turret game that spins around. Me, I found my glory in a Star Wars podracing game. While I had always kept a place in my heart for the N64's Episode 1 Racer, this was the podracing game to beat all others. It was set up like a podracer, and the steering sticks were the same as you'd see in the movie. Not only that, but it was one of those head-to-head games too, so I got to have fun and smoke my brother all at the same time.
We left the arcade far faster than I'd have liked, but there was plenty more to be seen around this vast park of wonders. Space Mountain was calling us, but we needed to waste a little more time, so we got some ice cream. I got me a chocolate-covered ice cream Mickey on a stick, and it was good, as expected. After we were done with that, we went on that tour-type ride again. After we had finished there, we finally headed over to the best part of Tomorrowland: Space Mountain.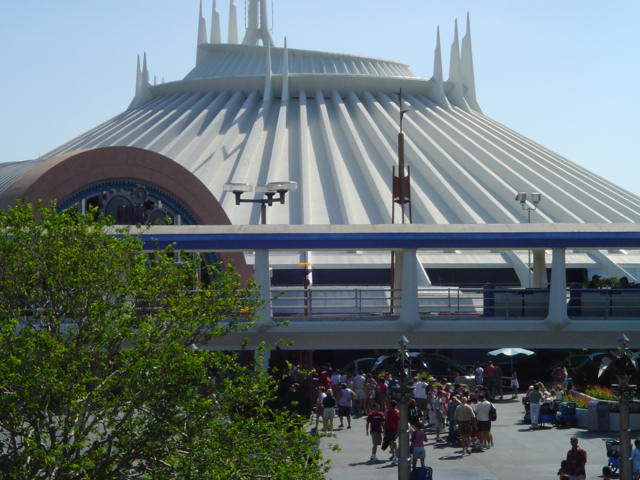 The last time I had visited Disney World, I was only nine years of age, and was a very timid fellow. But before I left this time, I vowed to go on everything to make sure I had no regrets. And as far as the theme parks went, I kept my promise. My first challenge was Space Mountain. You hear stories about it, and you just know that it's going to be crazy, so there's no way to not be even just a little nervous the first time you get near. It's a sight to see, that mountain. But I was going to do it. And I did. Due to the great new invention called "FastPass", we almost literally flew past the regular line, and only had to wait four minutes at the max to get on the ride. And once we were there, I knew it was going to be one helluva ride.
And let me tell you, it sure was. While I haven't been on a lot of roller coasters, Space Mountain is surely one of the best I've seen. At first it seems to be just your regular, run-of-the-mill coaster, but then the theme kicks in. Almost the entire ride is hurtling you through an almost pitch-black expanse of stars and screams. It's extremely fast, and definitely not for the weak of heart. My mom screamed for the whole ride, which was a good minute long, and when asked if she'd go on again, she replied with a solid "no". But me, I'd do it again in a second.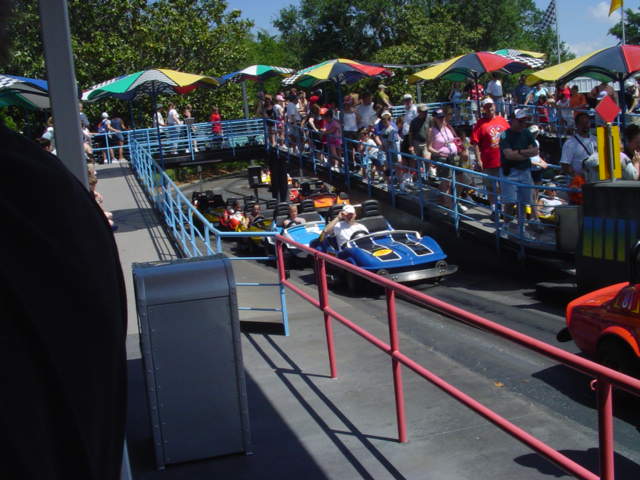 Our last stop in Tomorrowland was the Tomorrowland Indy Speedway. This was one of those rides that wasn't popular enough to earn a Fast Pass machine, so we waited quite some time to get on this one. And while it was alright, it could have been a lot better. The premise is simple, you drive a car which is on something of a track and go around, then the next person gets in and does the same thing. It's not exactly a thrilling ride, seeing as the maximum speed is probably slower than that of the touring ride.
See, there are these rail things under the cars, and the wheels don't go over them, so if you drive badly, it's gonna be a bumpy ride. The craptacular steering response didn't help matters either. But on the positive side, there are signs all over saying not to bump the car in front of you while you're waiting to unload, and my dad rammed me several times. It was funny, but there was nothing I could do to retaliate, so I had to put up with the constant jerking. I did get to ride alone though, so nobody was there to criticize my horrible driving.
Before we leave, I'll wrap up some final notes about Tomorrowland. Firstly, there are a couple boring rides here, like The TimeKeeper and The Carousel of Progress, and I was lucky to know that skipping these would be a great saver of time. Secondly, I really wanted to go on the Alien (as in Alien the movie) ride, but oddly enough, they had it closed down for some sort of remodeling. I was too scared to go on last time, so I was hyped to get on this time, and now I've been shot down. With any luck, it's just to accommodate a Fast Pass line, so it'll be open if I ever get down here again.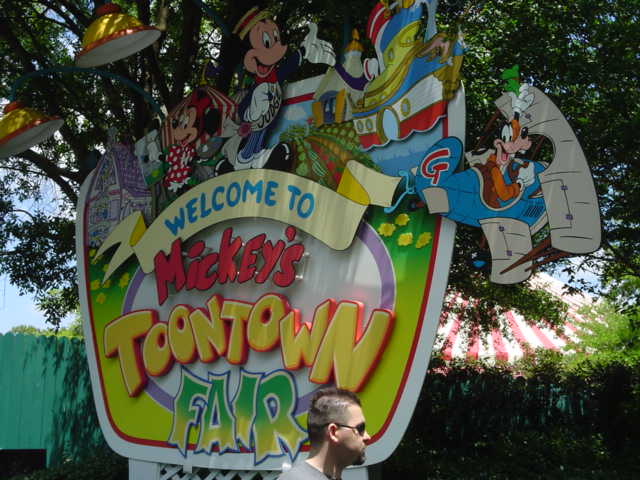 Next in line was Mickey's Toontown Fair. It was closed for maintenance the last time I'd been here, so this was totally new for me. After doing a little research, I learned that originally it was just Mickey's Toontown. Turns out they had closed it down to remodel it into a strange sort of town fair dealie. I guess it's for the better that I never saw it before, as this seems worse than the original, and I wouldn't want to be disappointed, now would I? Actually, this place was rather boring, so I'll just post a few pictures and summarize them all in one or two paragraphs.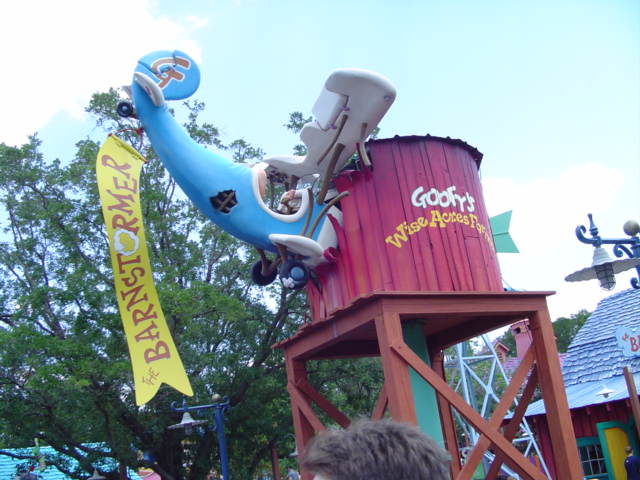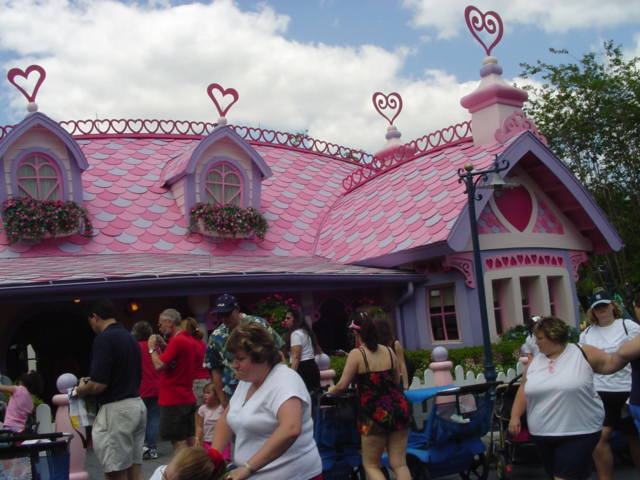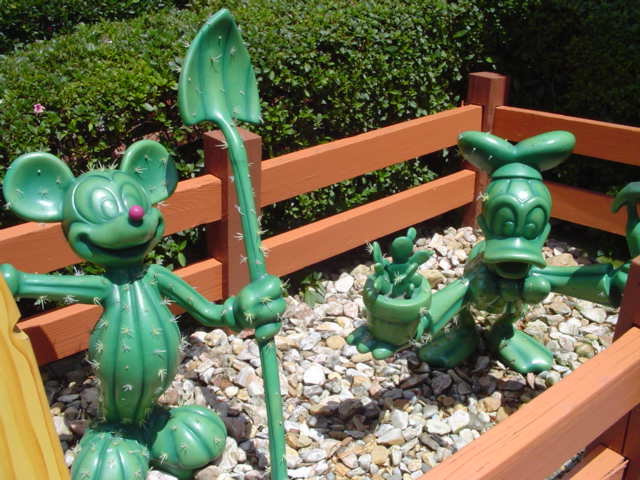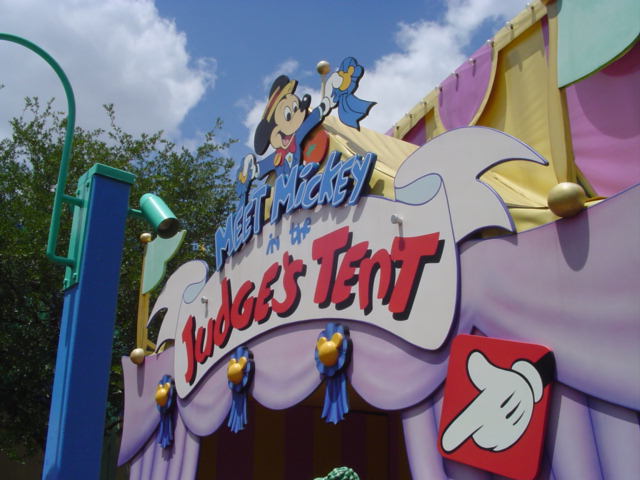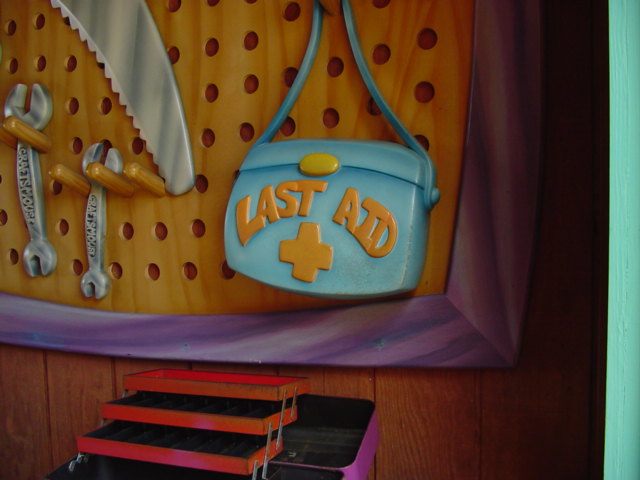 The first one shows the water tower in front of Goofy's Barnstormer, a decent roller coaster ride. It wasn't great, and it jerked more than a pubescent young man, but I'd do it again if there was a short line. Next is Minnie's house. I didn't go in because it was far too pink. Mickey's house was also present. For some reason he had a bike in his living room and a tent in his backyard, but I stopped asking questions long ago. You can see some of the unique plants in his garden and the autograph tent in the next two. That tent is huge, and filled to the brim with people. Mickey's autograph isn't worth that. And lastly is something that piqued my interest while going through Mickey's garage.
Other things that I saw in the Toontown Fair were a playground for small children,  some sort of large boat which was apparently owned by Donald Duck, and a giant store disguised as a contest tent. There was indeed a lot of crap in there, and I was going to get me some giant Mickey gloves (because like the Hulk Hands, they're just irresistible), but opted not to when I saw the price tag. They didn't even make sounds. We found the Toontown Station, where we found a train that took us on a trip around the perimeter of the Magic Kingdom, and once we got back we left and headed due west for Adventureland.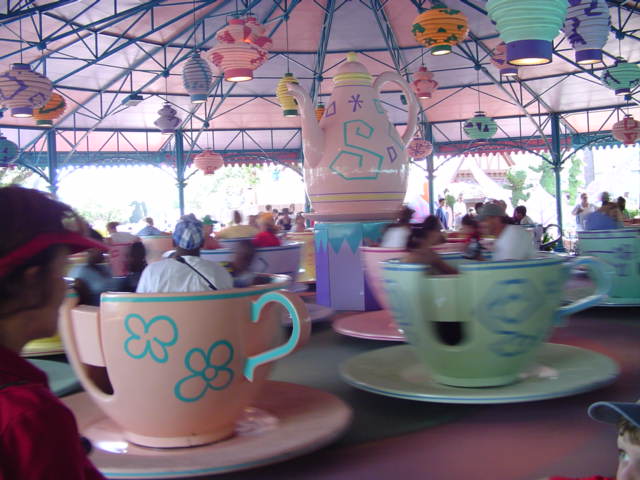 But to get through to Adventureland, we would have to pass through Fantasyland first. We were going to save it for our next visit to the Magic Kingdom (this place takes 2+ days to see everything), but it was just impossible to say no to the teacups. So we got on, and the only person who enjoyed it fully was myself. Everyone else has this strange problem with spinning very fast, and they say something about "dizzy" or something like that. Me, I get a kick out of it, so I cranked that thing as hard as I could and had a blast.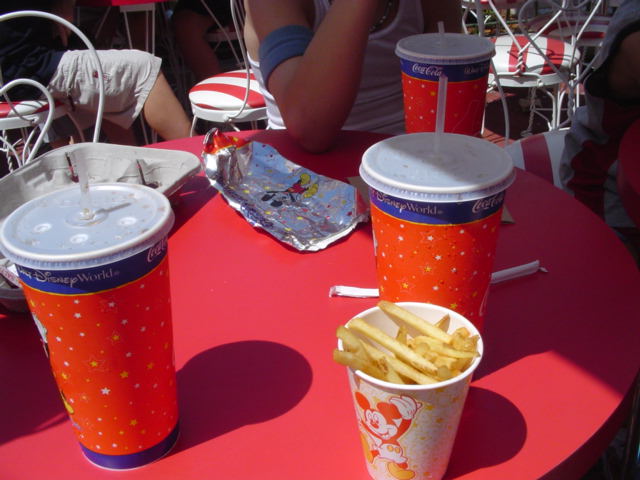 After that, we moseyed on back down to Main Street, from where we could access Adventureland. Everyone was still a little out of shape from the teacups, so we sat down. The heat and time had gotten to us to, so while we were there, we got drinks, hot dogs and fries. This was the last time that I remembered to take a picture of my food before it was too late, so enjoy your only view of what the food looks like in Disney World. Kinda familiar, I think… Oh, yes, and I had only a drink and fries, because frankly I wasn't that hungry.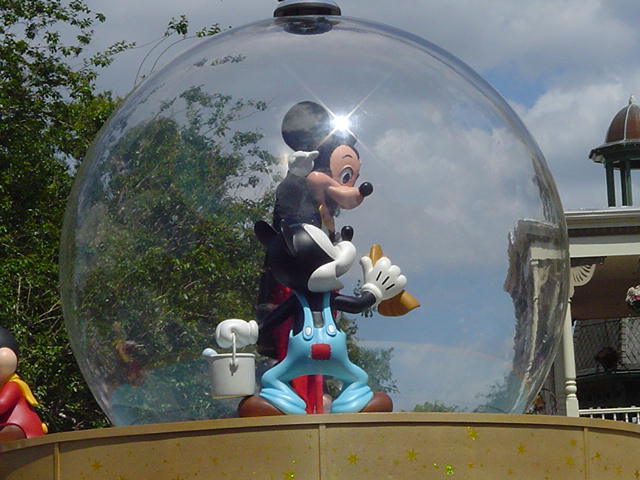 So we were just sitting there regaining our strength when what do you know, a parade comes along. These things happen all the time in the Disney parks, so it wasn't a big surprise, we just didn't expect to be there at the right time. I had suggested that we not bother with the parades, but it was coincidence that had brought us to it, so I decided I'd get some snaps in while I was there. Up above you see the top of the Mickey float. It's quite literally covered in Mickeys. Most were statues, but the one in the dome was like all the other mascots bumbling around the park all day.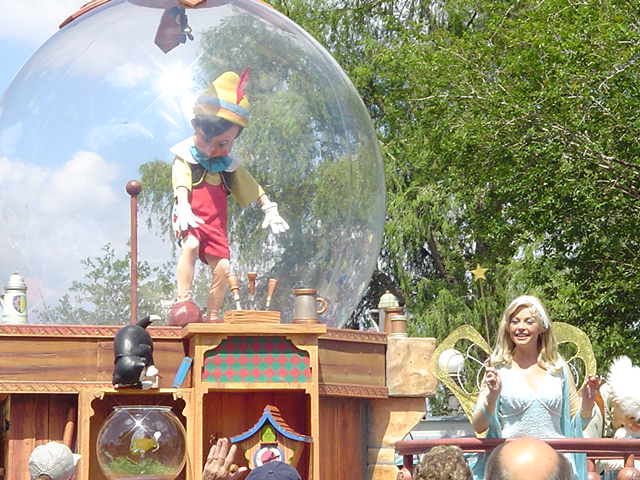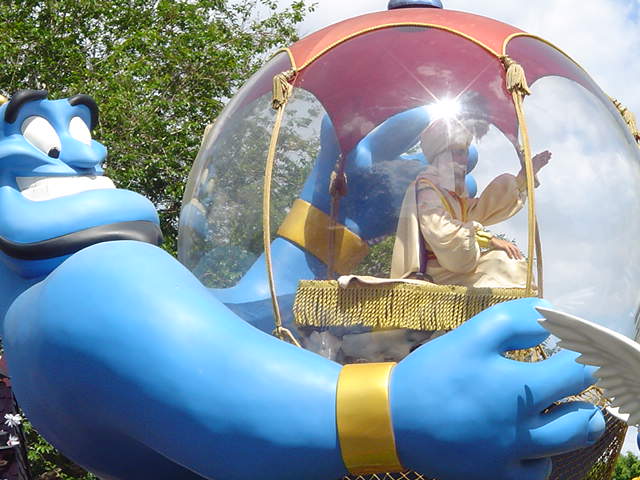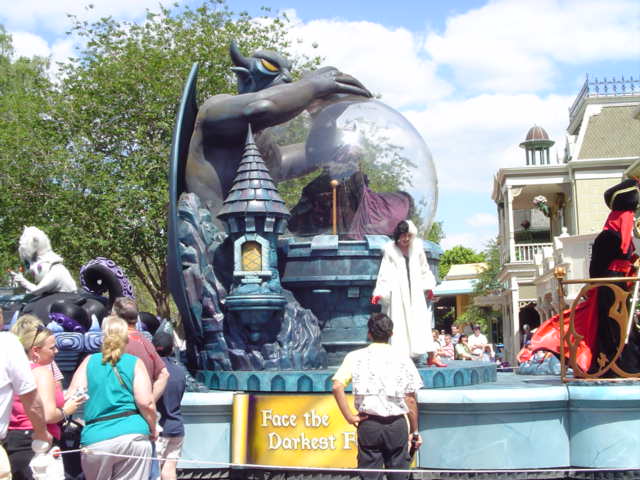 As you can se, the floats were varied and all had different character themes. There were also many characters dancing around in the street, and before that day I'd never realized just how hot Alice actually is. Not like that Blue Fairy. Uggh. So yeah, Pinocchio, Aladdin, evil guys, there were others too, like the princesses, and one with all of Mickey's friends and Peter Pan on it. Now why would they mix Pan with the Mickey crew? None of the other floats had mixed characters. It doesn't really matter, so onward!
We made it to Adventureland not long after the parade. Once inside, we stopped at a small shop to gawk at toy guns and personal fans. Once the family was done with all the shopping, we moved on and sorted out which rides we were going to go on. Up first was the Jungle Cruise, so we grabbed Fast Passes for that and then let my mom and brothers climb up the Swiss Family Treehouse, which was far too large and stair-covered for me to even consider getting near at this temperature.
When the Jungle cruise was ready for us, we hopped on a boat and the tour guide stated blabbering. Now, it's really just a boat ride with statues or broken animatronics lined along the shore. Then there was the tour guide. He kept telling these terrible one-liners, and the worst part about it all was that I remembered every single "joke" he made from my last trip. So we got off a little angry, and went to get passes for The Pirates of the Caribbean.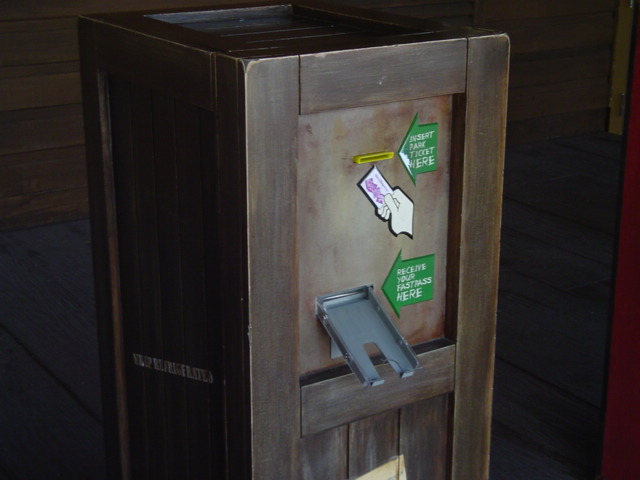 While we wait for that ride, I'll take some time out to properly explain what the Fast Passes are and how they work. Each popular ride has a couple of these boxes out front of it. What you do, is you put your tickets in, and they come out with passes for the ride they're by. These passes allow you to go down a completely different queue line and skip all (or at least, most of) that nasty waiting. The passes have a time on them, and at that time, you head on over to the ride and get on. The problem is that you can only hold one type of Fast Pass at once, so you have to wait until your time (which could be anywhere from 30 minutes to 3 hours from when you get it) , grab your next one, and get back to the pass' ride. Fortunately, they'll honour late passes, so even if you manage to miss your variable window of opportunity, you can still get in the quick line.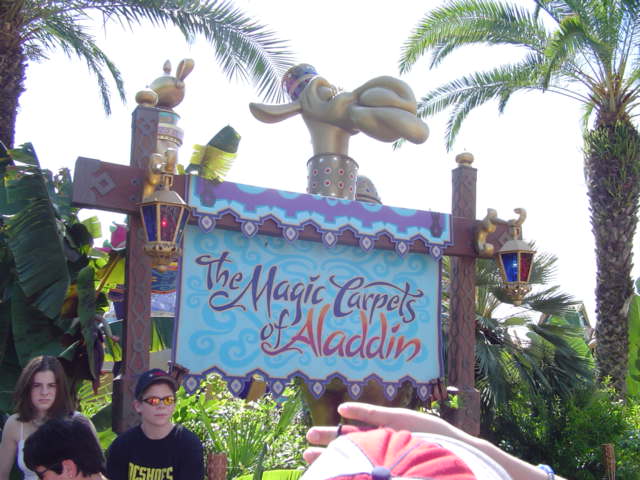 Also, while we waited, my youngest brother and mom went on this ride. It didn't seem like anything I wanted to go on, so I skipped it. We just loitered around outside while they were on it, and I practiced taking pictures. And just to give you a little something to think about – the time we were here was about 4:00, so there was still a lot of day left. Fortunately, most of it was spent shopping or watching Big Daddy, so there isn't too much more to read.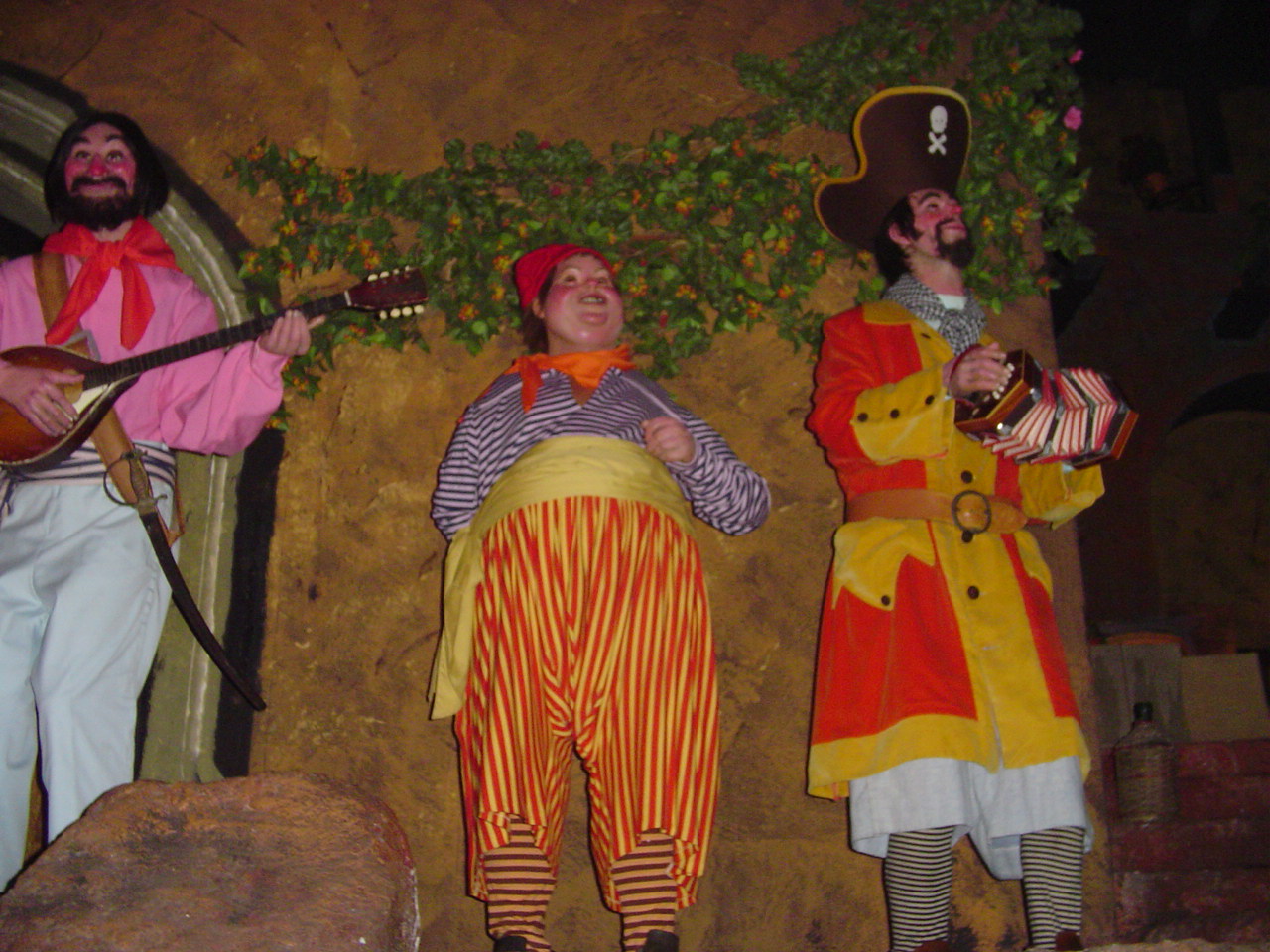 Finally, The Pirates of the Caribbean. It's a good ride, with a couple thrill drops, but at the simplest level, it's an indoor Jungle Cruise with proper animatronics. There seems to be some sort of story going on throughout the ride, but I missed it because I was too busy trying to take a good picture. I took a lot, but the one above was the only one not to come out way too blurry. And even that got screwed up by being far larger a size than I intended it to be. Musta pressed the wrong button somewheres along the line. But it's still the best ride in Adventureland, even if it is hard to get pics of. I recommend it.
That being done, we decided we'd leave the other three lands until the next time we came, so we up and left the Magic Kingdom. It's not like we had a lot of time left, either. McDonald's had reserved the entire park for a company party of sorts, and it would be closed off to the public at 6:00. Now, you can really tell when a company is rich when they can reserve freaking Disney World for a staff party. I guess it just goes to show that they aren't lying about how many burgers they've sold.
So because my word count is nearing 4500 at this point, I think I'll just do a little wrapping up. Basically what happened the rest of the night was: We went to an outlet mall so that my brother could look for shoes. He found them. Then we went back to the hotel, were I proceeded to laze around. We went out to the Olive Garden for dinner. I ate half a personal pizza. It was the most disheartening moment of my life. We also learned that in America, iced tea is quite literally tea with ice in it. We went back to the hotel again. Everyone went swimming but me, who proceeded to watch Crank Yankers and the first half of Big Daddy. The family came back and dragged me away from my movie to go to Wal-Mart again. Then we got back home and I slept.
All in all, I'd say that the first day was one of the best. Mostly because it was the most exciting, but also because the Magic Kingdom is the best park. So I'll be back eventually with the next installment of this crazy adventure, the day we went to Disney-MGM Studios. It'll be packed with thrills, cool hats, and overhyped rides, so make sure that you don't miss out on my account of the second best thing that Walt Disney World has to offer.