Okay, listen, twenty-four blog posts is a lot. Especially when you're trying to collect a unique and very specific type of item for each one. Especially when you live in Canada where junk food is not allowed to be exciting or fun. So I was destined to run out of ideas and have to do a post on something completely boring.
At least I found a way to spice it up by choosing something so boring that it may just come all the way back around to interesting.
No? Rats.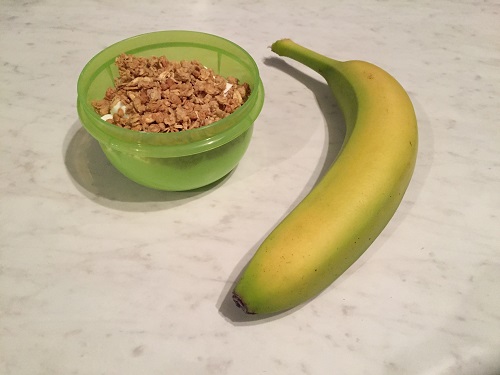 That's right, it's my lunch. This is what eat for lunch almost every single weekday. A cup of plain yogurt with granola, and a banana. Sometimes I skip the banana because it gets smooshed past the point of edibility in my bag on the way to work. It happens. Particularly later in the week, once the bananas have started to ripen and the peels lose their durability.
There was a time where I would keep a bag of pistachios at my desk to snack on during the week, but man, those things are expensive. Not so expensive that I couldn't afford them, but I didn't really enjoy them enough to justify the cost. And so back to yogurt and banana I went.