Have you watched Steven Universe yet? Because if not, I'd like to share with you the good word of Steven Universe. It is easily one of the best cartoons ever. You really ought to check it out. And I'm not just saying that. This show actually inspired me to make a meal that I never would have cobbled together otherwise.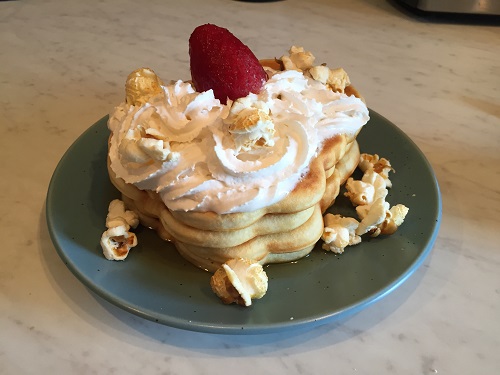 Behold, the Together Breakfast! It's actually been a while since I made this, but I felt like I should probably get around to posting about it. I made this for myself on my birthday this year, partly because it seemed delicious, and partly because I loved the irony of spending my birthday morning eating something called a Together Breakfast all by my lonesome.
The recipe is simple: you take a stack of waffles, coat it in syrup and whipped cream, toss on a handful of popcorn, and then plop a strawberry on top. Though I used kettle corn instead of regular popcorn, because kettle corn is the best. And I also threw on a few more strawberries after I took the picture. As if I was really going to only use one strawberry.
Together Breakfast is amazing, and I really wish waffles didn't take so got-danged long to make, because I'd love to have this again. But I just don't have the patience required to do the waffles. I could probably sub in pancakes just fine, since they take slightly less time to make, but ehhhh. I really like waffles. And I am not using Eggos. Eggos are fine in pretty much any other situation, but the waffles have gotta be home-made for this. Also my waffle maker makes waffles in the shape of Stormtrooper helmets, which is super rad.
I guess I don't have much else to say about it, then. Can you tell that I'm already running out of passion for writing these daily blog posts? I think it actually started to wear thin around day six or so. But I'm-a keep going anyway! We've passed the halfway mark, can't give up now! Tomorrow: something moderately more holiday-styled!