We all have our favourite things in life, some a little more strange than others. Pretty much everyone has a favourite colour. It's just a given. Most people have a favourite song or band, even if it's not a real band, any group that doesn't play their own instruments. Some people even have a favourite day. Those are the ones who are kind of off their rockers. I mean really. A favourite day? I can see a favourite season, and maybe even a favourite month, but favourite day? Favourite holiday would make more sense, because it's a given that pretty much everyone is gonna choose a holiday as their favourite day.
But enough of that. Talk of favourite days has very little to nothing to do with this article that you're reading now. Maybe in one later on, but not this one. No, this one is about something even stranger. Well, maybe not very strange, but it's a little bit on the odd side. I know people have a tendency to play favourites with many objects, like chairs and pants, and this article is all about my favourite cup. Why a cup? I'm not sure, but I needed to write about something.
You may not realize it now, but there is actually quite a bit you can write about a cup if you choose the right one. I'm not sure exactly how much I'm going to be able to write about this cup, but I've taken a lot of pictures, so I'm probably going to be reaching quite a bit with this one. Heck, if you hadn't noticed, I'm reaching pretty badly just for this intro, but since I do the same with most intros, it's not such a bad sign as it could be. So enough of this, onto the cuppage!
---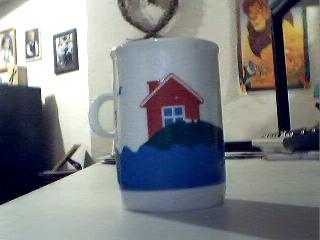 This is my favourite cup. It is a very cup-like cup, just like a cup should be. It has the ability to hold many types of liquids, and even some small non-liquid things. This cup is from Finland, where my grandpa used to live. He knows how to speak Finnish and has a sauna house. My grandpa immigrated to Canada when he was young, but I don't know if this cup immigrated. Look at the happy little cottage on the cup. It looks like my grandparent's cottage, only redder and on an island. It also has less windows and porches.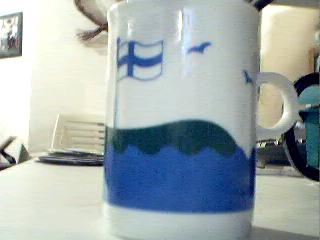 On the other side of Heir Cuppen, there are some bird-looking squiggles and a Finnish flag. I like the Finnish flag because it's so simple to draw. Not like that damned Canadian flag with its crazy leaves and crap. Why is there nothing on this little island? I would like to live on an island, but only if it had lots of island things on it. Like mountains and wild pigs and fairies. Then I could have my very own adventure on the high seas. An adventure with pirates! Or maybe I'd be a pirate. It's really hard to say for sure.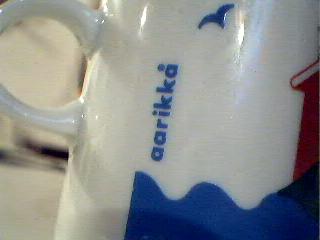 The cup says Aarikka on the side. I don't' know what Aarikka means, because I don't speak Finnish. And neither does the Babel Fish. My grandpa is far away, so he can't tell me, but an internet query surely can! Internet queries can tell you anything, like how to find Robot Pirate Island and how many web pages have the word "is" on them. Is. Now I'm a statistic!
The Googleing came up with lots of answers, but I'm a lazy crapbag, so I only clicked on the first one. It make us whisk off to the magical site of Aarikka. If you don't know how to read Finnish too, you can go to an equally magical (though slightly less whimsical) English Aarikka. They like to sell things. Things like finely molded cups from Finland. Now we all know what Aarikka is! Hooray for Google! Hooray for internet! Hooray for sammiches!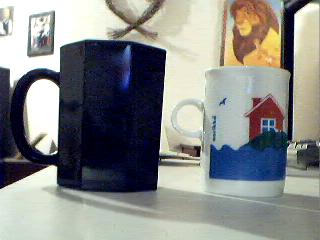 But if it's Finnish and white, why is the cup so great? You can't notice from the other pictures, but the cup is very small! See the one above? The cup is being stood beside a normal-sized cup. Look how very small he is! What a cute little cup. Some people like to drink from big cups, but big cups aren't so charming as such a tiny little cup. Those people have penis envy. But not me. I don't envy penises. They're always getting beaten up.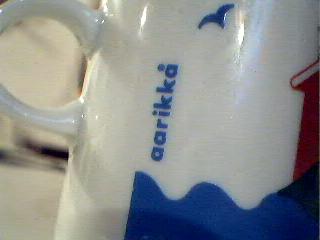 The legend of the cup is a very old one. To this day, I have another favorite cup. It's a cup with a lady on it. She's a virgin. It says so right on the cup. On the other sides, it has my horoscope. but I won't take a picture of that side because I'm a very lazy Virgo. I call it my girly cup because if you don't know what the cup is, it sounds dirty. Nobody else ever drinks from it. They know that if they do they will die. The little cup is still an excellent cup, but there is no way it can compete with a girly cup. Unless…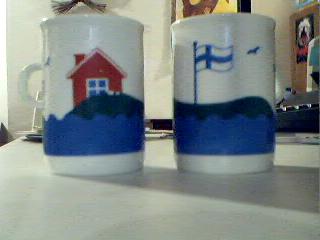 There are two little cups! For all my life up until yesterweek, I was under the false impression that there was only one little cup! But to my amazement, there was two! And they were both there all along! The cup now has a friend. Sadly, his friend has a chip. But not like my hamster. No, that's a totally different Chip. How there could have been two cups all along is confusing, since someone like myself would definitely have noticed that there was two of my favorite cup!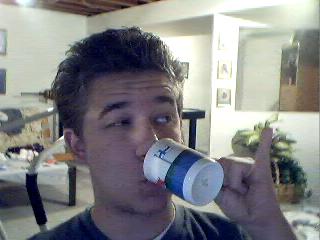 The little cups get used a lot. Everyone likes the little cups because they're so cute. But don't tell anybody that we know what Aarikka means, okay? I think that nobody else knows. I like to use the cups for drinking things. Sometimes I use it for taking pictures and writing an article with bad grammar and a strange writing style. But mostly for drinking things. Things like juice.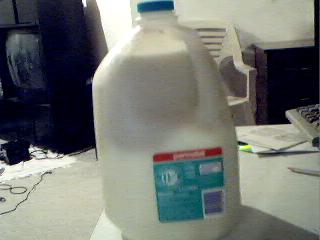 Juice is good and all, but the cups are used mostly for the holding of milk. This milk is white, unlike the chocolate milk. It's made by Parmalat. Parmalat might have a website like Aarikka, but I'm not going to check because there's no way a milk website could be any fun. Milk isn't very fun. It's all white and tastes like dairy. Chocolate milk is a little bit more fun because it tastes like chocolate, but it's brown-coloured, and brown is no fun at all. Brown makes me think of wood. And wood certainly isn't very fun.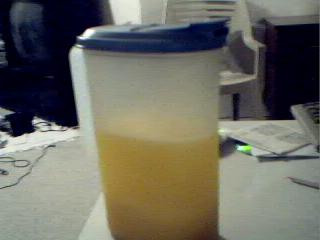 As I said, the cup does do a good job of holding the juice that I love to drink so much. This juice here is of the orange variety. By Minute Maid. Mmmm. They makes good juice. But I don't like the pulp. So I'll drink Kool-aid instead. It never has any pulp, and comes in many different flavours! I like the green the best. Green Kool-aid is the best! It tastes like green. There aren't enough drinks that taste like green. Some cream soda is green, but it tastes like cream soda and not green. Green Nintendo gum tastes like hate.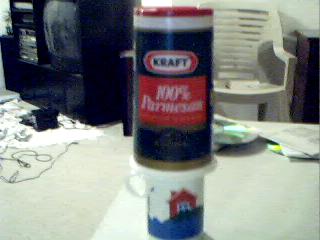 One thing that the cup is not good at holding is parmesan cheese. Yes, the parmesan cheese can go into the cup, but it's not a very god thing to drink. Parmesan cheese is better off on top of spaghetti noodles. Or any types of noodles, in fact. Parmesan cheese is a very tasty condiment. Just like orange is a very tasty juice. But parmesan cheese is not a very good juice, and orange is not a very good condiment. There's a GameCube in the background!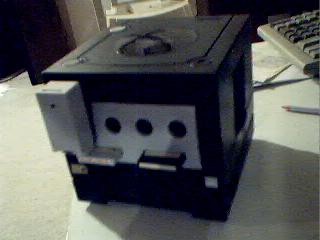 Now the GameCube is in the foreground. It's good at playing games. Not like that X-Box. It freezes all the time because it's a piece of crap. There is no controller cord in the GameCube because I use a Wavebird! It has no cords. Only fools use controllers with cords. Fools and peoples whose Wavebirds' batteries are dead. But I have many batteries, so I shall never be labeled the fool. GameCube also has a GameBoy Player on it. GameBoy Player makes GameCube taller, but I'm still taller than it. But now GameCube is taller than the Shredder.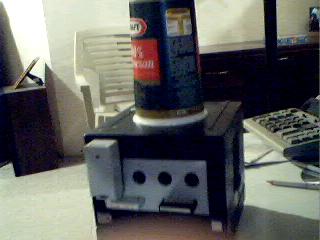 The GameCube isn't very good at handling parmesan cheese either. Damn Kraft and it's cheese that thinks it's better than everyone else. I laugh in the face of your cheese! But I'd never laugh in the face of Bowser. That guy has got some lethal breath. But GameCube is stronger than parmesan cheese, it can fall down many a stair and be fine, while parmesan cheese would break open and it's insides would end up all over the place. You should E-mail Kraft and tell them that their cheese is weak. I'm not gonna do it, I'm scared of giant corporations.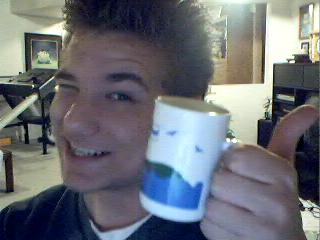 So now you see why I love the cups. They're funny little cups that can hold many delicious liquids and not-so-delicious liquids. I like the fact that GameCube made a special guest appearance. As you can see, I am quite happy with my little cups. They bring my taste buds much joy, and are very easy to clean because if their smallness. If I bring one cup with me when I move out, it'll be my girly cup, but there will always be a small place in my heart for those little cups that I thought were so cool.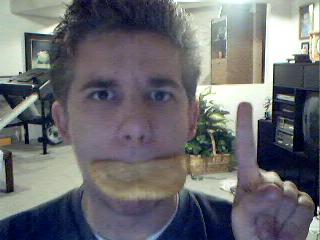 To make one last warning, the cup cannot hold pizza pops. It can try, but they are far too big to go into the cup. Also, you should not eat pizza pops cold. Frozen pizza stuffs will hurt teeth muchly if teeth are not uber-teeth. But if you microwave them, they can be a very tasty treat! Except for those ones with green peppers in them. Green peppers are my sworn enemy. I'll get them one day…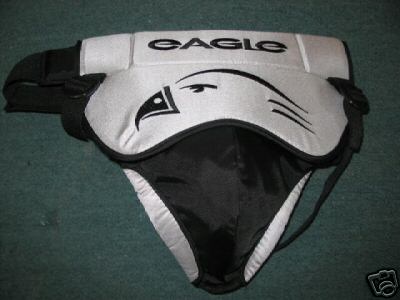 This cup is not a cup in the thirsty sense. It's the kind of cup that keeps the boys safe. This cup is my friend's favorite kind of cup. I think it's a good cup, but I would never want to drink from it, no matter how much Kool-aid there is. My friend wanted to find a picture of it so I could put it in this article, and while looking he found some bad websites. He said it was gross, but we know that he likes that kind of stuff. Man stuff. Ew.
---
And that's all we can say about the cup and anything you could possibly link to the cup. It's true. You try to find anything else I could write about. I don't know if I'll ever find a more amazing up in my lifetime, but I'll be sure to keep an eye out. And if I do find one, you can bet I'll let youse know. But for now, it will remain the second greatest cup in the cupboard. Sure, it's cool and all, but how can it possibly beat a cup that has my freaking horoscope on it? I think the only possible way to make a better cup is to make a cup vaguely shaped like Yoshi. Yes. That would be an excellent cup.
Another article done, another week passed by. I think I like this once a week thing, so I'll stick to it as well as I can. Just expect that sometimes it may be once every two weeks. I guess most updates will be done on Sundays, as I generally do very little on Sundays. Mmmm… sundaes. I'm not exactly sure what will be on the agenda for next week, but another 6-pak article seems to be the only thing I can think of. But I'm done now, partly because my keyboard arm is starting to hurt, partly because it's way past lunch and I haven't eaten yet.