I love Star Wars.
Let's pause for a moment to let that sink in. I feel like after the prequel trilogy, a lot of the love for Star Wars has waned. Not without good reason, but still! Me, I still love Star Wars. I make sure to watch A New Hope at least once a year. Ideally I'd make time to watch the original trilogy once a month (and the prequels once a year), but I have tons of other stuff on my plate, be they things I am required to do or just other frivolous time-wasters. So I generally don't watch the Star Wars movies more than once a year.
It should be noted that this fanboy love is directed almost entirely at the original trilogy and works that spin off from those three movies. I have played very few Star Wars games that don't star Luke Skywalker and friends, and I've only read a handful of Star Wars novels, in most of which the main character is Han Solo. This one time I thought about playing Knights of the Old Republic, but I didn't own an Xbox and my PC was not equipped to run it. I only own the prequel trilogy because they came packed-in with my blu-ray copies of the first three films.
All that said, I've never seen the Clone Wars movie, nor have I watched the equally fugly Star Wars: Clone Wars television series. I own the DVDs of the (comparatively beautiful) 2D animated Clone Wars series, but that's about all I've ever had to do with whatever happened between Attack of the Clones and Revenge of the Sith. So if I hadn't been actively seeking a curiosity to write this article about, I wouldn't have given this Star Wars Mega Egg a second glance. Heck, I might not have even noticed the durned thing at all.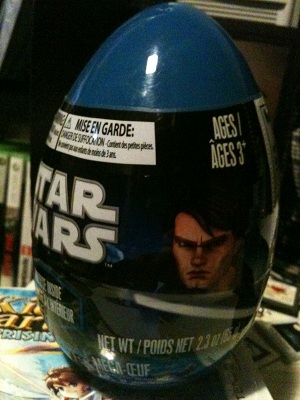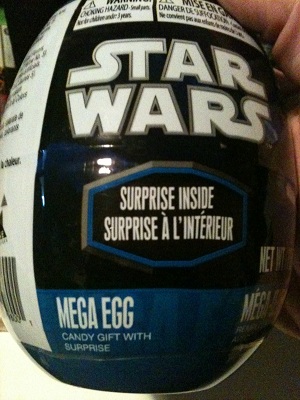 So Star Wars Mega Egg. Thar she blows. It's a big, blue egg with a hideous, computer-generated likeness of Hayden Christensen on it. More importantly, it's
exactly
the kind of thing we love around these parts! It's
been a while
since we've seen any surprise bag action around here, and this Mega Egg is just what the doctor ordered. Check out that label, it says "surprise inside" and also "candy gift with surprise." I don't see how I could possibly lose when it's promising a surprise
two times
in such close proximity.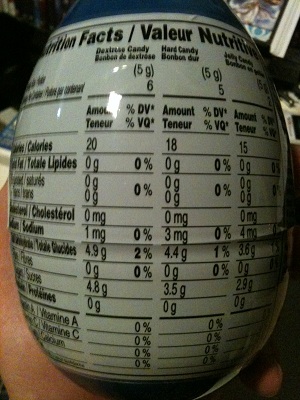 The rest of the label is curiously devoid of any more mentions of a possible surprise, but it does go to great lengths to scientifically describe exactly what the candy gift will be. Of course, I'm no scienceist, so I have no idea what any of that jargon means aside from the fact that it's all just chunks of sugar. That's pretty much all I expect from candy gifts though, so I'm sure it'll be great! Acceptable, at the very least.
I won't lie, I'm pretty darned excited about the jelly candy that's rumoured to be inside. You have no idea the jellified wonders I've got parading around in my mind.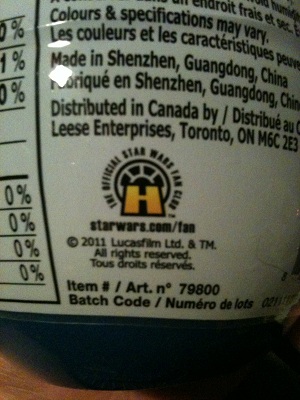 Apparently the Mega Egg wants me to join the Official Star Wars Fan Club. I'm not certain, but I have a feeling that the Star Wars website that the provided web address is pointing me to is of a very different demographic than I would expect. My idea of a Star Wars fan club is a bunch of fanboys (and maybe a girl) poring over their favourite series of movies, trading various cards and/or comics, showing each other their fan art and home-made costumes, and other such nerdly activites. You know, somewhere I'd really feel at home. The Mega Egg is likely just to attract eight-year-olds who think the Clone Wars TV show is the bomb (or whatever the kids say these days) and have no idea that the original movies exist.
Upon actually typing that link into my browser, I have discovered that the Official Star Wars Fan Club no longer exists. Well, visiting the site just proved that the site was gone, the actual discovery came from a cunning Google search and the skimming of a brief FAQ.
Either way, the OSWFC is gone and I now understand why the Force has felt so sorrowful for some time now.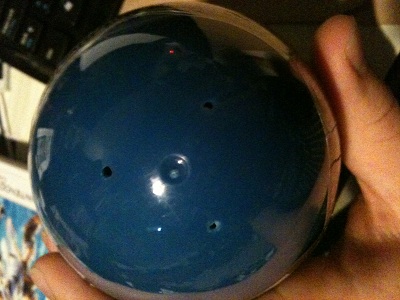 Back to the matter at hand, the Mega Egg has a trio of holes in the top. Correct me if I'm wrong, but isn't candy generally sealed in airtight packages? Do sugar chunks need to breathe? Is my candy gift more than I'd bargained for, or is that surprise going to be even more surprising than I'd expected? Man, I'm getting way to into this Mega Egg.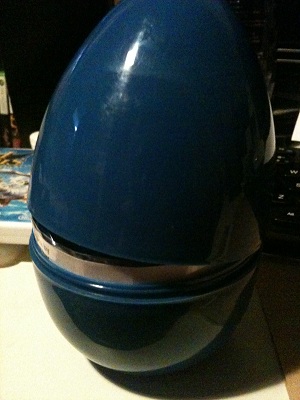 Guys, it's opening. It's opening!!
I suppose that this would be a good point at which to give you a little better feel for the Mega Egg you see before you. To keep you on the edge of your seat, you see.
The Mega Egg, as far as surprise-bearing eggs go, is pretty big. It's roughly three to four times the size of a regular Kinder Surprise egg. I had originally intended to take a picture of the Mega Egg next to another object -ideally a Kinder Surprise egg- to better illustrate its Meganess, but alas, I didn't feel like combing Zellers' candy aisle for a Kinder Surprise egg, and I forgot to take a comparison shot whilst taking all these other pictures.
The large size of the egg is also why I feel so compelled to capitalize the words "Mega Egg" every time I type them. It would be wrong not to give the Mega Egg the distinction of being a proper noun. I feel almost like I should be capitalizing every letter, to further glorify the Mega Egg, but it seems like the kind of thing that's only funny for a paragraph or two. Besides, if I'd done that, I'd be out this great filler paragraph.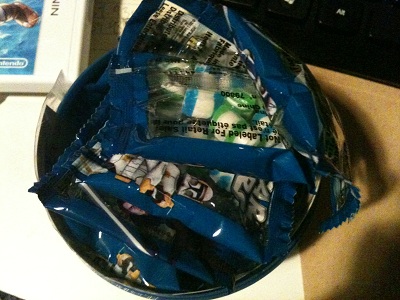 I'm a little worried about this, guys. It… it kind of looks like the Star Wars Mega Egg is just full of a bunch of the same packets of candy. That can't be right. Surprise bags aren't full of a bunch of the same thing, they're full of different things! A surprise egg should be held to the same standard!
Speaking of surprises… I don't see one here. Just packets of samey-lookin' candy. Guys, I'm scared. The surprise… It's gotta be under the candy, right? That's what's going on here. Yeah, that's it.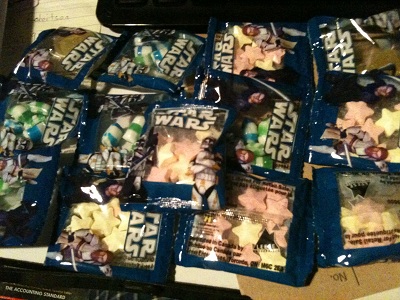 Well, colour me disappointed. I'm not sure what colour that would be, exactly. Possibly a shade of blue? Not out-and-out sad blue, but maybe a faded blue, to show that I'm sad and also my joy has faded and been replaced with cold, gray disappointment. Yep, a faded blue would definitely be the right colour for disappointed.
This is not what I look for in any type of surprise package, be it a bag, cone, egg, or crate. Not since the Peter Puck surprise bag have I been so disappointed. What's that? Why don't I have a link to the Peter Puck surprise bag article? Because there isn't one! The Peter Puck surprise bag was just several packets of puck-shaped candy and a plastic puck in which to place the candy. And every single one is the same! The Star Wars Mega Egg just barely avoids being so disappointing by containing three different kinds of candy, but I'm betting all the Star Wars Mega Eggs are the same. This is almost as big a let-down as The Phantom Menace.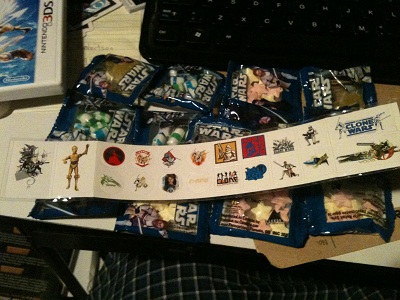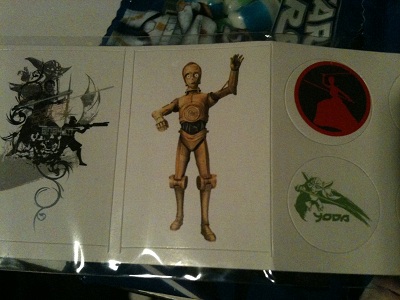 You'll have to excuse me if typos start getting really bad from here on out. I just spent three minutes banging my head against the wall in a mix of frustrations, disappointment, and just a little bit of my natural insanity.
Why? Because my twice-touted "surprise" is a stupid little sheet of stupid little Star Wars stickers. I suppose that when whatever candy company Lucasfilm contracted to make this thing was deciding on a demographic, they probably opted to shoot for a younger crowd. A crowd that would piss their pants in excitement when they saw that they got a buttload of candy AND more Star Wars stickers than they can count. I'm not part of that demographic.
My negative emotions are somewhat swayed by that cool C-3PO sticker though. His knee joints are monstrously oversized, but still, how could I be mad at Threepio?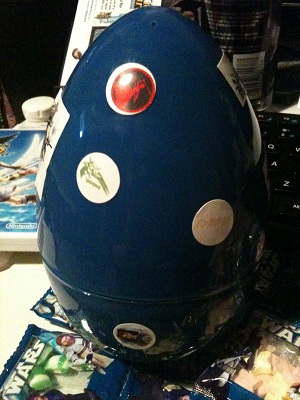 Being an adult, I have absolutely no need for a copious amount of tiny Star Wars stickers, so I just mashed them all over the Mega Egg. It was looking a little naked and ashamed after being stripped of its flashy packaging.
I don't really have a need for a huge plastic egg covered in tiny Star wars stickers either, but let's not go splitting hairs here.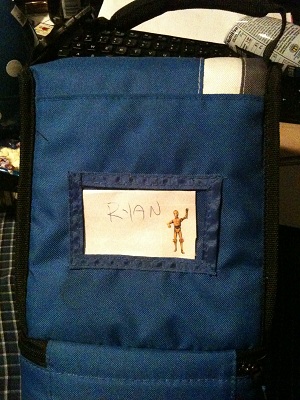 The Threepio sticker, being the biggest and bestestist sticker in the bunch, was given the honour of gracing the name tag on my lunch bag. I think it's a pretty great spot to wear my love for Star Wars, and there really isn't any other surface in the immediate vicinity of my computer desk where I felt like placing a sticker wouldn't be a waste. I guess that since I'll be moving out soon I could have pasted them all over my walls to cause my parents a minor annoyance, but I feel like they'd probably make me pull them all off. I'm not in the business of finding ways to annoy myself.
So that's about it, I guess. No, wait. I didn't try the candy. Let's go have a taste, shall we? I mean, you won't because you're on the wrong side of the internet, but I'mma go enjoy some sugar lumps now.
I was let down immediately by the jelly candies. Mostly because they were the ones I was looking forward to the most and there ended up being only two packets of them. Also because they came exclusively in lemon flavour. They weren't that bad, but I feel like the confectioners missed a huge opportunity by not making them all delicious red and green. Possibly blue.
The hard candy, shaped like stars, was pretty boring all around. They were all red and yellow, but both colours tasted pretty much the same. That taste, BTW, could be best described as "bland, with a hint of nothing." Lastly, the minty-looking candies, which I assumed would taste minty as well, were not minty. I have no idea what the flavour is called, but they were pretty yummy! They weren't overly tasty, but they certainly beat the stars. Another plus is that the stars and the mint-looking things were quite a bit softer than I'd imagined. They were still technically hard candies, but they put up just enough resistance so that chewing them didn't hurt my feeble little girl teeth.
Overall, the Star Wars Mega Egg was a pretty big bust. That's what I get for buying a surprise dealie from a big chain instead of a dollar store that never left 1983. I have a burning curiosity to see if there are any other possible "surprises" in the Star Wars Mega Eggs, but I don't feel like risking another $3 for what will most likely be the exact same contents. I might luck into better-flavoured jellies, but at that point it might just be better to buy a $1 bag of jellies. They don't come with the thrill of the surprise, but there's also that lack of crushing disappointment, which some might consider a perk. I'll have to think long and hard about this one…
As a little side-note, Kinder Surprises generally aren't especially surprising, but there was a pretty neat little line of hippos dressed as Star Wars characters in them at one point. As far as I can tell, the line never reached Canada, but by that point in time I was already too old to care about Kinder Surprise toys, even if they were hippos cosplaying Star Wars characters. My point here is that this is how you whore out your brand, not with boring junk like the Mega Egg.