2020 has been, to put it lightly, an odd year. With many people trapped at home, and the rest of us basically unable to do anything because everything is closed, we're all left to our own devices to keep ourselves entertained. And I'm sure that many folks have gotten bored with their entertainment devices.
I wanted to do another "24 Days of" feature this year, and it seemed like a good time to bring back the theme of "materialism" since all we can do with our live anymore is buy crap online that might help to while away the hours. But also, I'm not buying a whole lot of crap these days, which is forcing me to come up with something more creative.
And so, here we have a feature whose goal is to provide 24 ways to keep yourself busy during Holiday Lockdown. Said busywork may include video games, books, recipes, crafts, and who knows what else I'll be able to come up with. Probably not much. Look forward to lots of video games.
I'm starting strong on Day One, though! Today's recommendation is a simple one: decorate for the holidays! And, admittedly, maybe you've already done so. In which case, just pat yourself on the back, take a seat, and marvel in the golriousness that is your fully-decorated abode.

If you haven't busted out the decorations yet, though, now's the perfect time! What else do you have going on on a Tuesday evening? Nothing, that's what! It's time to make your house festive! This is the time of year when you should be totally awash in the spirit of Christmas, Xmas, Yule, Hanukkah, Pancha Ganapati, Kwanzaa, Festivus, Decemberween… whatever! Pick something to celebrate, and do it up right!
Me, I'm obviously all about the Xmas. My place is now awash in snowmen and stockings and Santa hats and other Xmas-relevant thingies. As much as it pains me to put away all the Halloween decorations, I always feel better quickly because the Xmas decorations go up immediately afterwards. There's nothing quite as soothing as lighting up a winter-smellin' candle and letting the Xmas lights illuminate my condo. While I prefer to hang my lights indoors, because then I actually get to enjoy them, my grandparents gave me a few strings of lights for my balcony, so now I have exterior lights too. Look how festive I am!
The only problem I have is that there's no room in my place for a proper Xmas tree. And even if there were, I have nowhere to store such a massive thing. So I make do with a little plush tree that was passed down from my parents, and doubles as a countdown calendar. There isn't a really good place for this tiny tree, either, so it just sits wherever there happens to be room when I'm decorating. I may have posted something about this li'l tree before. I know for sure that I tell as many people about it as I can because it helps to paint the picture of how quirky I am.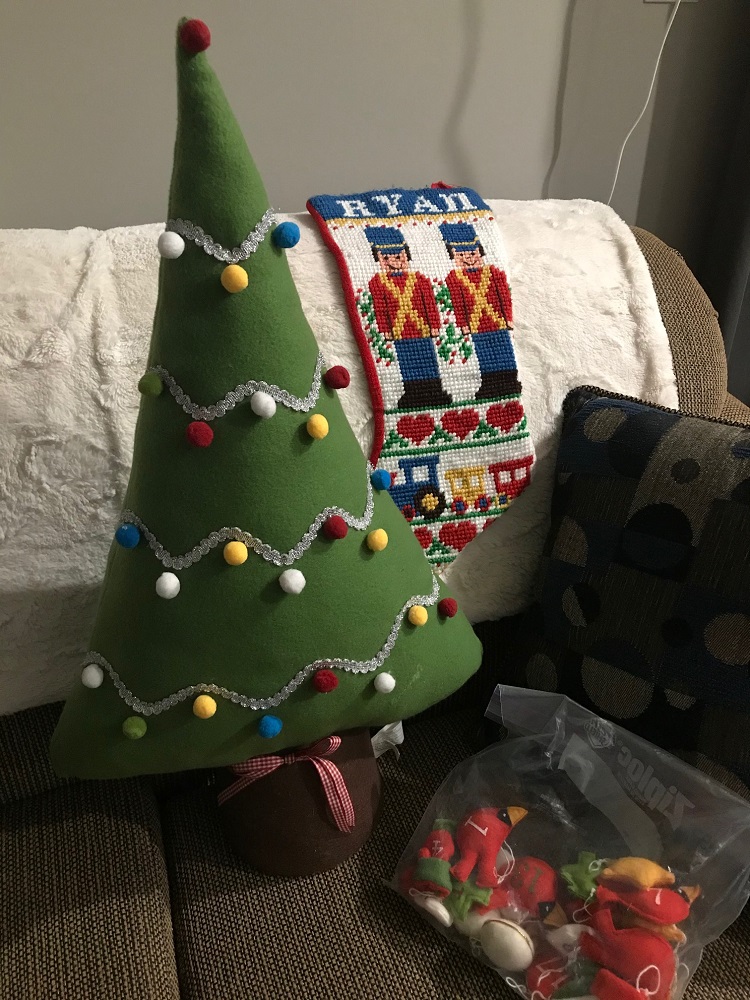 So that's what we're doing today. Or, you. What you're doing today. I already did it. And you can rest assured that I'll be spending my evening sipping holiday-themed tea and marvelling at the festiveness of the condo.