You might think that September is my favorite month because it's where my birthday lives. And you'd have been right up until a few years ago! Now, however, September is the best month because the first two weeks are Le Burger Week, when restaurants all across the country cook up special burgers that are only available during the event period. I wrote a thing about it last year.
Yes, it's absolutely a thing that exists to stir up social media buzz one way or another, and because of that I should ignore it on principle. Counterpoint, though: burgers.
As usual, there are tons of options, and many of them are actually quite appealing. My first Le Burger Week burger of 2023 was ordered based on convenience alone; I looked up several restaurants on both Skip the Dished and DoorDash, but only one actually had their entry on the Skip menu on the first night of the event. So the glory goes to State & Main's How Do You Like Them Apples? burger.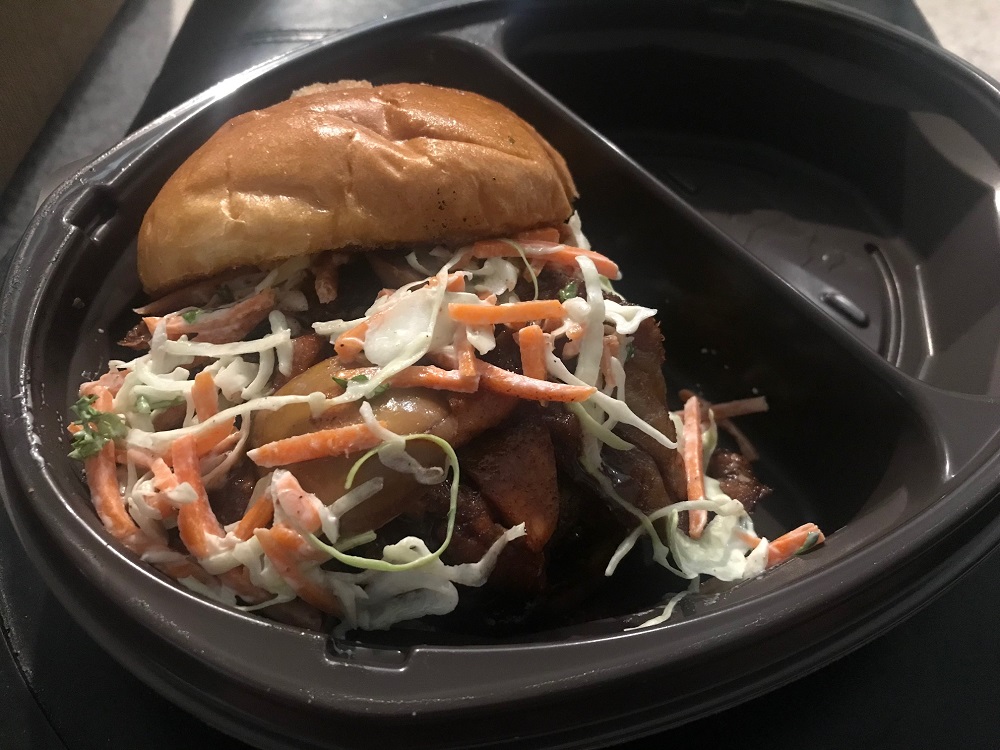 "We are bringing on a taste of fall with this sweet & salty burger! Two beef chuck smash patties topped with warmed goat cheese, crispy fried onions, and peppered bacon sitting on a toasted brioche bun. Finished off with a creamy slaw and fresh cinnamon sugar apples like grandma used to make."
I'll tell you what I told my family when they asked what I thought about it: this burger might be the best thing I've ever eaten.
This burger already has a whole lot going on with just the "regular" ingredients that are present. Goat cheese, crispy onions, bacon, and coleslaw are all flavourful enough that they could have easily carried the burger without its namesake feature. But then you hit those apples. OH those cinnamon sugar apples.
I'm no stranger to combining meat with apples and cinnamon. Pork tenderloin with cinnamon applesauce is one of my all-time favourite things to eat. But on a burger? Could it possibly work? YES. Yes it can. The moment that the cinnamon flavour hit my tongue, I knew that there was nothing more that life could offer me. Nothing richer than the experience that I was having at that very moment. It would truly all be downhill from there. But I munched on through the existential crisis, making sure to savour every bite, every morsel, every greasy, sugary fingertip.
I've known many loves over the course of my few short years on this planet, but none so pure as the How Do You Like Them Apples? burger.
Am I being a little hyperbolic? Maybe. But the fact remains that I'm strongly tempted to go back and order another one of these (or more) instead of trying out other different Burger Week burgers. And that's a first! So good job, State & Main. You've won. And I literally don't need to even sample the competition to make that call. Nothing could possibly match the pure bliss that was your burger.
It's just a shame that after September 14th, it will be lost to time forever.