Remember yesterday when I promised I'd write an article? Well I did it. Surprised you, didn't I? You can find it here. And now that that is done, I have some news.
Nobody will really care too much about this one, but we finally got a new van. That's right, no more rickety bucket for us! It's a 2001 Windstar Sport and it's pretty sweet as far as I care. It's really a nice van, and it sure beats the hell out of old red. Everyone in the family is pretty worked up about it, so I figured it was important enough news to mention on the site. And since the news is out of the way, it's ranting time! I've got a monkey on my back, and it's screaming for a rant. Oh it's screaming. And it's an angry rant, too!
What the hell is with stupid kids and their shitty websites? I really have no place in ranting about something as such, as my site is very novice-style, and I just got over my huge design change, but really people. This goes out to every kid who's signed up with a free webspace provider in hopes of making a personal site with no actual relevance. I hate you all for creating such crap and polluting the already shit-on-by-not-nerds internet. Your little pages are 100% crap. You have no reason to have webspace, and I hate you for wasting the time of everyone who stumbles upon your crap.
Now you may be saying something along the lines of "but Ryan, your website isn't exactly purposeful or relevant to anything.", and you know what, you're right. But at least my website has stuff on it that people can use for even a small bit of entertainment. the sites that I'm talking about are a dime a hundred dozen, and I can run down every element of them without breaking a sweat.
The index page is possibly the worst. Littered with tons of gifs and usually a full MP3 (loading hell for dial-up), they have a scant "hey this is my *current buzzword* website. It's real kewl and I hopes you love it. luv ya, -*owner*" And it doesn't stray too much from that. Sometimes there might be another phrase or something describing the "content" of the site, which is never much. Oh yes, and it's almost always written in a terrible combination of net-speak and keyboard symbols. See my mock page for an example of this jargon.
The second page on the page list is the "all about me" page. This one is always the same too, giving out every single detail of personal information that this person has, including full name, exact location, and about three trillion photos. My parents never wanted me to have a web site so that I would never put this information out on the internet, but I went and did it anyway, becasue there's one little factor that plays a big role in this. I was a 16-year-old male when I made this. Low predator rate there. Not zero, but a helluva lot lower than for 11- to 15-year-old girls, the group that makes up about 98% of the population of idiots who own these crap pages. Not only that, but these girls are flaunting all this shit about being dead sexy and how they love to get with boys and shit like that, and if you ask me, that's just demanding that they be raped. Maybe I'm jealous because I'm ugly, but these girls really need to learn a lesson.
And next, we get the "mi friendz" pages. There are usually one or two of these, and they show a bunch of pictures of all their friends. Not only is this a waste of a page (nobody cares about your friends), but they've also got all their friends' info stuffed on there as well. Maybe I'm taking this too much like a parent (How many kids have been stalked/raped because of a personal site? Not rhetorical, I'm really asking), but it angers me that people would not only tell the world who and where they are, but put out all of their friends' personal information as well.
And then there's the guestbook. Filled with words of praise from all of their stupid friends who think the site is so shit-hot. Are these people blind retards or do they just not register the lack of any actual content? It makes my blood boil that people will be proud of sites that are so crappy and that other people will actually go and tell them that it's a good site. Me, I get compliments , but I also get constructive criticism. Never has anyone just flat-out said my site sucks (which would be a respectable opinion, I know it's not as great as I want it to be), but people have commented on my writing style, what articles they liked, what articles were weak, and which parts of the site just weren't interesting to them at all. And if this were in my guestbook, I would not just delete the post and accept only praise like these kids do. I've posted many a message pointing out bad points of their site and how to get around them, and every last one of those posts were deleted. To all aspiring webmasters, take advice from people who know what they're doing (that doesn't mean me), God knows your site will only benefit from it.
And after all this, sometimes there are other pages, like quotes pages and random pictures pages. These are equally stupid. The quotes, no so much, if you want to make a large collection of your favorite quotes, but it's still unappealing for readers. As for random pictures pages, I have one word. Why? That is what your entire site is! Why do you have to make a whole other page for it? I'm probably being too critical about this, but if you ask anyone who has a website that isn't described in the above paragraphs, they will probably agree with me. While it is all about creating
something that you like, it should still avoid looking like a piece of crap and having absolutely no content besides pictures of you and your friends. Unless you're making an online photo album, but Yahoo will do that for you for free.
Oh it's nice to have that off my chest. It's been buggin me for a long time now, and I just needed to get it out there. It is kind of comforting to know that there is a kind of website that I hate more than the blog. If I were making what I hated most, it would look pretty bad. Heh. In light of all I've typed today, here are some pictures of my puppies. They're growing quite well. On the left we have just Gizmo, and on the right are both Giz and Harley.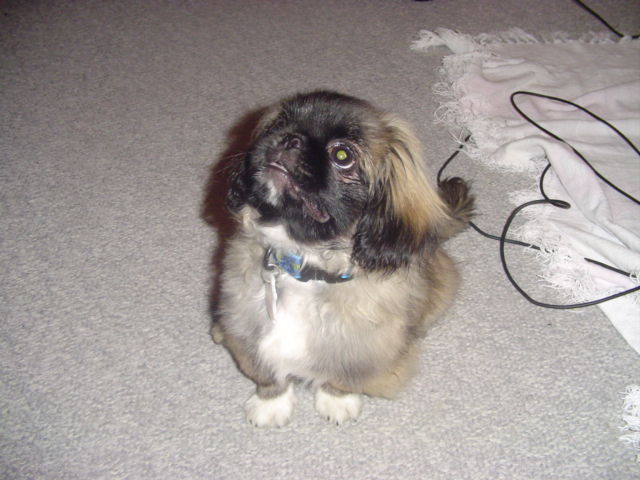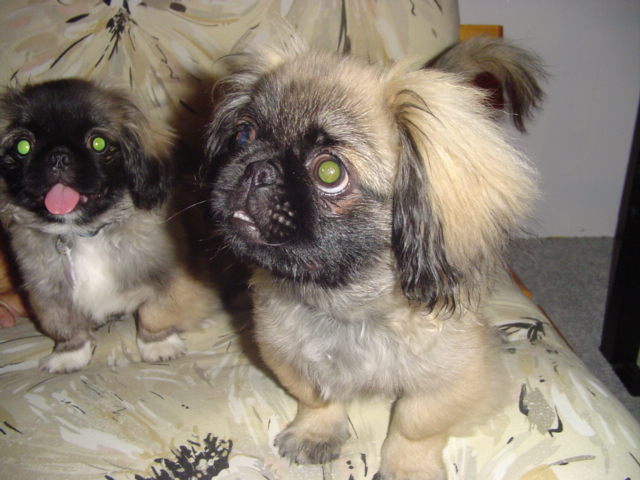 That's all I neeeded to get out today, and that's probably all I'll be doing for a while. I'll have the new Band of the Month pic up on the 1st, but the actual review probably won't be seen until Sunday or so. Maybe on Thursday or Friday at the earliest, but not before that for sure. I still don't know which band I'm reviewing.