You know what really grinds my gears? There are exactly zero interesting holiday-style chocolate bars out this year. Like, I've been looking, and there's squat. You get the regular stuff like red-and-green Smarties or… you know what, that might actually be it. There was literally nothing else memorable available. At least that I've been able to find. Blame Canada.
So today, where it says "chocolate" on my spreadsheet, I am reduced to reviewing this: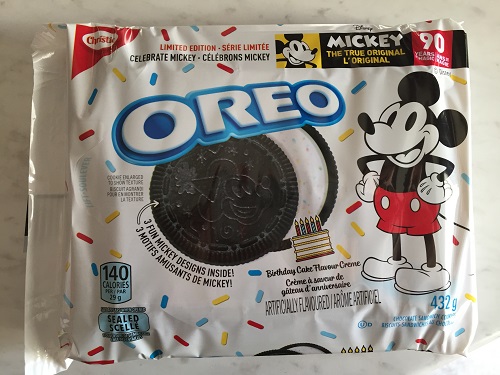 Oreos with Mickey Mouse's face stamped on 'em. I'm not going to lie, this week is going to be stretched very thin for anything actually holiday-themed.
But the Mickey Oreos have a special charm of their own. For one, I love that packaging. The simplicity of the white and sprinkles really works for me. Plus, you can't go wrong with the classic Mickey design. I'm a little bit lost as to what "The True Original" means. Like, in comparison to what? I just… I need some context here, and it's much too early in the morning for me to be trying to make up my own silly backstory.
Also worth noting is that these Oreos are birthday cake flavoured. Which is like my absolute favourite Oreo flavour, right behind cinnamon roll and Halloween. I know for a fact that I've gone on the "I'm addicted to birthday cake flavoured things" rant many, many times before on this here blog, so I won't bother again. You should know this by now.
As far as the three fun Mickey designs that the packaging boasts about? I couldn't be bothered to photograph them all, but in my defense, they're all pretty underwhelming. Because it's a straight-up lie. There's the one Mickey design you see on the package, one is a party popper with some small Mickey head shapes around it, and the last one is just a big 90. LAME.
But hey, they're birthday cake Oreos. I can't help but sing their praises, even if the fun designs are not actually all that fun. Beats the standard Oreo logo. So… buy them. Buy the delicious birthday cake Oreos. They're limited!