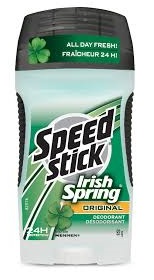 I bought this deodorant some time ago in a moment of desperation. The store I was at did not have my usual brand, and I didn't feel like travelling farther to get the right kind. Days later, I ended up purchasing the correct deodorant as well.
Yesterday, I ran out of the normal deodorant again, and had to use this back up stick. The memories of why I haven't been using it came rushing back to me before long.
The Irish Spring Speed Stick smelled nice in the store. Also it was cheap. Sure. Great! But what I could not have hoped to realize in the store is that the scent is very powerful and I would be smelling it constantly, all day long. After a couple hours, the smell becomes significantly less pleasant. So I guess I had better quit being so lazy and go pick up some of the good stuff tonight.
And that's my story for today. Are you dissatisfied? Would you have preferred yet another post about video games? I'm trying to diversify here!